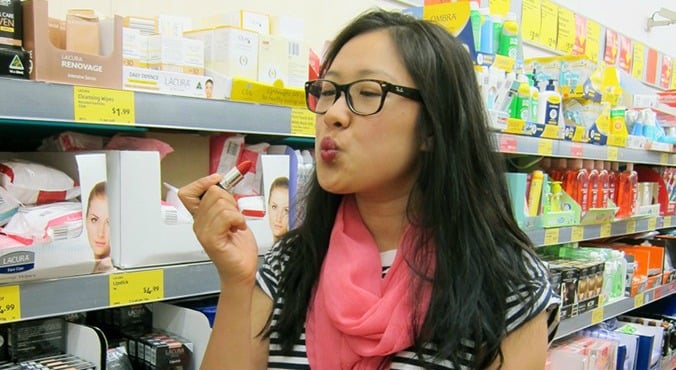 Image: Cherry Beale goes undercover (okay… not really) in the ALDI makeup aisle
According to ancient wisdom, there is a time for everything.
A time to buy hand-made chocolates in the shape of penguins from the David Jones Food Hall, and a time to stand in Aisle 1 of Aldi and stare at the little jars of preserved sausages, which resemble teeny tiny penises in formaldehyde, and consider, if I worked these into a casserole somehow, I'd have time to express milk AND work on my blog.
There is a time to duck into Sephora for a splurge during your New York City jaunt, and there is a time to discover the Aldi house brand of makeup, Lacura, and think, "now that my maternity leave payments have ended, maybe I should stop impulse-buying makeup at Priceline and get some of this Aldi stuff instead. I hope it doesn't make my face fall off."
You'll never guess the top selling product in Priceline right now
Ladies and gentlemen, that time is now.
Maybe you're broke; maybe you left all of your makeup on the train; maybe you are the Indiana Jones of makeup, and you are in search of the Holy Grail – the ultra-cheap, ultra-cult item, and you want all the credit for discovering it. Or perhaps, you just really, really love Aldi. There are multiple reasons to start buying your makeup at Aldi, but of course, it all depends if the products are decent. This is where I come in to help you.
Here are some of the beauty buys available at other supermarkets:
The best supermarket beauty buys
I'll be reviewing the entire Lacura makeup line, which is BB cream, foundation, mascara, pressed powder, blush and lipstick. The staple Lacura makeup line does not have a concealer, eyeliner or eyeshadow. Aldi occasionally releases limited edition makeup items like cream eyeshadow through their weekly Special Buys, but you need to read their catalogues in advance - like it's Nostradamus or something - plus you have to lurk around the Special Buys bins like a brain-hungry zombie, in case the item sells out on the first day. There's no slacking off for the true Aldi devotee!
Read on for the verdict.
Visual merchandising
"I had no idea that Aldi sold makeup," said all of my friends while I was writing this review. I don't blame them for their cluelessness (they can probably afford Chanel, anyway), as Aldi have no posters of models or celebrities to draw your attention to their beauty products. Their makeup is presented in no-fuss cardboard boxes, on similarly Plain Jane shelves, without fancy lighting.
My suggestion is that they use the lady from their coffee pod ads to also promote their makeup.