Anyone who's watching the SBS series First Contact can't fail to be moved. It's a hugely important insight into the reality of Indigenous Australia. Critics have frowned calling it exploitation. To the contrary, I believe it's absolutely essential viewing – no matter how confronting it may be.
Any hope of understanding these harsh and heartbreaking issues starts with being honest about what we're confronting. What's the alternative? Switch over and pretend that the trauma doesn't exist? Denial is not a solution.
Last week Elizabeth Henderson, director of the Australian Indigenous Chamber of Commerce, wrote an insightful piece for The Daily Telegraph. She talked about NT Coroner Greg Cavanagh, who conducted a report into the deaths of two Aboriginal women and described domestic violence in NT's indigenous communities as "out of control".
She says Cavanagh's report detailed "bloodcurdling", "bone-breaking violence". That may make us wince to read but that doesn't mean we have an excuse to look away.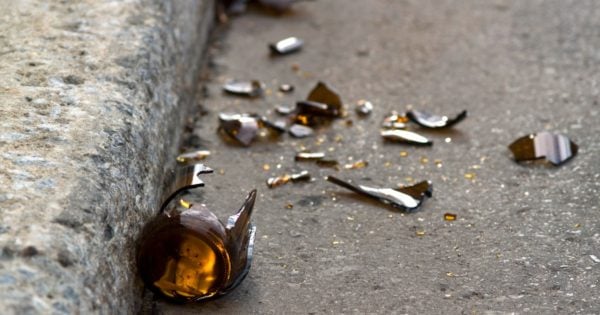 "Violence 'breeds in bottles.'" Image: iStock. 
Some words from Henderson's piece have been spinning round in my head for days. "Any discussion on violence against Australian women that omits the NT barely address the issue," she wrote.
Of course, when we look at the reality of domestic violence we're confronted with a connection many don't want to acknowledge - alcohol. If we're really serious about tackling domestic violence, this is where it thrives. It breeds in bottles.
Henderson continued: "NT's violence won't end if alcohol abuse isn't curbed. About 60 per cent of NT domestic violence assaults involve alcohol, including every domestic homicide in Alice Springs in the past three years."