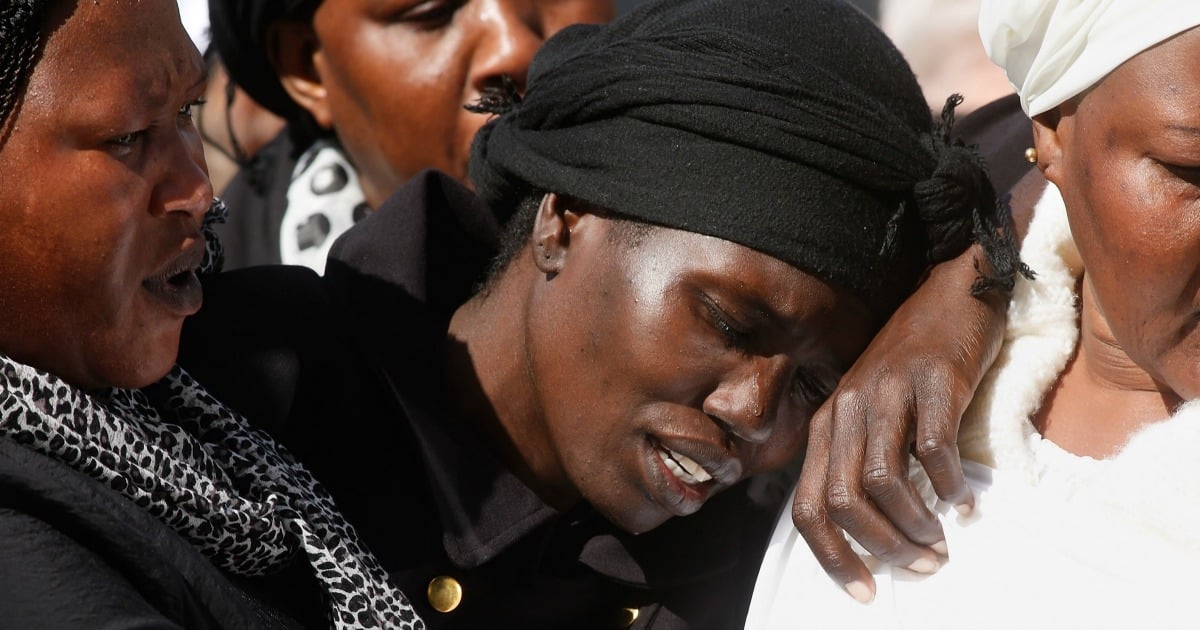 Prosecutors say they won't seek a life sentence for a Melbourne mum who drowned three of her seven kids by driving into a lake.
But Akon Guode, who came to Australia as a refugee, could be deported to her home country of Sudan on finishing her jail term, the Supreme Court was told on Thursday.
Guode, 37, has pleaded guilty to the infanticide of one-year-old Bol, the murders of her four-year-old twins Hanger and her brother Madit, and the attempted murder of her six-year-old daughter Alual.
Prosecutor Kerri Judd QC told Thursday's plea hearing Guode's children were vulnerable, couldn't swim and would have been terrified when she drove her 4WD into a Wyndham Vale lake on April 8, 2015, and failed to save them.
The court heard Guode would have had to make at least three turns before "deliberately" driving in and accelerating.
"This was not a spontaneous act," Ms Judd said.
Guode then told lies to investigators and blamed a dizzy spell for what happened.
Ms Judd said Guode had committed a gross breach of trust against innocent victims, including the only survivor, Alual who feared crocodiles were in the water.
Alual also had to live with the knowledge her mum tried to kill her and killed three of her siblings, she said.
Ms Judd said the heinous nature of her crime needed to be denounced, to deter others from similar offending.
However, defence counsel Marcus Dempsey stressed Guode's case was unique because of her traumatic background and the "unspeakable horror" of her life in Sudan 20 years ago, where she developed a personality style that pretended everything was fine.
"This is a 20-year entrenched mode of self-preservation that needs to be undone," he said.
"It doesn't make her monstrous and it doesn't make her irredeemable."
The court heard Guode came to Australia with three children in 2006 from Sudan where her soldier husband was killed in civil war.
She lived with his cousin, Joseph Manyang, and his wife, but began an affair with him and bore him four children.
At the time of the incident she was depressed, in debt and cut off from her Sudanese community, which was gossiping about her affair.
Mr Dempsey said Guode was grieving and isolated from her community.
Guode will be sentenced at a date to be fixed.