A furious American mother has shared a video of her son being patted down at Dallas/Fort Worth Airport in Texas over the weekend.
The uncomfortable video has since gone viral, with the Transportation Security Administration (TSA) official who is shown patting down the boy receiving heavy criticism from the public.
Mum Jennifer Williamson posted the video to Facebook and wrote she was "livid" with the way the TSA agent handled the situation with her son Aaron, who she says has Sensory Processing Disorder (SPD).
According to SPD Australia, people with Sensory Processing Disorder misinterpret everyday sensory information, such as touch, sound and movement. They can feel overwhelmed by sensory information, seek out sensory experiences or avoid certain experiences.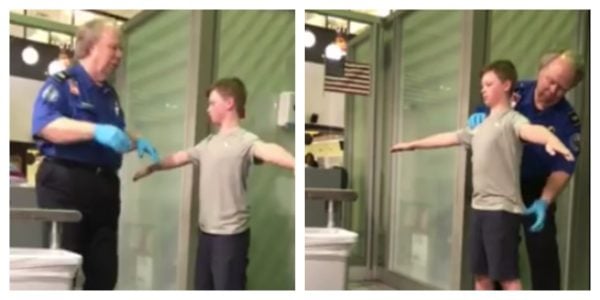 She wrote: "They detained Aaron for well over an hour (and deliberately kept us from our flight...we are now on an alternate). We were treated like dogs because I requested they attempt to screen him in other ways per TSA rules. He has SPD and I didn't want my child given a pat down like this."
Williamson claimed that Aaron didn't set off any alarms as he went through security and he didn't even set off the alarm when he went through the full-body scanning machine.