What's so good about the A380?
Well, it's quieter and more comfortable than most of the other aircraft out there. It also offers some amazing features, like an on-board bar, internet access, showers, and double bed cabins.
Find out more about some of the best features of the A380 in this Skyscanner Australia guide to the biggest passenger airplane in the world.
There's no doubt that the Airbus A380 is one of the most technologically advanced planes in the world, and it has cabins to match. Today, Airbus A380s fly to more than 110 destinations around the world, including to Australia, of course.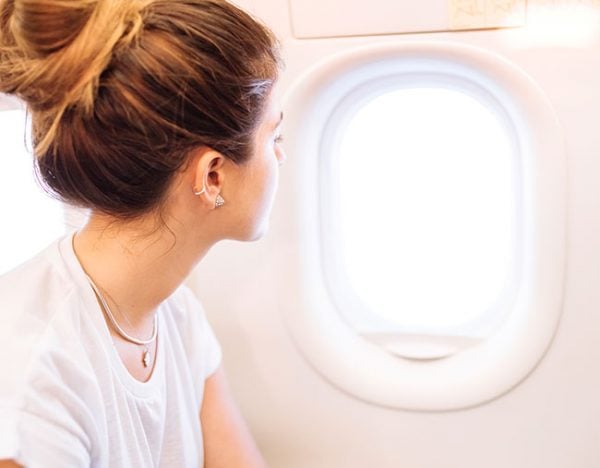 So what airlines use the double-decker A380s?
Well, here's the list so far: Singapore Airlines, Emirates, Qantas, Air France, Lufthansa, Korean Air, China Southern Airlines, Korean Air, Malaysia Airlines, Thai Airways, British Airways, Asiana Airlines, Qatar Airways and Etihad.
Each of these airlines have their own customized aircraft, with varying features. Below are some of the most awesome ones to look out for.
LISTEN: Mamamia Out Loud's Jessie Stephens believes this is officially the best money you will ever spend in an airport. (Post continues...)
Make tracks to the A380's onboard bar.
Why wait for drinks to come to you when you can go to the drinks? Emirates, Etihad, Korean Air and Qatar Airlines have stand alone bars with waiters on the upper deck of their A380s. You can stretch your legs, nibble on some olives, sip on a cocktail, and even make new friends in your plush bar in the sky.
Chill out to some A380 mood lighting.
The Airbus A380 uses clever LED technology to set the mood, whatever time of day it is. So you get subtle lighting when its time to wake up, and different configurations as flight time continues.
Emirates and Asiana Airlines even have stars lit up on the cabin ceiling in their upper classes. It might help you arrive at your destination feeling a bit more refreshed.
The ultimate airline experience - The Residence.
For the ultimate flying experience forget Business Class and even First Class and book a three-room suite for you and your partner on an Etihad A380.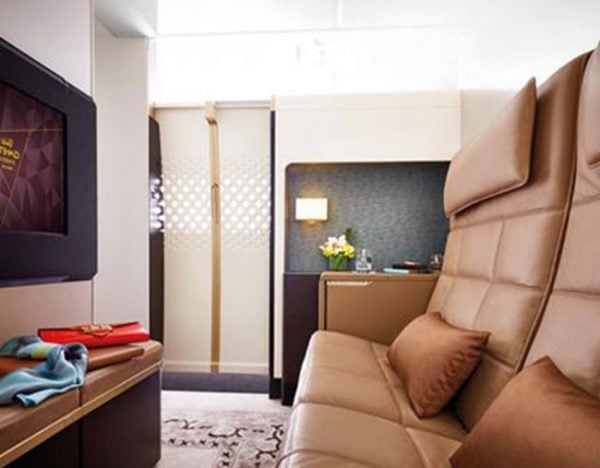 You can relax on a long-haul flight on a leather double-seat sofa, watch a movie on a 32-inch flat-screen television, and fall asleep to pleasant dreams on a double bed in the bedroom. Then, just before landing, you can freshen up in your ensuite shower room.
The Residence also comes with a butler and your own inflight chef to prepare your meals. Some airlines, like Emirates, Etihad, China Southern, and Singapore Airlines also have mini suites with closing doors, so you can lock yourself away from your neighbours and enjoy your fully flat bed and TV screen.
Relax in an A380 onboard lounge and spa.
Business and First Class passengers on many airlines using the A380 can congregate in an onboard lounge and mingle with other passengers while enjoying canapés or a coffee in the sky.
Meanwhile, those travelling with Emirates and Etihad in Business and First Class can wash a way the strains of a long journey with an onboard shower spa featuring premium toiletries and relaxation products. Follow this up with a detoxifying fresh juice. Several airlines also have special changing rooms for their premium customers.
Other things you'll like about flying on an A380.
Some of the best things about the A380 also happen in economy class. The windows are larger than on most planes, which allows in more natural light, and you will certainly notice that it's a lot quieter too onboard too. In fact, it's up to 50 per cent quieter.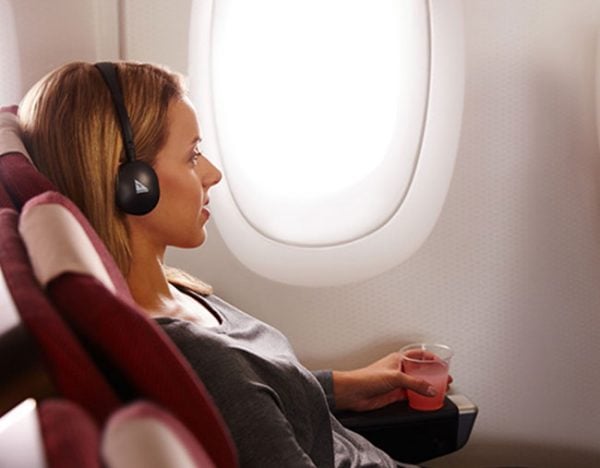 There are also a sidewall stowage compartments that come in handy for newspapers, headphones and books, and so on. The interactive entertainment systems are among the best you'll find on any aircraft, and you can also access the internet, although some airlines charge for this.
The air quality is noticeably better than on other aircraft. The air is recycled every two minutes on an A380 to keep the atmosphere fresh, and, because the cabin is pressurised to the equivalent of a much lower altitude than on other planes, you arrive fresher at your destination.
Oh, and Qantas has a self service area for snacks and drinks in Economy Class.