Loving Adele is not exactly a hard thing to do. Between being a great human and even greater singer, she's also wildly hilarious and incredibly kind. But her last  on-tour antic has left us feeling particularly mushy.
Performing in Amsterdam earlier this week, the 28-year-old quickly lost it after pulling two young fans up onstage to join her. Captured on video and later shared on Instagram the Rolling in the Deep singer can be seen chatting with the girls, asking them where they're from.
Adele onstage in Amsterdam. Source: Instagram. 
When one answers, "London," Adele suddenly has a moment of recognition before shock sets in.
"Oh my god, no way!" the mum-of-one says slowly. "I knew you when you were a baby. I knew her when she was a baby," she shouts happily to the crowd.
Clearly emotional about the discovery, the Hello singer then says "oh my god" approximately 20 times once more.
Explaining to the laughing crowd,  Adele says, "her mum plays for me, she's back there. She plays cello." Then moving back to the youngster, Adele continued, "you were like, two weeks old when I first met you."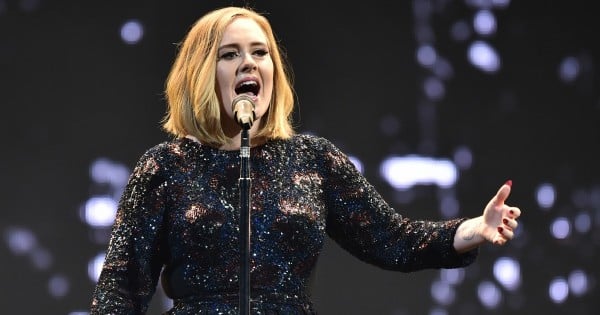 The 25 tour has taken Adele around the world in recent months. Source: Getty.
And then, because she's one of the most endearing women around, she said "oh my god" and fought back tears some more.
This isn't the first time Adele has pulled someone onstage during her  current tour.
Last month, the UK artist invited a couple onstage, who then got engaged on the spot. Moved by the event, Adele offered to act as a surrogate to the gay couple should they ever wish to have babies.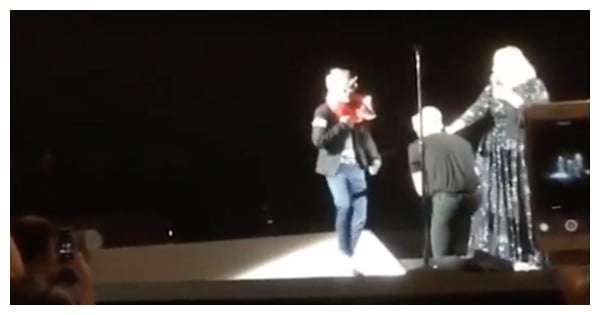 The onstage proposal in Sweden. Source: Instagram.
And in March another couple were engaged at her London gig.
Despite rumours Adele has signed a £90 million record deal, it's night to see that the worldwide fame that follows her around hasn't gone to her head in the slightest!