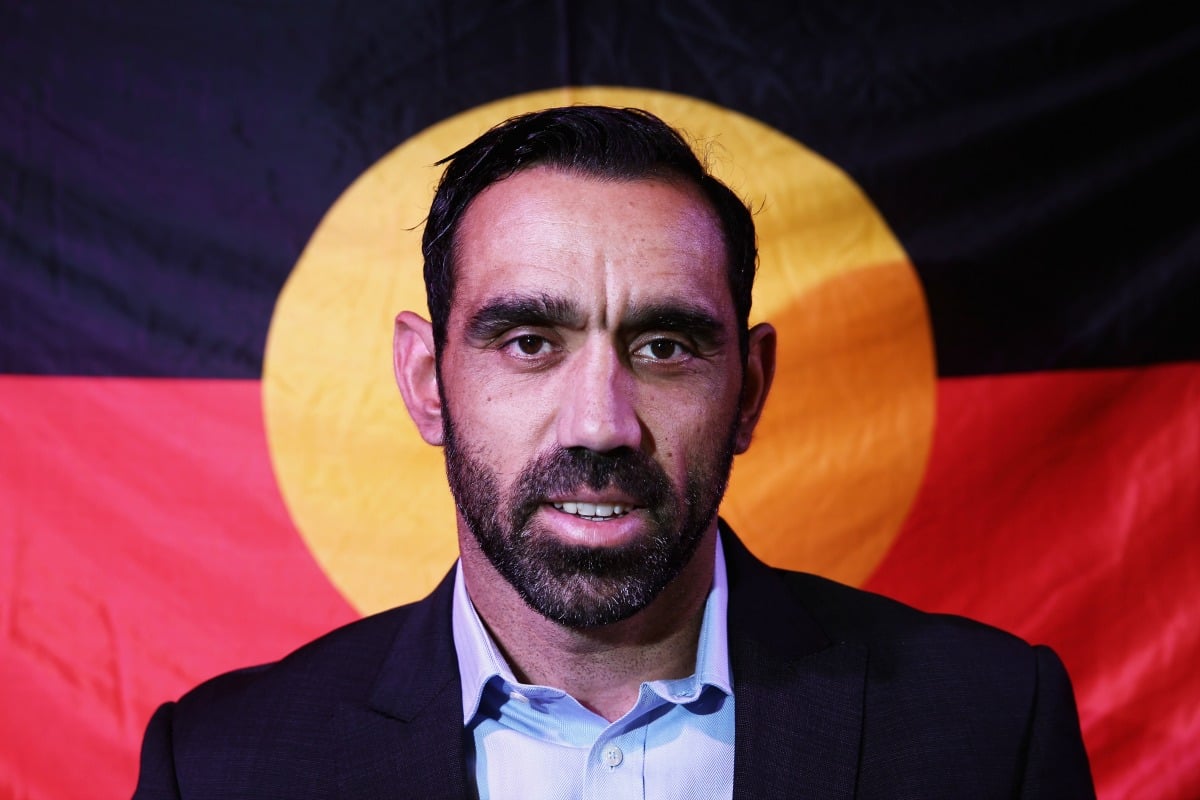 –With AAP.
1. "It was a safe space." Adam Goodes says the booing saga made him hate the footy field.
For Adam Goodes, the football field used to be a safe space. Then the booing saga that overshadowed the final years of his AFL career turned it into a place he hated.
Goodes, who was the 2014 Australian of the Year and won the Brownlow medal twice, has spoken about his decision to retire from AFL in documentary The Australian Dream, which has premiered at the Melbourne International Film Festival.
He left AFL in 2015 after enduring three seasons of continuous and intense booing.
"Football, for me, was a place where I got accepted for being a good footballer," Goodes said in the documentary. "It didn't matter where I came from, it was a safe place that helped me break down barriers."
The booing changed the way he felt about football, turning it into "a place I hated to walk out onto".
The Australian Dream's premiere comes a month after The Final Quarter, another documentary about why Goodes exited the game.
It also focused on a defining moment in the saga, when Goodes called out a 13-year-old girl for calling him an "ape" from the sidelines of the MCG and why Goodes interpreted the booing and subsequent abuse as racist.
"People would say, 'Oh, you're just a big sook.' But let me put you in that situation. Let me question you about who you are as a person.
"It's fun, and a laugh for you… you can boo me and feel happy about yourself because you're part of the crowd that did that. But deep down there were people in that crowd booing me because of my Aboriginality."
The documentary's writer, journalist Stan Grant, told ABC News the film showed Goodes' story in the context of 200 years of Australia's history.
Grant said the saga "opened up a space for us to have a conversation that often we turn away from".
"This is something that is still a wound," he said. "It's still a wound within the nation. It's an ongoing conversation about treaties, about recognition, about politics, about our history and truth-telling."
The Australian Dream releases nationally on August 22.
2. Ben Cousins back in custody following alleged bail breach.
Former West Coast Eagles star Ben Cousins is back behind bars after breaching his bail conditions. https://t.co/8ftPfFYTVQ #7NEWS pic.twitter.com/D74sd7DWQP

— 7NEWS Adelaide (@7NewsAdelaide) August 1, 2019