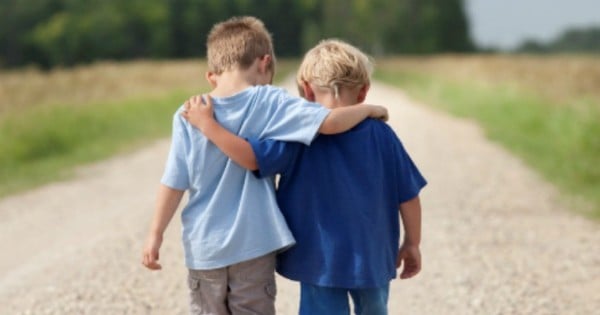 I feel sorry for men.
It's an opinion I don't normally put out there — as a writer, I normally focus on the many challenges faced by women —  but it needs saying.
I feel sorry for men because they, like women, are subject to punishingly inflexible gender roles.
In the western world, at least, those roles require boys from a very young age to act "masculine" according to strict cultural rules that go something like this:
Be dominant.

Be tall, be competitive, virile and violent.

Be heterosexual, obsessed with sports, and unable to express feelings other than anger and excitement.

Be strong. Be stoic. Be sexually dominant. And for God's sake, don't cry.
The world we live in trains boys to "perform masculinity" in line with those strict definitions — dubbed the Act Like a Man Box by sexuality expert Charlie Glickman — well before they even know what gender means.
Sure, mothers and fathers and teachers don't mean to do it, but from the moment boys take their first step in their tiny blue booties, they call boys things like "little man".
As they grow, those boys' role models give them fewer hugs and more fist-bumps than their female counterparts. When the boys get older, footy coaches teach them to "man up". When those little boys mature into young men, careers counsellors and proud parents encourage them to aspire to be lawyers and footballers rather than writers or teachers.
In doing so, each person trains them just a little bit to step inside the Act Like a Man Box — and to never stray outside its safe, stoic, steadfastly macho borders.
The effects of enforcing such prescriptive gender roles on men are all too real.
The Good Men Project director Mark Greene points out that society's discouragement of boy's affectionate natures 'murders their beautiful friendships'.
"We keep the loving natures that once came so naturally to us hidden and locked away. This training runs so deep we're no longer even conscious of it," Greene says. "And we pass this training on, men and women alike, to generation after generation of bright-eyed, loving little boys."
Related content: 'The world is full of men I don't want my son to grow up to be.'
The result of all this is an epidemic of male loneliness.
Cultural gender differences in the expression of emotions — called "feeling rules" by sociologist Arlie Hochschild — mean that men are less likely to express loneliness and seek out support in the same way as women. This has serious mental health repercussions; research shows that between 1999 and 2010 suicide among men, age 50 and over, rose by nearly 50%, and the New York Times reports that "the suicide rate for middle-aged men was 27.3 deaths per 100,000, while for women it was 8.1 deaths per 100,000."