Mamamia is supporting women who are running their own race with #ladystartup . Meet the faces behind the businesses we're celebrating…
Maggie McGowan, and her co-founder Laura Egan, created Magpie Goose with a mission to bring fabulous Aboriginal art to the world through fashion, while offering enterprise learning and employment opportunities to Aboriginal people in partner communities.
In April 2016, Laura asked Maggie what she would be doing if she wasn't bush lawyering. Her mind immediately turned to the fabulous hand screen printed textiles designed and printed in remote Aboriginal communities.
These textiles tell stories of people, dreaming, landscapes and traditional motifs in a bright, bold and fun contemporary format.
Read Maggie's interview with Mamamia.
What is Magpie Goose?
Magpie Goose is a social enterprise creating bright and bold statement clothing from fabric designed by Aboriginal artists, and hand screen printed in Australia (some in remote communities and some in Sydney).
The first range features simple, statement pieces that let the textiles do the talking. Since September 2017, Magpie Goose is 100% Australian made, with clothing manufactured in Sydney.
Magpie Goose's mission is two fold: to share Aboriginal art with a wider audience through fashion, while creating economic and enterprise learning opportunities for Aboriginal people in remote Australia.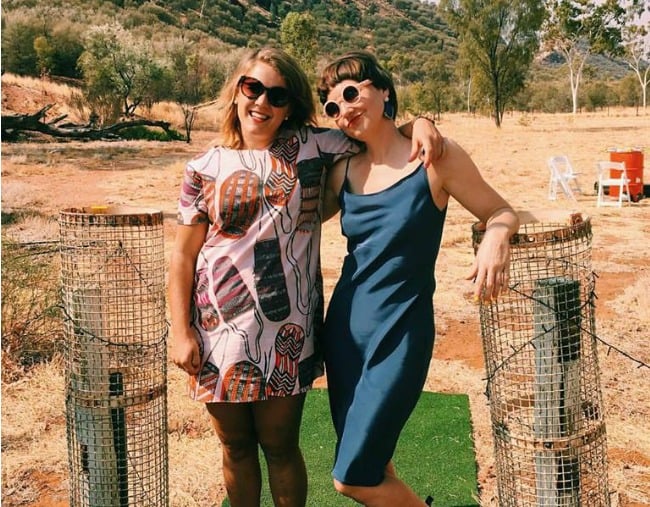 Maggie McGowan (left) and Laura Egan (right). Image via Facebook.
What were you doing before you went into business for yourself?
I was working as a civil lawyer at NAAJA (North Australian Aboriginal Justice Agency), travelling between Darwin and remote top end communities assisting people with housing, Centrelink and consumer law issues.
What made you want to start your own business?
I was compelled to leave my job as a lawyer to create a social enterprise that could offer meaningful and fun employment and enterprise learning opportunities for people in remote communities.
Through my work, I saw the devastating effects of the punitive welfare system that is currently in force - Community Development Program - which is essentially work for the dole. It requires people to do either belittling activities such as painting rocks or paper quilling, or unpaid manual labour that should be paid such as mowing lawns or fixing houses.
I had met so many people through NAAJA and had experienced first hand the incredible cultural knowledge, art and stories that come out of remote communities. I knew there was a craving among non-Aboriginal Australians to connect with and value Aboriginal people and their culture, but there weren't many opportunities for this connection. So, Magpie Goose was born.
How did you come up with the name?