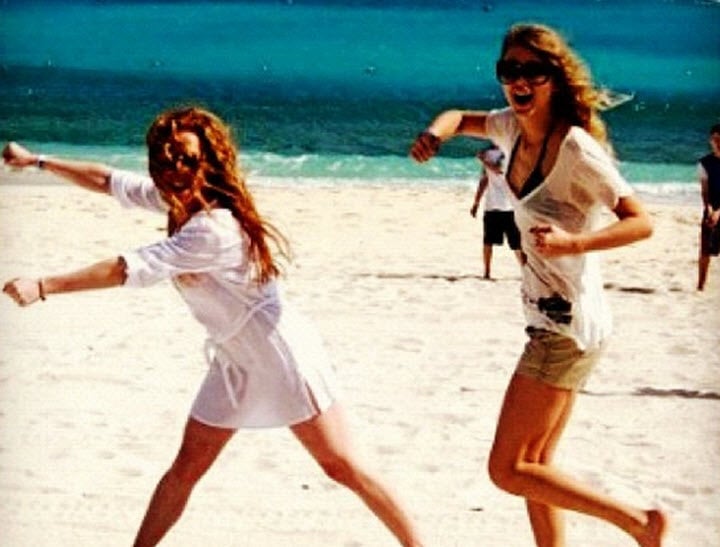 You'll rarely see her in Taylor Swift's girl squad.
Abigail Anderson is a 25-year-old living in Nashville, Tennessee. She and Swift first met in high school when they were both 15, a meeting that was later monetised by Swift as a song called Fifteen on her second album. Anderson has starred in many of Swift's videos – Picture to Burn, Fifteen and Teardrops on my Guitar to name a few – and was the feature of a bunch of old, embarrassing YouTube videos of the pair singing together as teens.
You can watch Abigail in the film clip for 'Fifteen'. Post continues after video.
In the early days, as Swift released her first album, followed by her first world tour and her first televised awards show, Anderson was there alongside her at every significant moment. But as Swift adopted friends like supermodel Gigi Hadid, singer Lorde and actress Hailee Steinfeld, Anderson became a less prominent feature on Swift's Instagram.
That's not to say they're not friends anymore. In fact, Anderson is still Swift's closest and longest friend. But while she's absent from interviews and most of the photos from Swift's social media streams, Anderson does make an appearance as part of Taylor's famous girl squad in a video segment of Swift's 1989 Australian tour.
Alongside the likes of Lena Dunham, Karlie Kloss and Selena Gomez, Taylor's oldest friend appears on screen, recounting how she met Swift in English class and talking about the importance of female friendship.
It's the first we've seen of Anderson in a while. It could be that while Anderson adored her friendship with Swift, having a friend who is the most powerful female celebrity in the world comes with some baggage.
She has fan pages dedicated to her, Swift admirers would regularly turn up to Anderson's dorm room at college and knock on her door, and every time she posts a photo on Instagram, the comments look like this: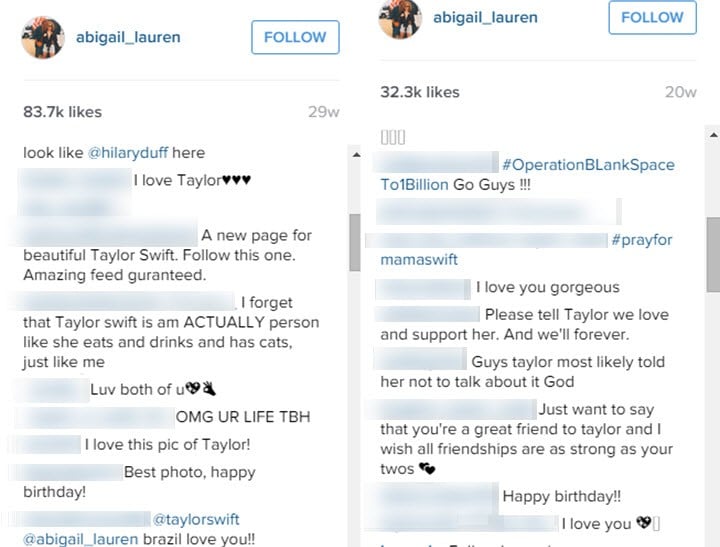 Obviously, being Swift's friend has perks. Earlier this year, Swift surprised Anderson at her birthday party by bringing out a special celebrity guest – the singer from Anderson's favourite band, Dashboard Confessional. Anderson then accompanied Swift to the 2015 Grammy Awards,  a move that spawned a thousand articles titled 'Everything you need to know about Taylor Swift's Grammys date!"
You can watch that moment below. Post continues after video.
Does your best friend becoming mighty famous come at a cost? Maybe Anderson can see the downsides to Swift's glamorous life is and knows she doesn't want to be part of it. Maybe, as Anderson grew up and couldn't relate to Swift's alarming success, she couldn't fit in to her best friend's 'squad'.
Or maybe, as Taylor Swift makes female friendship her most powerful marketing tool, it's comforting to know that she keeps her famous friends close, but her old friends close to her chest.
Click through the gallery below for photos of Taylor Swift and Abigail Anderson.