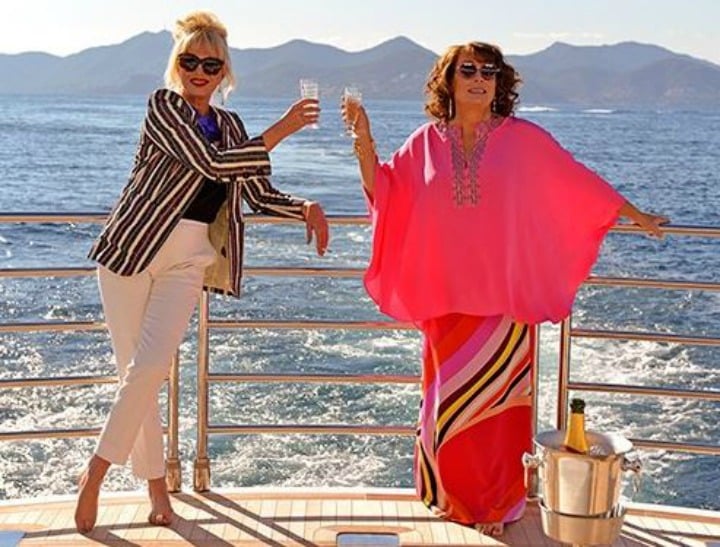 It's one of the most anticipated films of the year. Well, decade really. And we're just a little bit excited.
It has been over two decades since Joanna Lumley and Jennifer Saunders first brought us the dynamic and permanently drunk duo that is Patsy Stone and Edina 'Eddy' Monsoon.
The first series of Absolutely Fabulous ran from 1992-96 and its irreverent and OTT humour made sure it was was picked up again from 2001-04. Then, in 2012, to celebrate their 20th anniversary, they released three episodes to appease those missing a show they could laugh out loud to.
You can watch the trailer below. Post continues after video. 
Although it doesn't give too much away (the beginning feels some low-budget '80s commercial), Twitter exploded with excitement.
OMG it's the teaser for the AbFab Movie. I feel like I've died and gone to slag heaven! https://t.co/4k8O7CzP9Y #abfab

— Jessica L. Guerra (@JessicacaLG) February 18, 2016
YASSSS! Can't wait, sweetie darling!—> It's cool, it's refreshing, it's absolutely fabulous! https://t.co/6R9AbjnWz3 #abfab #patsyandeddy — libby (@libbyfrances) February 18, 2016
OMFG YAAAAAAAAAAAS YAAAAAAAAAAAAAAAS YES YES YES YES OH YES #ABFAB https://t.co/vtOwgWkkJT

— Daniel Horn (@Danielhornboyo) February 18, 2016
The film is slated to be released in July.
You can click through some of our favourite Ab Fab moments below.