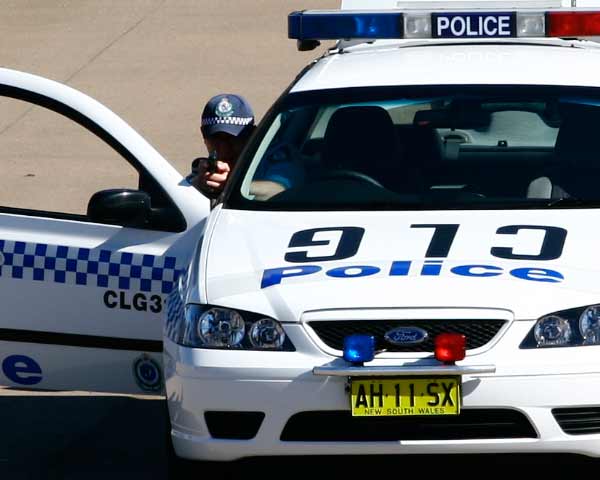 Our favourite blog from last week's iBlog Friday has been chosen! Lisa Wilson is the winner with her post at Two point five kids. Congrats Lisa! Your prize is in the mail.
I think the first time I had a glimmer of what I was getting in to was about six months after Mr Point Five and I had met.
He had just started at the academy and I had just handed my driver's license in for three months as I had accumulated one point too many. Aherm. It was the first Saturday afterwards and I grabbed my keys to duck down to our local Coles which were literally 200m at the bottom of our street.  Hubby looked at me, dumbstruck. What on earth do you think you are doing? he asked. I explained that the car needed a run and we needed groceries. But you have no licence he says. Well, duh I said, rolling my eyes, I'll drive carefully wont I? No, he said firmly, you won't and he took the keys off me.
I think this was our first major barny and I yelled and screamed at him that I was a grown and independent woman. It was MY choice, MY car, MY bad decision to make and MY consequences to suffer. I was fuming that he was treating me like a child. After I had settled down, we sat together and he explained that because I now live with a police officer who is aware of all my actions, my making decisions like that could very well not just cause ME severe consequences, but could also cost him his career and livelihood. I gaped at him.
I honestly had never considered it from the point of view that with the knowledge of what I was doing, he would be put between a rock and a very hard place with severe ramifications for him at one end. It was then I realised that not only was my husband (to be) a Police Officer, but exactly what that meant to me, as his wife, and how I must now behave in a much more mature fashion and take responsibility for his job as well as my actions.  My poor choices were no longer my own to make and from then on he drove me to Coles every weekend for three months.
I cannot think of another profession where a wife/partner shoulders so much responsibility. I mean, a judge or a politician would be frowned upon if they were aware of their partner behaving in such a manner but a Police Officer stands to lose his job and his career.
It's a rough gig. I am reminded of a quote from Top Gun where Maverick is getting ripped a new one by Stinger - "You need to be doing it better, and cleaner than the other guy. Now what is it with you?"
Our first posting was to South Hedland, a town in the Pilbara with about 15-20,000 or so, mostly indigenous. There were about 50 officers up there, most married, and every Friday the little bar at the back of the Station was open to all off duty officers and their families. Kids were welcome and the tropical weather was perfect for the weekly get-togethers. I made friends instantly on our first Friday visit – like a packet cake mix; just add water. Some of the friends I made up there I still count as some of my best ones.Everyone in Hedland was very welcoming, the staff at the Council, where I got a job as the rates officer before we had G Man, was lovely. They couldn't care less that I was a coppers missus. Police were welcome in their town, helping with an appalling crime rate, and it showed through the attitudes of the people. If it wasn't for the swings constantly being stolen from the local park, the slides being crapped on or our shitty police house with a bindy-infested backyard, we would happily have stayed. Mr Point Five loved the work up there - never a dull minute in his line of work.
Our second posting was to a little town in the South West of WA, just over an hour from Perth, population about 1500, most of whom were mine workers at the massive Gold Mine there.  This was where I experienced my first "coppers missus" story.  We lived opposite the town's only play group and the day we moved in, I let hubby direct the removalists and I took G Man over the road where a session was being held.  The sand in the sand pit was the type of sand that left grey marks on your skin and one of the kids came running up to her Mum and she had a large bruise-like mark under her eye from the sand pit. The other mums giggled and teased the child's mother about beating up her daughter who went bright red and said Shhhh, there is a coppers wife here – she will get you reported! I laughed along but felt so uncomfortable, I left and went home.
It was the first time I had felt ostracised, even in jest, because of what my husband did for a living. It took a while without my safety net of other copper wives (there were only four police in town, two were a married couple and the other one's partner worked a full time job and they had no children), for me to form solid friendships and it wasn't until one officer left and we got a new one in town that I made best friends with his wife.  I'm not sure if it was coincidence, but we clicked straight-away. We seemed to search for, and accept the security of each other and what our husbands did.  We could share stories and relate to them, and she understood and sympathised with the crappy hours, the lifestyle and sometimes odd reception.
After having a BFF for just over a year, both our families were transferred once again, them to Laverton and us to another little SW town, two hours down the road, where we are now.  Once again I was faced with having to uproot and make all new friends. Trouble was, in a town with a population of barely 300, most of whom were living in the town's outskirts on farms, this was difficult. I'm not sure whether it was the clickiness of a small farming town, or the fact that I am married to a copper, people certainly aren't going to tell me, but I have definitely found it most difficult making close friends here.  I do have a couple of the towns best I can call my friends here though and I appreciate their support, seeking me out and making sure I am included when I can be.
While the town itself welcomes the police presence, the farmers, if pulled over for speeding can get quite narky and tell the boys in blue to go and catch some real criminals and that they should be allowed to do what they like in "their town". It's quite a different mentality with the farming locals here as opposed to the miners from our last town or the natives in Hedland.  I was dropping G Man off to school one morning and was obviously tardy with indicating my intent to pull into a parking bay. When I got out of my car I was accosted very rudely by a mother who informed me that I didn't use my flicker. Didn't I, I said? No, she says, and you should know better being a coppers missus. Don't think you can get away with it when the rest of us can't. Again, I was floored by the attitude. I was angry and hurt. Once again, my husband's work had directed insolence and rudeness towards me from someone who knew me not a jot.I will say that doing country postings one after another when you have small children is tough. Whilst it makes sense financially, you have no support network to get just a night out alone with your partner. Just when you and the kids get comfortable enough to leave them in someone else's care, you move. I think I can count on 2 fingers the number of times hubby and I have been out without our kids in the last five and a half years. It makes socialising very tough, its not mentally healthy for new parents and it exacerbates the isolation.
So far, I haven't seen any ostracising or teasing for G Man at school with regards to his Dad's job. I think at five, it's a pretty cool thing for your dad to do. He gets invited to birthday parties etc now, but how much that changes as he and Master J grow older we will have to watch out for and maybe take some tips from older kids of our Police friends. It is definitely something on my future radar and something I am keenly aware of. I absolutely think that play date invitations are limited due to the fact that not all people are prepared to have a police wife at their house and that's OK.  It would put everyone in a sticky spot. Not everyone is squeaky clean and within reason, I am expected by my husband to judge and report.
Disciplining the kids is another thing I am aware of as well. We pretty much have a zero tolerance for drugs and drink driving, but will have to make sure this is delicately handled as the kids grow up. We definitely don't want a rebellion on our hands simply because of Mr Point Five's job and how it is exercised.