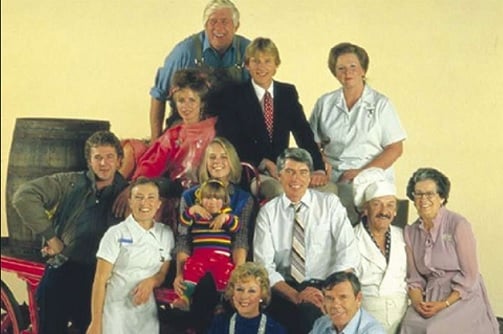 A Country Practice was one of the most adored Australian TV dramas of all time. We tracked down the cast of the show.
There's only one moment I think of when I think of the brilliant Australian  TV series A Country Practice and that is when Molly died.
It is the saddest thing I have ever watched and no TV death or even movie death has ever matched it in my mind.
Molly is dying of leukemia. She is sitting on a seat in her back garden, watching her husband and daughter play. We are watching through her eyes as she takes in the happy scene and it starts to go dark. Her husband Brendan looks over at his wife, sees she is slipping away and starts running towards her, yelling out a desperate, "Molly!"
To this day, I want to sob at the thought of it.
It shaped me. She was fun, passionate and vivacious, just like I wanted to be. She led the kind of family life I wanted to lead. And how her husband ran to her…I wanted to be loved like that by a man.
There's so much more to love about this show which always offered up the best storylines, the most relatable drama and real characters we could get to know.
Let's take a look back at A Country Practice and track down some of the most popular actors who starred on the show.