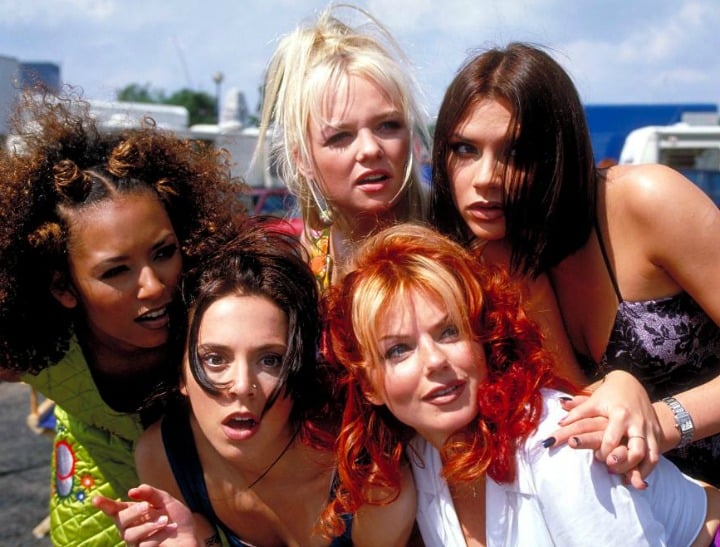 Get excited.
It's the weekend.  Maybe you're heading out tonight (who can say? I don't know your life.)
But what I DO know is that nobody with ears and good taste can resist a healthy dose of '90s tunes.
Yep – Mamamia's Ultimate '90s Playlist is here. You know what to do.
1. Spice Girls – Wannabe.
Fun fact: literally the first thing I ever did on this crazy new thing called "The Internet" was take a quiz to see which Spice Girl I was (Gerri, FYI).
The Spice Girls WERE the '90s. And Wannabe was the lyrical masterpiece that started it all.
Zig-a-zig-ah.
2. Hanson – MMMBop.
Who would've thought that three barely-pubescent boys with greasy hair would have one of the biggest hits of the decade (before pretty much falling off the radar, sob).
Like a lot of '90s songs, MMMBop made almost zero sense, but who cares – it's catchy as hell.
3. Backstreet Boys – Everybody (Backstreet's Back).
Backstreet's Back, and I Want it That Way, As Long as You Love Me, so Quit Playing Games, OK?
4. Britney Spears – Baby One More Time.
Man, I wanted those pink fluffy things old Britters here had in her hair in that clip so badly in Year 7…but I digress.
Baby One More Time was released in 1999, back when Britney was still an innocent sexy times abstainer fresh from The Mickey Mouse Club – you know, before all the head shaving and marrying-of-backup-dancers happened.
Here it is:
5. Salt N Pepa – Push It.
Now wait a minute, y'all, this dance ain't for everybody
Only the sexy people
So all you fly mothers, get on out there and dance
Dance, I said!
6. Ace of Base – The Sign.
Ace of Base was '90s gold and The Sign is basically their finest work. So harmonious, yet so deep – because it taught us that no one's gonna drag you up to get into the light where you belong. #truth
7. All Saints – Never Ever.
In my expert musical opinion*, All Saints were one of the most underrated bands of the '90s.
*Not at all expert. I still have Pretty Fly for a White Guy on my iPod. On high rotation.
8. Alanis Morissette – Ironic.
Hey, isn't it ironic that a song about ironic things doesn't in fact refer to any irony whatsoever? Whatever – I'll love Alanis forever.
Such fierce. Much angst.
9. B*Witched – C'est La Vie.
The Irish accents, the nonsensical lyrics, the denim – SO much denim. Where have you gone, B*Witched? Where?
10. Peter Andre – Mysterious Girl.
So we definitely wouldn't want Peter Andre getting close to us these days but hey, nice song.
I wonder how much oil was required to be rubbed into his abs (and hair) during the filming of this clip?
11. Mr President – Coco Jambo.
Put me up, put me down
Put my feet back on the ground
Put me up, take my heart
And make me happy
They just don't write 'em like they used to, amIright?
12. Chumbawamba – Tubthumping.
If you haven't drunkenly belted out "I get knocked down, but I get up again, you're never gonna keep me down" at a pub, you haven't lived.
13. Third Eye Blind – Semi-Charmed Life.
So this is actually about crystal meth and blow jobs. Who knew?
The tune was so boppy and cheerful and uplifting…
14. Eagle Eye Cherry – Save Tonight.
"There's a log on the fire. And it burns like me for you." Shakespeare dreamed of writing shit that good.
15. La Bouche – Be My Lover.
This song is the king of sick '90s dance beats. Pretty sure I did a dance to this at school in 1995. (I was nine. Looking back – kinda inappropriate.)
16. Aqua – Barbie Girl.
This was pretty dirty considering it was a song about plastic dolls without genitals.
Anyway, don't even try and pretend you don't still know the words.
17. Los del Rio – Macarena.
Fact: it's physically impossible to not get up and dance the Macarena. Especially at a wedding. Especially after a little a lot of cab sav.
What's your favourite '90s song?
Want more? Try these:
You know you're a child of the 90s, if you remember more than 10 of these…
Priceless: Watch as teens react to hearing 90s songs for the first time.
11 things from the '90s that need to make a comeback. Now.
If you want more of a nostalgia fest, scroll through for some more of our favourite artists from the '90s.
Our favourite '90s artists.