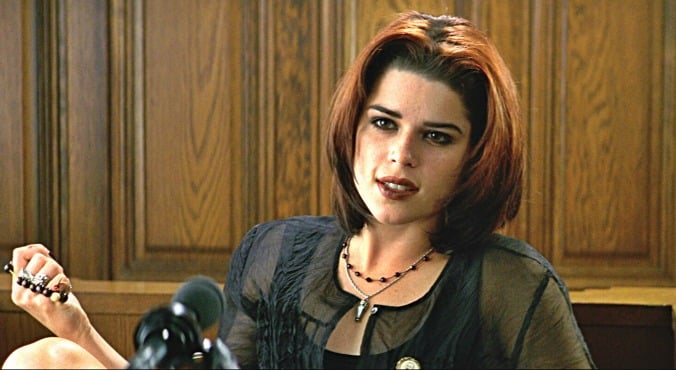 Image: Yes, it's time to channel Neve Campbell once again
The perfect '90s look is impossible to achieve today…
NOT!
Ah, that feels good. I've been holding in that "NOT!" for a long time now. To shout "NOT!" after a statement is instantly aging, yet also, so satisfying. Typing "#jks #lol" just doesn't feel the same.
This spring/summer season, the '90s are back in all their glittery, grungy glory. And it doesn't mater if you've lived it before. You can wear '90s-inspired hair and makeup while still looking selfie-ready for this new millennium, instead of coming off like an unwanted Y2K bug. It's time to reach for that chocolate-brown lipstick, baby, one more time.
1. Baby braids
The '90s was 'baby' everything. We wore baby tees in the shade of baby blue, Baby Spice was adorable (still is!), and we loved to weave baby braids into our hair and then arrange them with baby butterfly clips. I had a baby recently, and let me tell you, nothing is more adorable and cuddly than a newborn bubba. You can understand why '90s chicks wanted some of that gooey gorgeousness for themselves.
How to look 90s in baby braids
Spend hours and hours weaving tiny, precise braids all over your head, secured with the little elastics that you use with your braces. Everyone will say, "Have you just been to Bali?" Or, wear two chunky braids framing your face, like Angel in Home and Away (DO NOT MENTION THIS TO MELISSA GEORGE, UNDER ANY CIRCUMSTANCES).
How to look 2014 in baby braids
Give this look a romantic makeover by weaving two randomly-placed braids on either side of your head, leaving sections of hair freely flowing next to your face to avoid the I-hatepashed-Dieter-Brummer-on-Home-and-Away look. I like to have one plait that is French-braided near my scalp (bonjour!), and then another braid that is hidden under my hair, which peeks out to say "hello" at opportune moments.
I particularly like wearing my hair in baby braids when it is a bit messy and dirty, and I amp up the texture even more by gently running a bristle brush up the finished braids, from the elastic to the roots. Bonus points if you are ice blonde and can look like Khaleesi.
2. White inner-eye shimmer
There was an adorable fantasy element to beauty in the '90s, with the approaching new millennium conjuring up visions of fairies, robots and aliens, all dusted in glitter, of course. Shimmer, sparkle and glitter were worn all the time, at all occasions. A popular look was to wear white, shimmering eyeshadow on the inner corners of your eyes, to create a bewitchingly 'awake and angelic' look.
How to look '90s with white shimmer on the inner corners of your eyes
Not only do you have shimmering eye shadow on the inner corners of your eyes, it's also all over your eyelids, which are rimmed with coloured eyeliner. Glitter adorns your hair, cheeks and body. I used to be a little glitterbug, until the very cute boy I worked alongside at my weekend department store job said, "If you were my girlfriend, that glitter on your face would seriously piss me off." Point taken, boy with Bambi eyelashes.
How to look 2014 with white shimmer on the inner corners of your eyes
Keep the shimmer on your eyes only, and make the rest of your makeup matte and spare. To start, I used L'Oreal Color Riche Eye Color Pencil in Delicate Beige, which is a deliciously creamy and non-creasing shimmer pencil, all around my eyes, including on the waterline of my lower lid. This keeps the look extra awake and extraterrestrial. It is acceptable – nay, it is advised! – to keep the cream liner quite messy and random, so that you look like a fairy who has partied all night, fallen asleep inside a daffodil and just woken up, rubbing silvery stardust from your eyes.