Mamamia is supporting women who are running their own race with #ladystartup . Meet the faces behind the businesses we're celebrating…
Kara Otter is a one woman show.
The designs, postage, prints, website, customer service, sales and social media. It's all her.
She's inspired by everything 90s and has created an ethical swim and street clothing label from her hometown of Bondi Beach, Sydney.
Read her interview with Mamamia.
What is Karameleon Australia?
Karameleon is a swim and street clothing label that is inspired by 90s vintage and flair. I use my own hand-painted artworks as prints and I sew my one-off custom-made pieces myself.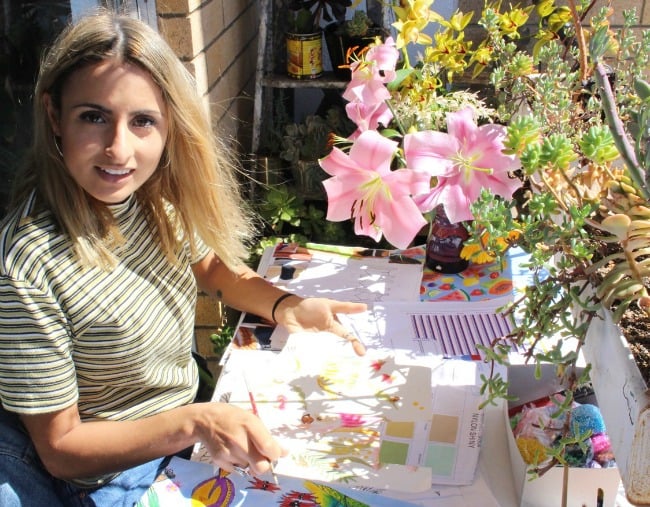 Kara Otter. Image supplied.
What were you doing before you went into business for yourself?
I was a designer for around ten years working for fashion houses without soul that produced mass quantities and were more about copying than originality. This eventually burnt me out.
How did you come up with the name Karameleon? 
Kara is my first name and a chameleon is an animal that changes its colours and patterns depending on the environment. My prints always change and are always made each season.
What is the staff structure of Karameleon?
At the moment it's still just all me, although I do have to admit that my boyfriend is a giant help.
LISTEN: Speaking of kickarse women, George McEncroe started a by-women, for-women ride-sharing service. Post continues after audio.
Did you require investment to start your business?
I saved up enough for my first collection while working in the industry and really trying to keep the costs down where possible. I continued to work for the first two years of starting my business to cover costs.
What kind of advice did you get before you started and from who?
I didn't really get much advice. I just dived in because I didn't want to hear why it wasn't a good idea and how the timing was wrong.
Scroll through to see some of our favourite designs by Kara. Images via Facebook. (Post continues after gallery.)