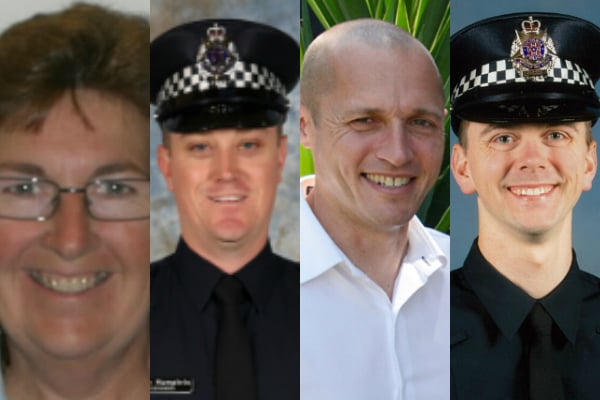 The sun was only just setting on Wednesday when two police officers intercepted a Porsche on the Chandler Highway at Kew, on Melbourne's Eastern Freeway, at 5:40pm.
The car had been speeding, and the two police stopped in the emergency lane of the freeway, calling for backup after deciding to impound the luxury car.
Shortly after two more officers arrived, the group was ploughed into from behind by a refrigerated semi-trailer.
All four died at the scene.
On Thursday afternoon, we learned their names: Leading Senior Constable Lynette Taylor, Constable Glen Humphris, Senior Constable Kevin King and Constable Josh Prestney.
WATCH: The Victorian Commissioner on the Today Show. Post continues after video.
In a statement to the Herald Sun, Victorian Chief Commissioner Graham Ashton said the officers were undertaking everyday duties to keep the community safe when they were killed.
"They were members of our Road Policing Drug and Alcohol Section and Highway Patrol. They were our colleagues, our friends, our squad mates, our family.
"Each from different backgrounds, each with different life experiences, each with a common goal to keep the community safe.
"Their families will never be the same and our thoughts and prayers are with them."
The grandmother of Constable Josh Prestney told The Herald Sun the 28-year-old had only just begun working as a police officer: "He was just on a stint before being at Kew station. He had only started on this on Tuesday."
Wednesday night's tragedy was the single deadliest incident in Victoria Police history.