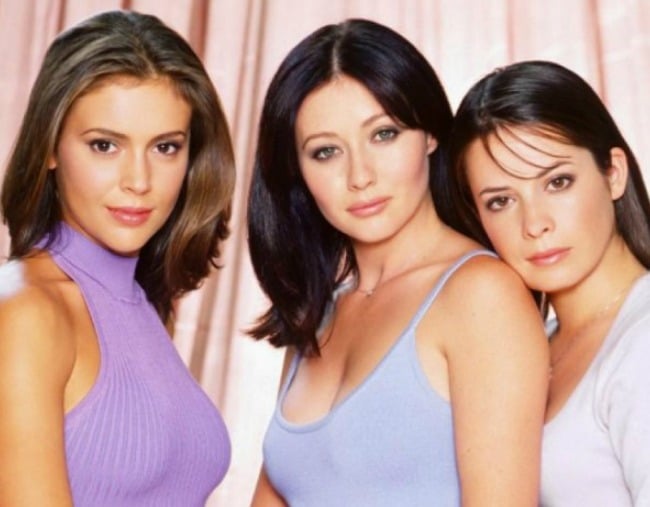 The CW network is bringing back Charmed in a reboot this October, but the original stars are not here for it.
Charmed's three original stars Alyssa Milano, Shannen Doherty and Holly Marie Combs have each criticised the reboot for not consulting with the original cast and its "offensive" marketing.
Milano, who played Phoebe Halliwell in the original series, is the latest to speak out, telling Entertainment Tonight she was not interested in making a cameo.
"I wish that they would have come to us and we would have been involved since the beginning," Milano told ET.
"But having said that, I do hope that it reaches the newer generation and impacts that generation the way ours was able to do for its generation."
The original Charmed series ran from 1998-2006. The CW officially ordered the reboot, which they described as "fierce, funny, feminist", in January and was quickly criticised by Doherty on Twitter.
"Their wording is terrible and a bit offensive. But, everyone makes mistakes. Perhaps with the backlash they will be more thoughtful in future," she tweeted.
Yep. You nailed it. Their wording is terrible and a bit offensive. But, everyone makes mistakes. Perhaps with the backlash they will be more thoughtful in future.

— Shannen Doherty (@DohertyShannen) January 27, 2018
Yes I addressed this…. very ignorant stupid comment. Perhaps made by a millennial that never watched the show and just read a synopsis on it.

— Shannen Doherty (@DohertyShannen) January 27, 2018
The actress played the oldest sister Prue Halliwell in the first three series and called the use of the word "feminist", and the implication that the original series was not a feminist show, a "very ignorant stupid comment."
She added that she loves Charmed and also wants it to be respected: "I'm simply choosing to be constructive about it because negativity has no place in my life."
But perhaps the most scathing criticism has come from Combs, who played the middle Halliwell sister Piper. She has attacked the CW's reboot on more than one occasion.
When it was first announced, she also took issue with the "fierce, funny, feminist" tag line about witches "tearing down the patriarchy".
"Guess we forgot to do that the first go around. Hmph," she tweeted.
"Here's the thing. Until you ask us to rewrite it like Brad Kern did weekly don't even think of capitalizing on our hard work. Charmed belongs to the 4 of us, our vast amount of writers, crews and predominantly the fans. FYI you will not fool them by owning a title/stamp. So bye."
In May she posted a screenshot on Twitter to explain her frustration at how the new show was being marketed and ageism that implies she and her co-stars are too old to reprise their original roles.
If you're gonna quote me then actually quote me @yahoo. pic.twitter.com/hQ35cXTg40

— Holly Marie Combs (@H_Combs) May 22, 2018
"Let me first say that I appreciate the jobs and opportunities the Charmed reboot has created. But I will never understand what is fierce, funny or feminist in creating a show that basically says the original actresses are too old to do a job they did 12 years ago. I hope the new show is far better than the marketing so the true legacy does remain," she wrote.
Combs then said reboots fair better when they honour the original, as opposed to taking shots at it.
"Reboots also do better when they listen to a still passionate fan base which is what it's all about, isn't it? That's why we do reboots. The fans are why we all get to do what we do. So we wish them well and hope for success."
After the series announcement in January, fans of the original Charmed shared #StopCharmedReboot on Twitter.
The reboot stars Melonie Diaz, Sarah Jeffery, Madeleine Mantock as the Vera sisters, who after the death of their mother discover they are powerful witches and together possess the "Power of Three".
The new series has made a few changes to the original. As well as changing the sisters names to Maggie, Mel and Macy Vera, the middle sister is a lesbian and the youngest sister will have the power of telepathy instead of premonition. The setting has also been moved from San Francisco to the fictional town of Hilltowne.
It will premiere in the US on October 14.