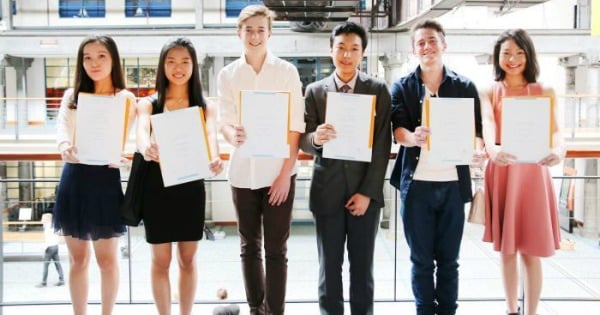 Every parent knows it can be difficult to wake up teenagers early, but it was probably a little easier today with Year 12 students across New South Wales getting their HSC results this morning.
About 77,000 students across the state received their scores via text message at 6:00am this morning.
Kate Cousins set her alarm so she could see the text message as soon as it came in.
"I am thrilled, I am so relieved and happy," she said.
"And I'm amazingly gratified just because I put in so much hard work and what's come out of it is fantastic."
Kate topped the state in Earth and Environmental Science.
She hopes to study advanced science majoring in molecular biology at Sydney University next year.
"I feel like I'm one of the luckiest students in the state because the Board of Studies just happened to offer subjects that were my favourites and a passion of mine, most of the time it didn't feel like work, it just felt like fun."
Students who topped their subjects were awarded yesterday for their achievements, with six students topping the mathematics course.
Damian Nahkla, still high from finding out he was one of six students who topped the state in 2 Unit Maths, found out this morning that he has a way with words too.
"Quite over the moon at the moment actually," he said.
"I didn't expect to do well at English, it wasn't my best subject, but it turned out I did quite well, so very, very pleased."
Damian says his parents who have maths-based skills, helped him but did not take over.
"I was determined to do it myself, determined to try and succeed without external help … and the main thing is just enjoying myself too."
Damian is hoping his results will enable him to study medicine at the University of Western Sydney.
'Not the be all and end all.'
But not all can be on the honour roll.
Students who received their HSC results this morning and did not get marks they hoped for should still be proud of their efforts, said Education Minister Adrian Piccoli.
"The HSC is not the be all and end all," Mr Piccoli said.
"There are so many pathways to people's goals in lives … the HSC is just one of them.
"So, if you didn't quite get the marks you were going to get then keep your chin up because there are many more avenues to success."
This post originally appeared on ABC News.


© 2016 Australian Broadcasting Corporation. All rights reserved. Read the ABC Disclaimer here.