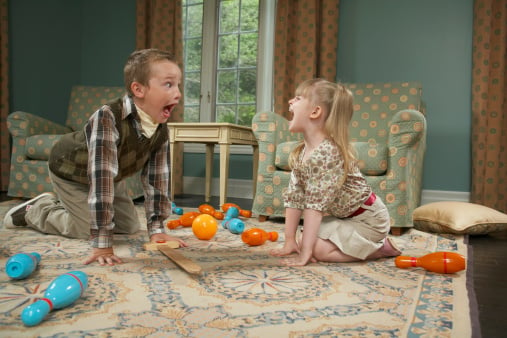 Parenting. It all used to be so simple and straightforward. Then I had kids.
So I'm not exactly the kind of parent I thought I would be. That's because my children aren't the kind of children I thought they would be. (Ah, just kidding. They're great.)
But I have to admit, I've let go of a few firmly held beliefs and ideals since I've become a mum. Like these:
1. "I won't have to use bribes or threats because I will give a rational explanation for every decision I make."
Oh yes, I can give a rational explanation. To a two-year-old. He will just bite harder.
2. "I will never use TV as a babysitter."
Right. Because I have so many other free babysitters on call any hour of the day or night.
3. "If I put healthy food in front of them, they will eat it."
Make that: if I put toast in front of them, they will eat it. Vegetables seem to possess some mysterious force that repels my children.
4. "If I stay home with my kids, I might have time to write a book."
Or, perhaps, the occasional Facebook status update.
5. "I will dress my children in denim overalls and adorable little shoes."
I will dress them in anything that's machine-washable and easy to get on and off. Shoes for babies are about as practical as shoes for goldfish.
6. "I won't trot out all those old lines."
'You know there are kids on the other side of the world who are starving,' or 'Money doesn't grow on trees, you know.'They're just so true.
7. "My kids will never, ever wander around the house with just a nappy on."
Oh, come on. It's hot, and they keep taking their clothes off. Who cares?