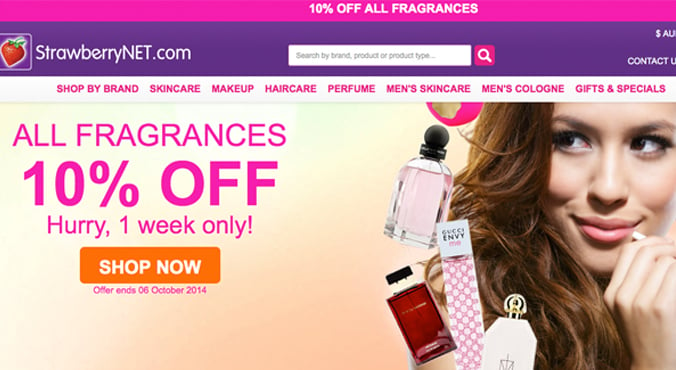 Images: Strawberry.net
Google the question: 'Is StrawberryNet real or fake?' and you'll find thousands of other women trying to determine the exact same thing.
Scroll through pages of forums dedicated to the topic and you will find women claiming they love 'SNet'  and disgruntled customers who believe they've received faulty or counterfeit products in equal numbers. Then there are the horror stories: those who've had terrible allergic reactions to products they've bought from the grey market online retailer.
The lure of heavily discounted beauty products, perfumes and luxury haircare brands seems too good to be true. And apologies to anyone who believes otherwise, but that old adage rings true in this case.
---
You might also like:
3 makeup hacks to look more polished with minimal effort
How to purge your beauty cupboard properly
5 easy makeup swaps every new mum should make
---
Murad, Inc. (a dermatologist-developed skincare brand) filed a United States Federal Court lawsuit against the owners and operators of Strawberrynet.com for selling unofficially obtained Murad-branded items in 2010.
In the lawsuit, Murad alleged that many of their products being sold on the site had been stripped of their quality-control tracking features, including batch codes and protection seals. These public safety measures allow Murad to ensure that their products are genuine, non-counterfeit and free from contamination.
At the time, Richard Murad, General Manager for Murad, Inc. said: "When you buy a Murad product from an authorised retailer, either domestically or internationally, you know the product has been subjected to Murad's top notch quality control procedures and meets Dr. Murad's high standards. Our relationships with trusted retailers such as Sephora, Ulta, Massage Envy, and numerous spas and salons around the world validate our mission to deliver quality merchandise through trusted authorised retail outlets. This will not change, and we will continue to take legal action against anyone who threatens Murad's brand integrity or otherwise poses a risk to the public."