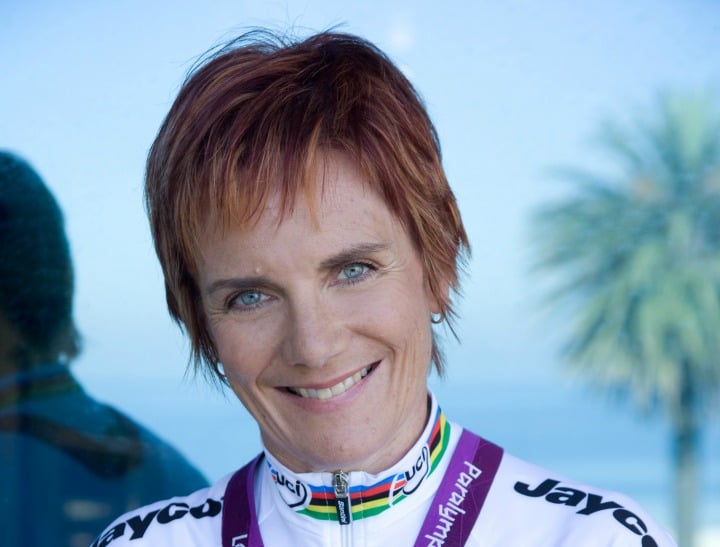 She's won multiple cycling championships and awards – and she's done it all with Multiple Sclerosis.
Carol Cooke, 53 was born and bred in Toronto, Canada but moved to Australia in 1995 when she fell in love with an Aussie and moved half way around the world to Melbourne.
Cooke was a member of the Toronto Police Force in Canada for fourteen years before she left her North American home. When she was 36 years old she visited a GP after experiencing strange balance problems and double vision. She was referred to a neurologist who ordered an MRI and ultimately told her she had multiple sclerosis (MS).
At the time Cooke was told, "Your life as you know it is over. Go home and put your affairs in order before you become incapacitated."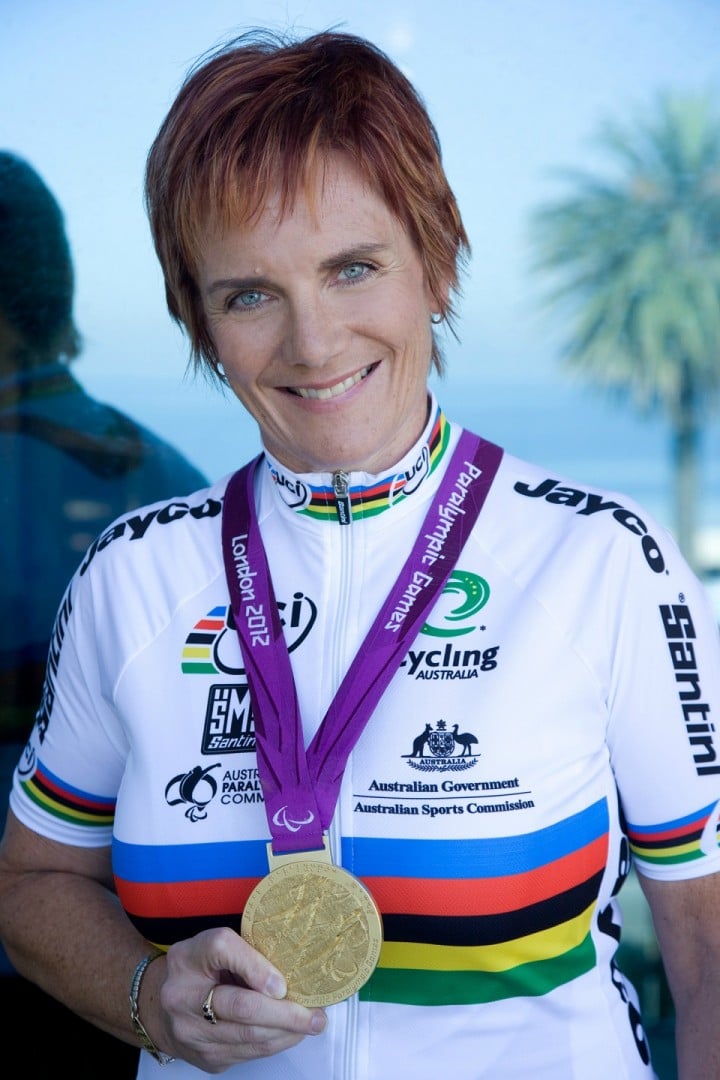 But this strong woman did anything but that. In fact she became a Paralympic Gold Medallist, a World Cycling Champion, 2013 Victorian Cyclist of the Year (beating Cadel Evans and Simon Gerrans) AND was an Order of Australia recipient.
To say she proved that doctor wrong is an understatement.
I got to talk to Cooke about what inspired her to get into cycling, what it felt like to represent her country at the Paralympics and what it's like to live (and ride) with MS.
When did you first get in to cycling?
CC: I had a bike as a child but I had never really thought of racing until I was talked into taking part in the Australian National Para Cycling Championships in 2011.  Since then I haven't spent much time off of my trike.
Why cycling?
CC: I had been rowing and it was my goal of going to the 2012 London Paralympics as a rower, but when Rowing Australia decided it wasn't interested in the crew I was in, I was talked into cycling by another friend who I had been rowing with.
 Related: Budget cuts for women's cycling. 
When were you diagnosed with MS?
CC: I was diagnosed on the 23rd of April 1998, 2:15 pm.  It's funny how we remember dates and times, but it will always be with me as the neurologist who diagnosed me told me to 'go home and put your affairs in order before you become incapacitated.'
When did you start noticing the symptoms?
CC: I can think back to my early 20's and realise that I had symptoms back then.  But they were one off symptoms such as dizziness and pins and needles.  It wasn't until they all hit together that I realised there was something very wrong.  That was in about February of 1998.
 Related: Proof that it takes 20 years to make an overnight success.
What's it like riding with MS?
CC: The only difference between riding with MS and without it is that one of my symptoms is my balance, of which I have none!  So I ride a Tricycle, it looks just like an ordinary bike except it has 2 wheels at the back.  With the amount of training I have to do to be competitive with the best riders in the world I have to be very careful with my health.  I want to be able to do enough so that I am competitive but if I do too much I can push over the edge and not be able to do anything for days.  It is a fine balancing act.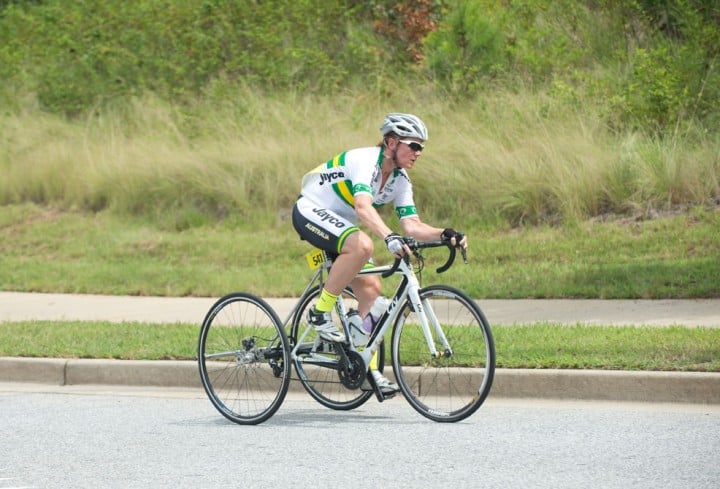 What was it like representing your country in the Paralympics? 
CC: It was an amazing feeling.  It was a dream I had since the age of nine, so to all of a sudden actually be there was surreal.  I felt so much pride wearing the Australian uniform and when I won Gold in the Time Trial I had every emotion that you could think of all in my head at the same time!  It is a feeling that you really can't put into words.
What's the biggest challenge you've ever had to overcome? How did you overcome it?
CC: I think that the biggest challenge I ever had to overcome is changing the beliefs of doctors, friends and family that just because you have MS doesn't mean that you can't do things.  I honestly believe that as someone living with MS I can accomplish anything.  I may have to do things differently but I can do them.  I am still trying to overcome these beliefs in others but slowly we are getting there.
What motivates you? Who has influenced you?
CC: My motivation comes from the fact that exercise is keeping me walking. Continuing to race at an elite level – I don't believe that needs motivation because I enjoy what I am doing so there is no need to motivate myself to train.  What I believe is that it is more about commitment.
I believe that I have had a lot of influences in my life, from my family, my mother, father and sister.  However I had one huge influence and that was a friend by the name of Bruce.  I met him through MS as he was living with it as well.  But he was then diagnosed with terminal bone cancer.  He had an amazing view of life and lived everyday the best he could before he passed away.  So he was a huge influence.
What would be your advice to other aspiring athletes?
CC: To believe in yourself and your abilities and never let anyone tell you that you can't be good enough or will never succeed.  Face your fears and you can accomplish anything.
Related: Afghan women's cycling team are riding for a cause.
What's the one thing you wish everyone understood about MS?
CC: That it is an invisible disease and just because I may "look so good" doesn't mean that I am not experiencing symptoms, most of my symptoms you can't see
What is the MS Melbourne Cycle?
CC: The MS Melbourne Cycle will take place this Sunday, 19 April to raise funds for people with multiple sclerosis (MS), the most common neurological condition in young adults. It is a fun, non-competitive event suitable for all ages and fitness levels. There are two course options available – a 50 km course or the more leisurely 30 km, both of which ride over the West Gate Bridge.
People can register to take part in the MS Melbourne Cycle online until Friday 17th April at www.msmelbournecycle.org.au. People can also register on the day at the event.
And in other sporting news…
– A woman has joined the board of the Sydney Swans AFL team. On Tuesday this week, the Swans announced that Alexandra Goodfellow would be appointed to the board. Her position will fill the space left by Richard Colless who retired in 2013. Swans Chairman, Andrew Pridham has welcomed Goodfellow to the board, saying she will strengthen the board with her specific skill set. As a long term supporter and member of the Sydney Swans, Goodfellow is thrilled. We're thrilled that one more woman is being added to a board relating to sport. 
– There may be a new name among the Australian Netball squad headed for the World Cup. Gretel Tippett was former basketball player turned netball player and has just been named in the Australian squad for Netball World Cup. Tippet switched to netball in 2011. She'll be part of a squad who'll go in to the World Cup in Sydney, hoping to defend their title.
– Surf Life Saving Australia has hired it's first female CEO. Businesswoman, Melissa King has been appointed as the CEO and will start her new role with the company on July 1st this year. She has been working with Surf Life Saving Australia since July 2013 as general manager for communications and business development. This is a great achievement, and a huge step forward for women in Australia's surf life saving organisations.
– This week Gavin Badger become the second ever female to be appointed as the referee for an NRL game. She will be one of the touch judges today for the Gold Coast-Penrith game. She's in her 12th season of rugby refereeing. Well done – and good luck!