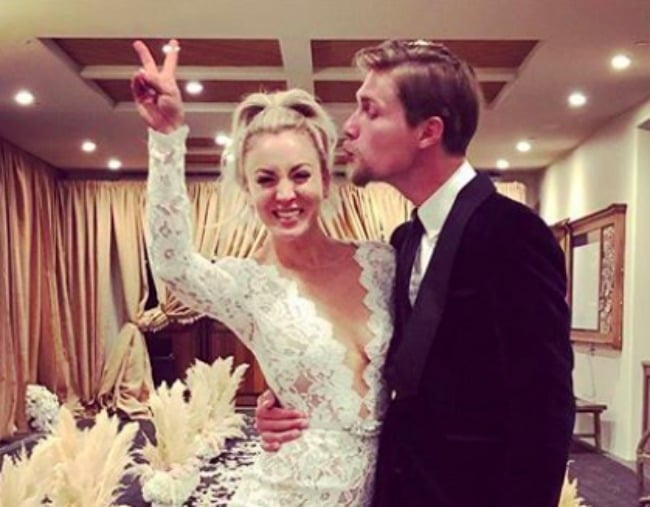 1. The stunning detail on Kaley Cuoco's wedding dress we all missed.
Just over two weeks since her wedding, we finally have a close-up photo of Kaley Cuoco's beautiful wedding dress on Instagram. While you'd be forgiven for thinking the cape in the original photos was a permanent feature of the dress, this new image proves otherwise.
The dress, which was designed by Reem Acra, was embroidered delicately and is tighter than previously understood.
If you're wondering about the furry friends in the photos, Cuoco is a self-proclaimed animal lover.
While most newlyweds would ask for presents at their wedding, Kaley Cuoco asked for a very unique gift: donations to Paw Works, a charity for cats and dogs.
2. The one plastic surgery procedure Khloe Kardashian says she is too scared to undergo.

Khloe Kardashian has revealed that despite being interested in other surgeries, there is one surgery she regularly thinks about but is a too scared to try.
After sharing her most recent photo to Instagram, @allysonclifton commented, "did she get her nose done or just really fleeky contouring", prompting speculation on the image.
In response to the comment, the mother of one wrote, "One day I think I'll get one because I think about it everyday. But I'm scared so for now it's all about contour."
It's not the first time commenters have speculated about a nose job on one of Khloe's posts. Last year, during her pregnancy, Khloe posted a photo with her dog and her contour was so on fleek that the commenters couldn't help but suspect a nose job. Again.
At the end of the day… Who nose?
3. How Sam Wood responded when one of his followers shamed his fiancé.

After Sam Wood posted a sweet selfie with his fiancé Snezana Markoski yesterday, he received a cruel comment from a follower.
"Oh my god Sam's hair is so grey I can't even look at it and you are so fake it's disgusting," the follower wrote in the comment directed at Snezana.
Posting the exchange on his Instagram story, the former Bachelor and personal trainer posted a public response to the troll, writing: "Snez is the most real person I've ever met and my hair is grey, I'm nearly 40 and I think I'll be okay #getalife".
Best. Response. Ever.
After seeing his Instagram story, followers of the couple left comments of support on the 40-year-old's Instagram post
"Only someone lacking in self confidence and maturity writes horrible comments such as that! You both look gorgeous and are ageing gracefully," one commenter wrote.
We'd have to agree on that one.
4. Just a bunch of pics of what your favourite local celebrities are wearing to Splendour in the Grass.

It's that time of year again – Splendour weekend.
Although globally-known musicians like Lorde and Kendrick Lamar are in Byron Bay for the festival, there's no denying that Splendour in the Grass is about the fashion and glitter just as much as it is about the music.
As always, Aussie celebs are sharing their elaborate and glittery (very glittery) outfits on Instagram. Here are all our faves.
Ex-Big Brother contestant Skye Wheatley
Bachelor in Paradise's Elora Murger
Model and actress Olympia Valance
Love Island's Elias Chigros
Influencer Jayde Stella
Miss World Australia Erin Holland
5. The simple reason Princess Charlotte's net worth is higher than either of her brothers'.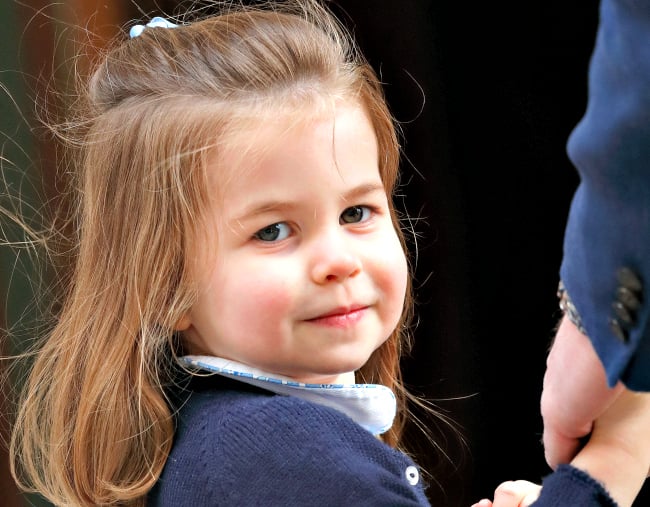 There are a lot of reasons why being a woman in the British royal family is a bit like drawing the short straw.
Having your wardrobe compared to your sister-in-law's every time you step out of the palace. Always having to be 'ladylike' while the men learn to fly military helicopters. Being asked when you're going to have babies etc.
But when it comes to which of the next generation of royals is worth the most, it appears it pays to be female. Very well.
According to figures estimated by Reader's Digest, the only daughter of The Duke and Duchess of Cambridge Prince William and Kate Middleton is worth more than everyone else in her immediate family at just over $6.7 billion.
Not bad for a three-year-old.
By comparison, older brother Prince George is said to be good for $4.7 billion, and The Sun estimate three-month-old Prince Louis could inject up to $176 million into the British economy.
The reason the Princess' pile of dosh is considerably higher than her brothers' comes down to one simple reason.
It's called 'The Charlotte Effect' and essentially it's another way for saying there's more money in girls' clothing than there is in boys'.
For more on The Charlotte Effect and why everything she wears turns into cash, read our full story about Princess Charlotte's net worth here.