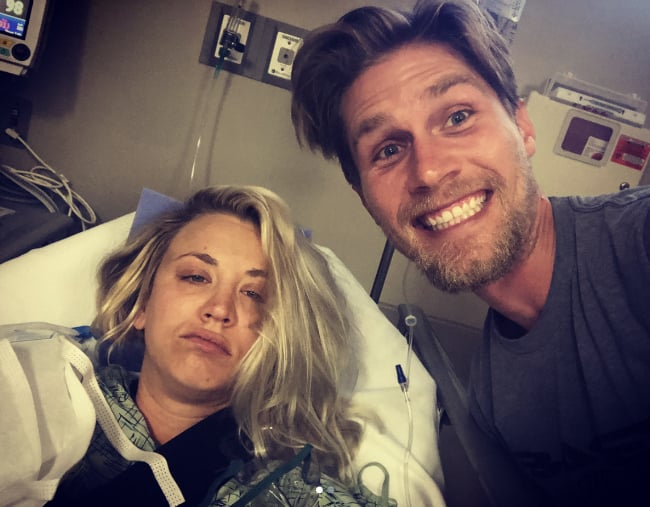 Actress Kaley Cuoco only married Karl Cook five days ago, but her honeymoon seems to have been put on hold as she undergoes shoulder surgery in hospital.
Cuoco, 32, posted a photo of her and her new husband to Instagram, bedridden and looking less than pleased while Cook gave a very cheesy smile right next to her.
"When your 'honeymoon' is shoulder surgery and your husband looks just as happy lol on the road to recovery" the Big Bang Theory star captioned the photo. "Thank you for all the love and support!❤️knowing @mrtankcook I'm sure he will be posting tons of hilarious gems ???????? thank god my hair color is on point (@clarissanya)."
And 'hilarious gems' he sure did post.
Karl Cook, who is a professional equestrian, posted a photo to his Instagram of his wife in the hospital bed, captioning the photo: "Everyone has their own version of a newlywed glow…well @normancook yours is memorable???? #shouldersurgeryhoneymoon."
He also uploaded this video to his social media site's, captioning this video: "@normancook snoring like a distressed walrus. I love you so much honey but wow! #shouldersurgeryhoneymoon".
Somehow, these two have made being in hospital right after their wedding look romantic.
It is unclear thus far if the shoulder surgery was planned or an emergency procedure, but it seems the couple's spirits are still high nevertheless.
The couple began dating in March 2016, and became engaged in November last year.
Just got engaged? Need help planning your wedding? Mamamia's new wedding planning podcast Hitched is here to help…
Want to hear to more? Subscribe to Hitched.