1. Everyone's fave Bachelor Sam Wood defends his comments about Snezana's post-baby body.

Ah, social media. Ever the drama-stirrer.
Things can get especially complicated when you're the country's favourite former-Bachelor, too. Enter fitness entrepreneur Sam Wood, who has 260,000 people following the ins and outs of his life.
A wee misunderstanding happened this week, when a cute Instagram photo of Sam and Snezana Markoski at VAMFF (Virgin Australia Melbourne Fashion Festival, for those who have always wondered) was shared to Sam's account.
Snez was photographed in a crop top and flared pants combo, which Sam captioned with "Date night @vamff with this sexy woman (that can I add, had Willow less than five months ago)."

Some of the father-of-two's followers weren't so impressed, accusing Sam of re-enforcing unrealistic body expectations on new mums. Others defended him for just being a proud, supportive fiancé.
Regardless of where you stand, Sam was lovely enough to reply to concerns, clarifying that his statement was simply acknowledging his "beautiful fiance."
"I am always the first to say that every woman and pregnancy is completely different and should do things at their pace when they do or don't feel like it," he wrote. "I have made sure I've supported Snez without any pressure every day."
Hear, hear.
We're throwing it back to when Snez came onto our podcast 'I Don't Know How She Does It' to talk how she went from being a scientific single mum to one of our favourite loved-up style gurus. All thanks to a little show called The Bachelor. Post continues after audio.

2. Busy like Pete Evans? Why don't you start hanging up your washing at the airport?
Delayed flights are the worst.
You've already eaten half your plane snacks, spent $20 (or at least it feels that way) on a bottle of water and are finally ready to board when you find out you've got several more hours to kill in the airport.
What do you do? If you're Pete Evans, you chill out on the car park and hang your washing out.
"Gotta make the most of every moment. This is how I am choosing to wait for another plane at the airport that is a little delayed," he wrote on Insta.
Talk about efficiency.
We're not talking your smalls though – because obviously you're an efficient person who carpes the diem so you came straight to the airport from the surf.
"My wetsuit, towel and booties drying on the trolley rack as I just got out of the surf and I get an opportunity to absorb some more Vitamin D from the sun before the flight by sitting on the grass in the airport car park."
He went on the share a reminder about how every moment is a chance to be yourself.
So the two big takeaways? Live in the moment and the airport car park has excellent laundry facilities.
3. Spare a thought for Ryan Seacrest, whose ratings at the Academy Awards took a serious nosedive.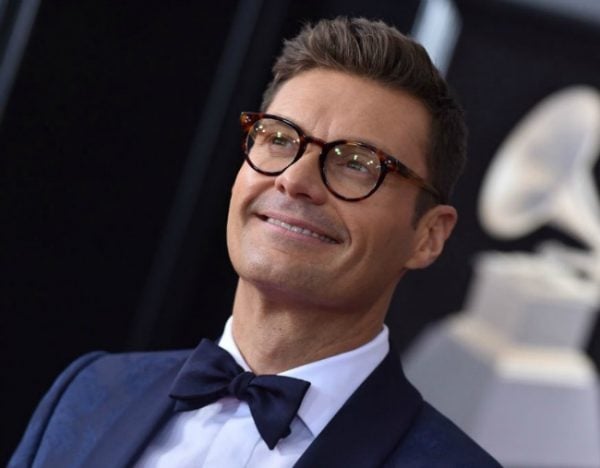 Well, to perhaps no-one's surprise, it would appear the Oscars weren't a shiny, happy, golden affair for Ryan Seacrest who is in the middle of fighting allegations of sexual harassment from a former stylist.
Seacrest, who hosted the Academy Awards for E!, struggled to pull the kind of numbers he, and the network, are used to pulling on such a huge night for TV. According to Nielsen and as reported by the Daily Mail, ratings for E!'s coverage fell about 35 percent from a year ago and as much as 43 percent in key demographics.
The numbers are no huge surprise given how many major stars avoided Seacrest on the red carpet. In fact, Mashable UK reports Seacrest interviewed 20 people in his coverage, with only two being actual Oscar nominees.
If nothing else, it shows how seriously we're beginning to consider allegations of this kind. Because #TimesUp.
4. Calling all Queer Eye fans: TOM IS BACK WITH HIS EX-WIFE.

Fan's of Netflix's Queer Eye reboot will know the tale of 57 year old grandad, Tom Jackson, and his on-and-off-again relationship with his third ex-wife Abby.
I just watched my episode for about the 20th time. I cry ???? like a baby ???? ever time I watch it. Just to let the world ???? know, Abby and I are no longer together. She will always be the love ❤️ of my life. I will always love ❤️ her more than anything!!!!!!!

— Tom Jackson (@TomJack20176306) February 28, 2018
Just six days ago the cap-wearing fella announced that they had gone their separate ways via a dramatic Twitter post, however we can now confirm, margarita in hand, that it's back on.
Returning to Twitter, Tom posted an image of him and Abby re-united with an exceptionally well-curated emoji-filled response, because drama happens, but love prevails <3.
So happy ???? to say that Abby and I are reunited ???? we've loved each other for many years and want to spend the rest of our lives together!!!!!!!! ???? pic.twitter.com/gb36SXRp5c

— Tom Jackson (@TomJack20176306) March 7, 2018

*clinks our margarita glass a thousand times over.*
5. Are Married at First Sight's Sarah and Telv still together? An investigation.

It's the question couples on the couch, workmates by the communal fridge and (presumably) politicians in the highest positions in Canberra are currently asking themselves: Are Sarah and Telv from Married At First Sight still together?
Because we know you've been unable to work with it all in the air, Mamamia writer Keryn Donnelly underwent a very serious and very thorough investigation into all the evidence. Here's what she concluded.
To catch up on everything that women are talking about this, tune into the latest episode of Mamamia Out Loud. This week the team talk about where you should go in Australia to find alll the single men, supermarket avocado etiquette and how to not isolate a vegan at a dinner party.

Shout out to all Dads.
Here at Mamamia we are always looking for ways to make Mamamia even better. Dads, we need you to help us do that by filling out this quick 15 min survey for us. Click the button below for your say.