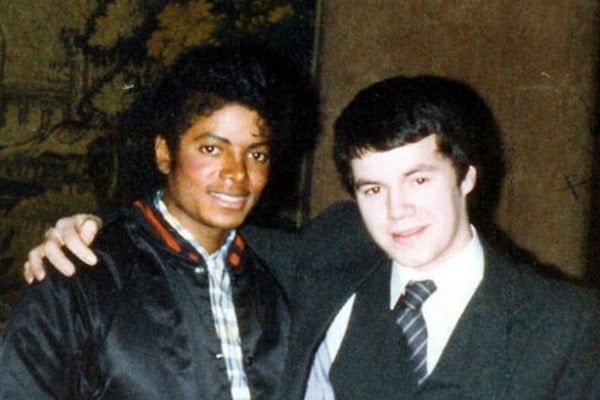 Following the release of controversial documentary Leaving Neverland, other allegations of child sexual abuse by Michael Jackson have begun to resurface, including what is believed to be one of the late singer's first instances of inappropriate behaviour towards children.
In 1979, a then 21-year-old Jackson is alleged to have masturbated during a phone call with a 13-year-old British boy called Terry George.
Details of Jackson's relationship with George, now a 53-year-old businessman, first surfaced in 1993 when he faced a suit claiming he abused another 13-year-old, Jordan Chandler.
Mamamia's daily news podcast The Quicky explains the allegations in Leaving Neverland. Post continues after audio.
British tabloids got hold of the story after one of George's friends blabbed, with salacious headlines describing it as "phone sex" rather than what it really was: A non consensual incident with a 13-year-old boy.
George has also spoken about their alleged encounters in multiple documentaries about Jackson, and in 2003, in a Louis Theroux documentary titled, 'Louis, Martin and Michael,' recalled his first meeting with the pop star at his Leeds hotel room.
George would often go to hotels with a tape recorder in the hope of running into a celebrity to interview.
He knocked on Jackson's hotel door and was surprised when Jackson himself opened the door.
"There was no security around, no one stopping me really. I just said 'Hi I'm Terry, can I do an interview with you?' and he was quite taken aback by that," he told Theroux.
"He invited me into his room, he was there with his brother, Randy Jackson, and I did an interview with both of them."
The pair swapped addresses and phone numbers and Jackson started regularly calling George. They became friends and spoke about three times a week, but after a few months things took a disturbing call.
"He spoke about masturbation. About him masturbating. Did I masturbate?" Mr George told ABC in a 2005 interview.
"I never saw it coming, it wasn't something I expected, it just came out of the blue really. He said, 'Would you believe that I'm doing it now?' and let me hear him on the telephone, I could hear him … I did feel uncomfortable, I can remember feeling uncomfortable, I felt awkward.
"I thought that I didn't react as he wanted me to react and I thought that perhaps he would never call me again or I wouldn't hear from him again… in hindsight looking back at it now I know that type of conversation probably should never have happened."
After Jackson's death in 2009, George told The Mirror that detectives contacted him in 1993 and told him they believed Jackson's alleged inappropriate behaviour started with their friendship.