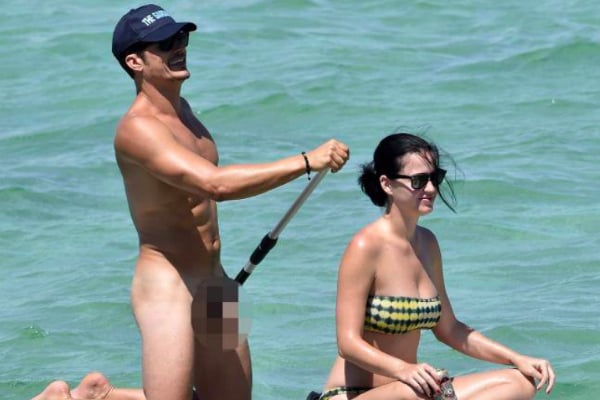 1. We can't stop thinking about the time Orlando Bloom got his penis out on a paddle board.
On Valentine's Day, singer Katy Perry and actor Orlando Bloom announced their engagement on Instagram.
The couple who've been dating on-and-off since January, 2016 shared a selfie featuring a big ole $5 million flower engagement ring.
It's lovely news. Just wonderful.
But… we can't stop thinking about the time Orlando Bloom got his penis out on a paddle board.
Honestly, it's the first thing we Googled after the couple's engagement announcement.
Our internet search brought us to a 2017 interview Perry did on KIIS FM's Kyle and Jackie O Show during which the singer explained exactly why her now fiancé was paddle boarding with no pants on.
"I've had lots of therapy about that moment," the Grammy-winning singer said at the time.
"He asked me if I wanted to [be naked] and it was just one of those things where I was like 'oh, nah'. You know when you're dating someone sometimes and it's exciting, and you're thinking should we try this…"
"I was just not in the mood, so I stayed with the clothes."
Case closed.
2. "I was never Mrs Stefanovic." What Cassandra Thorburn wants us to know about her marriage.
Cassandra Thorburn is about to make her reality TV debut appearance on the newly-rejigged Dancing with the Stars.
As each celebrity on the show does, Thorburn will be given a 'job description' that she'll be introduced as every time she takes the dance floor. Despite being well-known as former Today host Karl Stefanovic's ex-wife, that will not be what defines Thorburn on the show.
Speaking to The Daily Telegraph, the author and mum-of-three said she's looking forward to the opportunity to present her personality to the public.