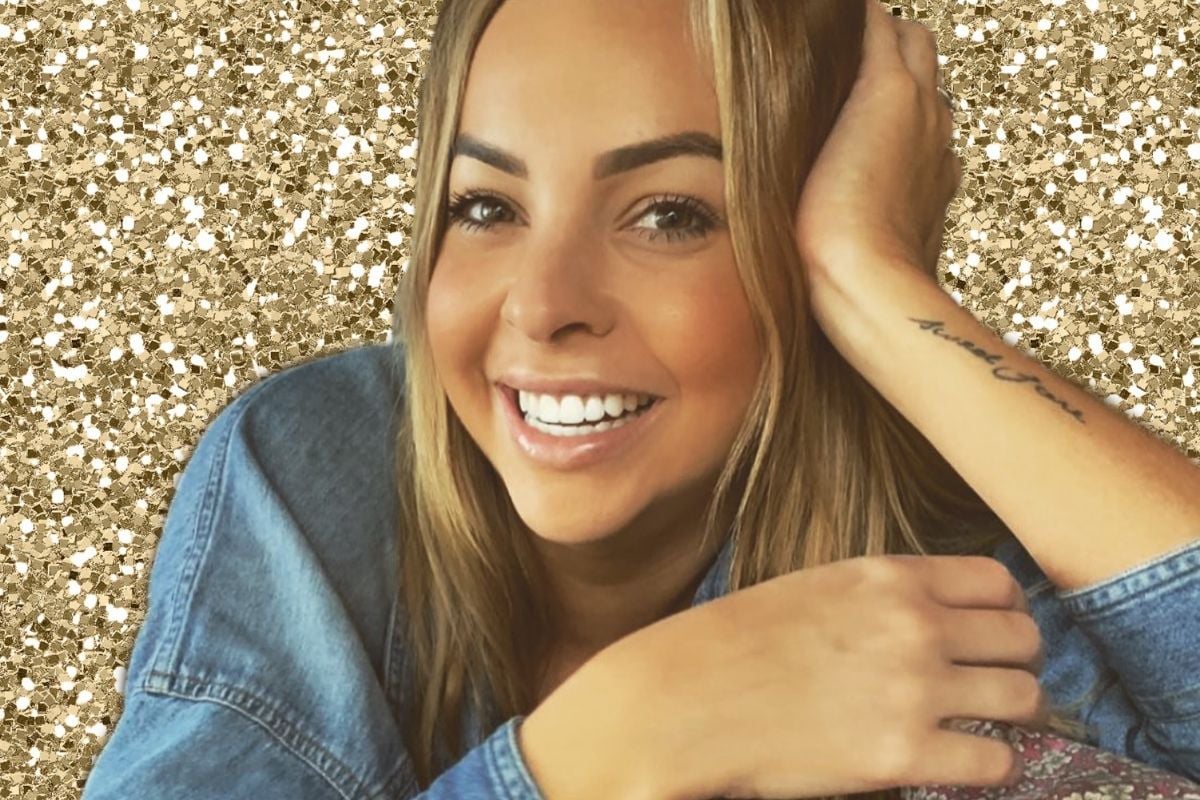 What I Put On My Face is Mamamia's celebrity beauty series that takes you inside the beauty cabinets of influential women. From what skincare products they use to their go-to makeup tips, it's a pervy look at exactly what they put on their face. And body. And hair. You get the idea. This week, we spoke to reality TV queen Angie Kent.
If you're a reality TV fan, Angie Kent needs no introduction… but here's one anyway.
After getting her start in front of the camera on Gogglebox, Angie entered the jungle for I'm a Celebrity, found a boyfriend on The Bachelorette and most recently, danced her heart out on Dancing with the Stars. When I spoke to Angie, she was funny and real and completely no bullsh*t. From talking about how she's been dealing with skin issues like acne, acne scarring and pigmentation for 20 years, to why she now can't leave the house without makeup, here's a look inside Angie's beauty routine.
WATCH: Angie sat down with Mamamia's Superfan to chat all things life and love in this hilarious (and puppy-filled) video below, post continues after video.
Angie Kent's skincare routine.
Skin's a huge thing for me, it's one of my biggest insecurities. Everybody's got their thing, and for me, I've always wanted to have beautiful, clear skin. I have suffered on and off with acne since I was 11, I started getting pimples when I was 10. I even got adult acne again at 25. And then being in the Queensland sun and picking at my pimples, I ended up getting really bad scarring.
Don't pop your pimples and don't tan. That's all I did in Queensland and I've suffered for it. When you're younger, you just don't care as much and you run around without sunscreen on, whereas now, I'm putting a hat on and lathering myself in sunscreen because I'm 30 now and I can't sit out in the sun like I used to.
I'm very particular with my skin, I don't just use anything. Otherwise my skin will go wild. Before The Bachelorette started, I was in the jungle [on I'm a Celeb] with no makeup and products, and my skin went crazy. It was good to give my skin a break, but in terms of putting on the thick eco sunscreen, my face didn't like it and I started to break out. It's sensitive. Everything work-wise since then has been very makeup-based. You're always getting your hair and makeup done by different makeup artists, so that's different products, different hands, different brushes, so it was really important for me to have skincare products to keep my skin under control.