1. Excuse us, but there might be a spin-off series from Married At First Sight.

If after a 50 million-week season you feel like you still haven't had enough Married At First Sight, then we have some good news for you.
There are *sources* who claim Channel Nine is putting the feelers out to see if people are interested in a new MAFS spin-off show.
The people at Channel Nine have been cold-calling TV watchers, the Daily Mail reports, and asking them which contestants they'd like to see in their own show.
And apparently, they were very interested in Davina Rankin.
"The person asked me what I thought about Married At First Sight and who I liked or disliked the most from the current season," the anonymous viewer told Daily Mail.
"Then they asked which contestants or couples should have their own television show."
Of course, in order for Davina to have her own reality TV show, she'd have to agree to it. And after speaking out about the cyber-bullying attacks she's been victim of since the show aired, we're not so sure she will.
The Twins chat about the latest episode of Mamamia Out Loud. Post continues.
2. Even more proof we are not worthy of Jessica Chastain.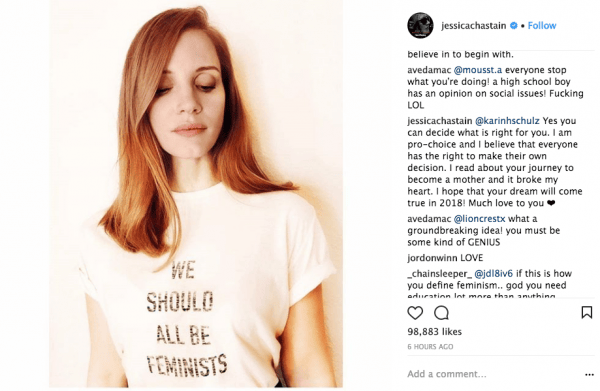 First, she threw her weight behind Time's Up, then she secured equal pay for her co-star, Octavia Spencer. Now Zero Dark Thirty star Jessica Chastain is helping an angry Instagram commenter pay for her fertility treatment.
OK, let's rewind. The origins of this generous gesture were forged on Thursday - International Women's Day - when the 40-year-old declared via Instagram (well, technically via a photo of a t-shirt slogan on Instagram) that 'We should all be feminists'.
Among the comments of "preach" and "yas queen" were plenty of detractors, including a woman by the name of Karin Schultz: "Yes feminist that believe in God and stand up for The Unborn. I would be for that kind of feminist."