Bachie fans, does everyone remember Courtney Dober? You know, the fella who was rather memorably dumped by Georgia Love before a rose ceremony because he was unable to articulate his feelings?
And how about Tiffany Scanlon, who started a romance with fellow contestant Megan Marx instead of the guy she was actually there to find love with, Richie Strahan?
If you answered 'yes' to both, then we have some jolly good news: You're about to see a lot more of them.
The pair are taking part in a US Bachelor spin-off show called The Bachelor Winter Games – which is set to be as bizarre it sounds.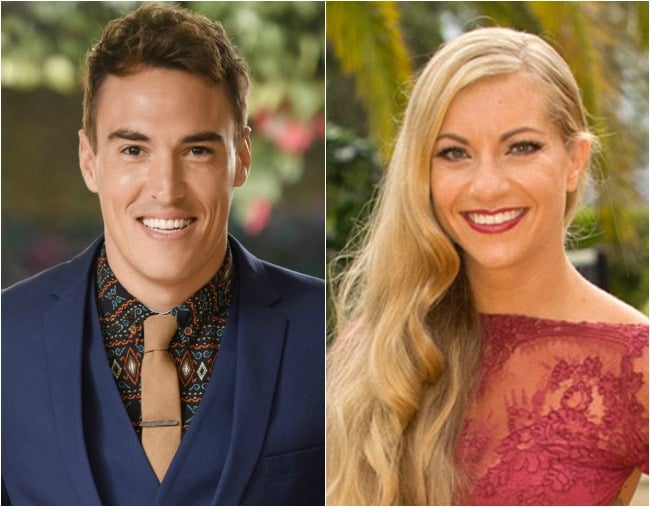 The new reality series, which airs on US network ABC from February 13, is a four-episode series (very, very) loosely themed around the Olympic Games.
According to ABC, contestants, from the US and international series like ours, will take part in "winter-themed challenges" and create a "global celebration of unity" while also tackling on the terribly important task of trying to find The One.
If that concept seems a little odd to you, that's because it is. But we're going to overlook that because seeing Courtney and Tiffany interact with former contestants from the US, New Zealand, Canada, Sweden, Finland, Japan, China, Switzerland and the UK is going to be one heck of a ride.
US Bach super fans might recognise Eric, Josiah and Dean from Rachel Lindsay's Bachelorette season as well as Clare and Ashley.
Listen: Clare and Laura discuss Bachelor In Paradise... (Post continues.)

Courtney gave us all a hint he'd be taking part in the show - which was first announced in May - with an Instagram post last month.
"From one adventure to the next, this year has been pretty crazy! About to take off for the next one (literally) which may top them all!" he wrote, tagging the Sydney International Departures area as his location.
We can't wait to see what Courtney and Tiffany get up to in February - and who they might hook up with.