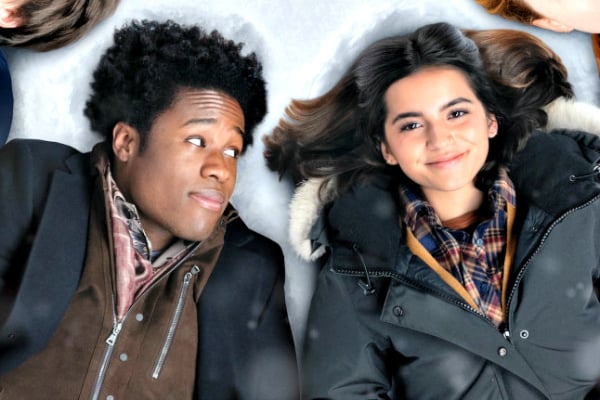 When the trailer for Let It Snow popped up at the top of my Netflix homepage on Friday night, I'll be honest, I wasn't expecting much.
You see, I've been burnt by many a Netflix Christmas movie before.
From A Christmas Prince and The Holiday Calendar to Christmas Inheritance and, most recently, Holiday In The Wild, there's a unique kind of defeated frustration that comes after having wasted two hours of your precious weekend on a truly terrible Christmas movie.
In my opinion, Let It Snow is not one of them. In fact, I'd go as far to say it's low key the Love Actually of 2019.
You can watch the ridiculously wholesome trailer for Let It Snow below. Post continues after video.
Based on the young adult novel Let It Snow: Three Holiday Romances by John Green, Maureen Johnson and Lauren Myracle, this original Netflix film tells the story of what happens to a group of high school friends when a snowstorm hits their small town on Christmas Eve.
Much like other holiday ensemble romantic comedies like Love Actually and Valentine's Day, the movie follows five classic, intertwined teen storylines that ultimately come together at an underage Christmas Eve party at the town's Waffle House diner.
There's the childhood best friends Angie and Tobin (played by Sabrina The Teenage Witch and Mad Men actress Kiernan Shipka and Mitchell Hope) who are in love with each other but are too scared to say it, and the Waffle House waiter Dorrie (played by Aussie actor Liv Hewson from Top of the Lake and Santa Clarita Diet) who is secretly seeing popular cheerleader Kerry (Anna Akana) who hasn't come out yet.