It doesn't matter, really, your opinions on the Kardashians. No matter what you think of their fame or their (very) particular style of celebrity, there is one thing today that is true: Right now, Khloe Kardashian is a woman, sitting at home, holding her belly that is heavily pregnant with her first child, and watching in bewilderment as the earth drops away from her feet.
Her partner, basketball player Tristan Thomspon, who is the father of her unborn child, was allegedly caught on film on Saturday night kissing a woman at a New York City nightclub. The images, published yesterday by Daily Mail, reportedly show him leaning into the other woman, her arm slung around his neck, his face bent to her lips.
And while all this was happening, Khloe was at their home in Cleveland awaiting the birth of her daughter who is due any day.
That's enough, right there, for a woman to live through. But it isn't everything.
There is the way the whole sorry saga is playing out in the press – though you might not be sympathetic to that, considering the Kardashians are a family who's made their fortune off of the public eye.
LISTEN: Someone needs to tell Khloe Kardashian that her type isn't working for her.
Many social media users have even blamed her for choosing to date a man who had a pregnant ex-girlfriend.
But consider the devastation Khloe must feel that the person she thought was different – convinced her family and friends was different – turned out to be exactly the same as the ones who've come before him.
And haven't we all felt the same betrayal?
Think back to Khloe's first husband, former NBA player Lamar Odom who "went missing with another girl" on Khloe's birthday several years ago.
The pair were married from 2009 until 2013 and a year after they split, Khloe delivered this sickening monologue about the reason for the breakup on the family's reality program Keeping up With the Kardashians:
"Let me tell you something — last year on my birthday, I lied to everyone, because I had to lie and say I was with my husband, when in fact my husband was missing with another girl, okay?" Khloe told her sisters.
"And I lied. And I didn't have a birthday, I was alone, and lied to everyone."
Later, Odom admitted his cheating while with Khloe was "atrocious".
If KUWTK is questionable, Khloe Kardashian's weight loss show is downright nuts.

Then, there was James Harden – another basketballer – who Khloe dated for eight months in 2015.
The pair broke up, Harden claimed, because he found the fame too excruciating. Speaking to Sports Illustrated in 2017 the former NBA player said the unnecessary attention from paparrazzi "wasn't me" and "needed to be eliminated".
But Khloe tells a different story.
Again on Keeping up With the Kardashians, but this time speaking to a guest of the show in 2016, Khloe said she had the "receipts" to prove Harden was unfaithful.
"I just don't want to put up with people that you want to be monogamous but then they're not monogamous," Khloe said.
"He sought me out. He wanted to be committed and, you know, then wasn't committed."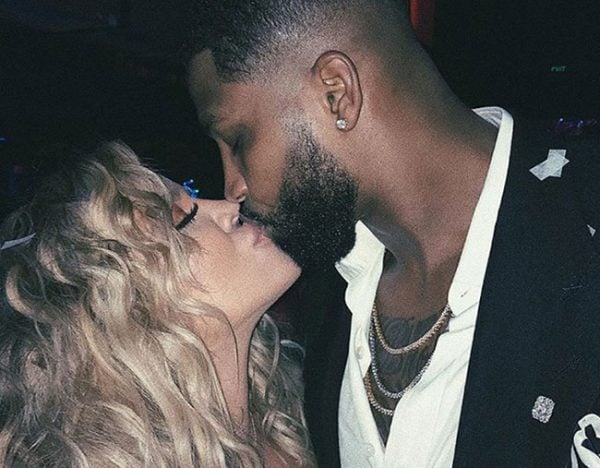 Before she and Thomspon made their relationship official in September 2016, Khloe worked hard to convince her family - and likely herself - that this time was different.
He was the one. He loved her. They had a future together. Theirs was a love like she hadn't experienced before. It was unbreakable.
"It took a while for the family to accept Tristan. They were worried that Khloe would end up heartbroken," a source told People Magazine earlier today.
"Being on the road as an athlete, you face many temptations. But Tristan always assured Khloe's family that he was totally committed to Khloe. Khloe thinks the world of Tristan."
No one in this situation wants to be proven right. But, as Khloe was feeling big and uncomfortable and probably a little bit terrified ahead of the birth of her first child, Thompson was allegedly wrapping his hands around another woman's body and all her family's concerns turned out to be warranted.
No matter what you think of the Kardashians, that pain is universal. No woman deserves that humilation and heartbreak. Especially not days away from giving birth.