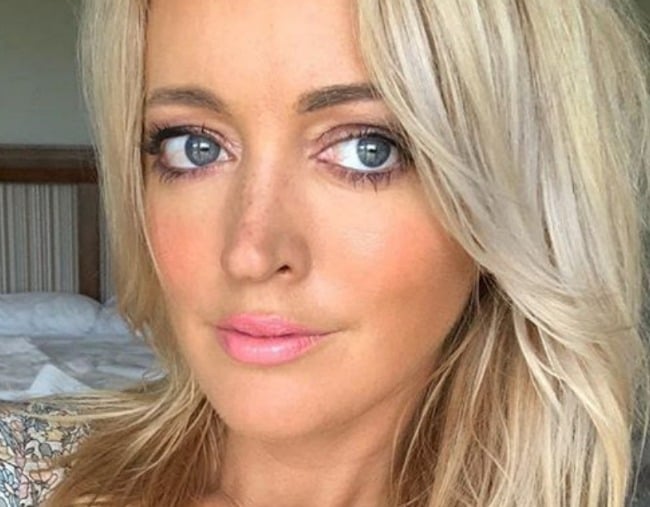 1. Beau Ryan told Jackie O live on air that the amount of money she earns is "bulls**t!".
This be awkward.
You see, on Wednesday former footballer Beau Ryan was a guest on KIIS FM's Kyle and Jackie O show.
During the show, he discovered that Jackie O is being paid $20 million over five years for the radio hosting gig.
"$20 million, that's bulls**t, that's so much money," he said.
"That's not true, don't believe all that though!" Jackie O replied.
"No one is on money near that, except for Jones," Beau then said referring to their radio rival Alan Jones.
Beau then tried to do the math, before Jackie cut him off.
"We're not talking money, Beau," she said.
2. Audrina Patridge's husband said she is "exploiting' their daughter on the new season of The Hills.
The Hills is making a comeback but not everyone is excited.
Corey Bohan, the estranged husband of Audrina Patridge, is not keen on their two-year-old daughter Kirra being featured on the show.
He made his feelings clear on a Instagram post writing: "I refuse to think it's ok for our 2yr old daughter Kirra Bohan to be shown & exploited on Reality TV. Not just my child but anyone's for that matter."
He captioned the post "I Stand up for what I believe in. ???????? This post isn't an attack or negative rant. This is about our daughter Kirra Bohan. ????‍????❤️"
Patridge filed for divorce in September 2017 after just 10 months of marriage. The pair are currently battling for custody of Kirra.
3. Kendall Jenner has responded to the backlash over her modelling comments saying "my words were twisted."

So, earlier this week, Kendall Jenner said some things.
Speaking to Love Magazine, Kendall said she has always been "super selective" with the jobs she chooses.
"I was never one of those girls who would do like 30 shows a season or whatever the f*ck those girls do. More power to 'em," she said.
"But I had a million jobs, not only catwalks but everything else. The whole combination was very overwhelming and I started to freak out a little bit and needed to take a step back."
Her comments caused a lil' bit of backlash and now the 22-year-old has responded on Twitter:
I was misrepresented in a recent interview over the wknd & it's important to clarify the meaning. It was intended to be entirely complimentary but unfortunately, my words were twisted & taken out of context.I want to be clear. The respect that I have for my peers is immeasurable!

— Kendall (@KendallJenner) August 21, 2018
I get to experience first hand their tireless commitment, their work ethic, the endless days, the lack of sleep, separation from family and friends, stress of traveling, the toll on physical and mental health, yet they still make it all look effortless and beautiful.

— Kendall (@KendallJenner) August 21, 2018
I'm inspired by so many of these people i have had the good fortune to work alongside! There's no way i could EVER hate on that ❤️ i want everyone to win. SLAY ALWAYS.

— Kendall (@KendallJenner) August 21, 2018
Cultivate kindness today and always.

— Kendall (@KendallJenner) August 21, 2018
4. Hilary Swank secretly got married and her wedding dress is magical.
Hilary Swank has secretly married Philip Schneider wearing an incredible dress which reportedly took 150 hours to make.
The 44-year-old actress and her boyfriend of two years married in the California Redwoods, for the big day she wore a magical Elie Saab Haute Couture Atelier gown.
Law & Order SVU actress and Hilary's best friend Mariska Hargitay was her bridesmaid on the day.
Hilary Swank's wedding photos are so beautiful ❤️???????????? pic.twitter.com/j6yPuN72Bz

— mi-ℓ (@miraclelife25) August 21, 2018
"It was timeless. There is just no other way to describe it," the Oscar-winning actress told Vogue.
"I was overwhelmed with such gratitude and thanks to be marrying the man of my dreams and to see all the people we love together in the middle of such a profound setting," she added.
"It was truly a dream come true."
For their first dance, the newly-married couple reportedly tap-danced to Moby's 'In My Heart'.
Ugh, we wish we were invited.
5. "What the f***?" Pink's husband chastised by woman at Brisbane petrol station.

It may be a tad overblown, but we Australians seem to enjoy perpetuating the idea that almost everything on and around our vast brown continent can – and will – kill tourists, if given the chance. Sharks, crocodiles, octopus, dingoes, stingray, the sun, drop bears…
And don't forget petrol stations.
Motorcross legend and husband of Pink, Carey Hart, learned of their lethal potential while filling up in Brisbane yesterday. And he's sharing it with the world.
Posting to Instagram on Tuesday, the baffled father of two – who is currently following his superstar wife on her nationwide Beautiful Trauma tour – said he "got into an argument" with with a woman, after she chastised him for using his mobile phone at the bowser.
"She told me that I was putting everyone's life in danger [by] using my phone at the gas pump," he wrote.
"That if I had the light turned on, accidentally dropped it, the phone would light the fumes, the station would blow up, and kill all of us.
"What the hell is wrong with people?????? You got some serious scare tactics over here lol."
You can read the full story here.