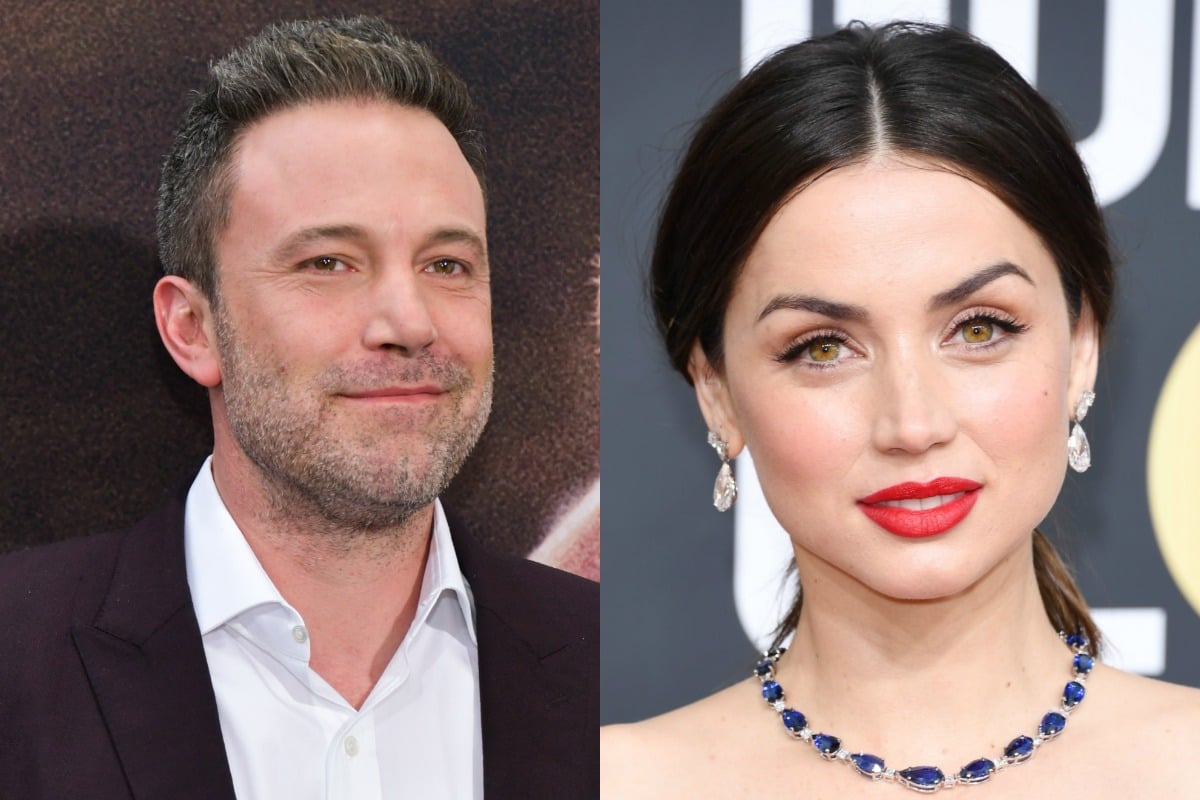 There are three things in life we must all admit are true.
New Year's Eve is always a letdown, no one is asking influencers to share their skincare routines, and highly publicised celebrity relationships are fuelled by PR, not love.
While some publicity styled pairings end up resulting in marriage and a baby carriage (here's looking at you Beyonce and Jay-Z) others never quite feel authentic and so the negative publicity far outweighs the good (ahem, Taylor Swift and Tom Hiddleston).
The latest couple who appear to be taking their turn on the publicity carousel are actors Ben Affleck and Ana de Armas, with pictures of the new couple out in the wild steadily flooding entertainment and pop culture websites and magazines over the last few weeks.
Affleck, 47, and de Armas, 31, met while filming the upcoming psychological thriller Deep Water, based on the novel of the same name by Patricia Highsmith. In the film, they star as a married couple who have fallen out of love and so play a series of mind games against one another that results in everyone around them dying.
Now, if that's not a perfect setting for a workplace romance, I don't know what is.
The Justice League actor and Knives Out actress were first photographed together in early March 2020, while walking along a seemingly secluded (except for the waiting photographers) beach in Costa Rica.
On March 10, they were allegedly sprung by paparazzi again when a series of images emerged of Affleck taking photos of de Armas during a nighttime walk, which she later posted to Instagram.
To hear a Hollywood publicist lift the lid on 'showmances', listen to The Quicky. Post continues. 
By late March, coverage of the couple strolling around Los Angeles grabbing coffees, walking their dogs and openly smooching in known celebrity/paparazzi hotspots increased, which, considering the COVID-19 outbreak was already underway and other celebrities had already locked themselves up in their mansions for quarantine, is a little telling.
It doesn't exactly seem like the kind of precarious time period in which you should develop a multiple flat white a day habit, which requires two people to make each trip by wading through a tangled flock of waiting photographers who are certainly not practicing social distancing.
The thing about celebrities, paparazzi and the outlets who purchase their images is that they are each their own businesses with different sets of skin in the game, feeding and playing off one another in tandem. A love-hate where everyone reaps some kind of reward.
So even though there's nothing wrong with Affleck and de Armas playing up their relationship for the cameras, in order to jazz up a bit of extra publicity for their soon to be released films, it's been done in such a heavy-handed way that it wouldn't be amiss to assume that Kris Jenner is somehow the mastermind behind all this.
The truth is that if celebrities want a degree of privacy over their lives and the images that are released, there is a way to procure it, even if it comes at the cost of some freedoms.