When Monica's foster son died, her rights as his mum died with him. She couldn't even say goodbye. 
My name is Monica Perrett.
I am a mother of six awesome children and a very proud grandmother to a gorgeous 18-month-old whom has lived with my husband and I since she was born.
2014 was a year filled with excitement and disbelief at winning The Barnardos Mother of The Year for SA, being nominated and winning The Pride of Australia Medal in the Care and Compassion Category – but then our world was completely shattered.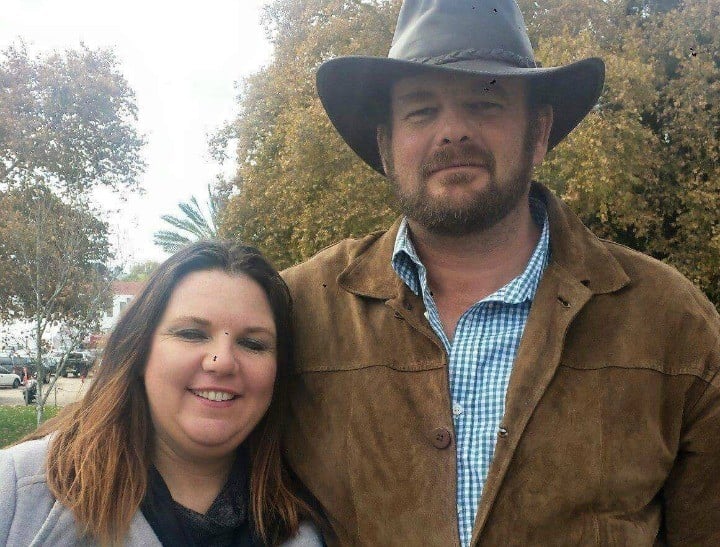 On February 5th 2014, my husband Nathan and I saw my adorable nephew Finn come into the world. He was born with severe spina bifida (amongst other things), but Nathan and I didn't care. To us, Finn was perfect.
My brother and his partner unfortunately could not look after Finn, so they had the choice of finding a family member or foster care. When they asked us if we would take on the care of Finn, we didn't hesitate for a second.
Finn was in hospital for five weeks. Three operations later, Nathan and I finally were able to bring him home. We were ecstatic. Like new parents bringing home a new baby, we couldn't wait to show him off. Finn fitted in very well with my children who all took turns to fuss over him.
Finn loved to be held all the time. He was in pain with his spina bifida and had a shunt in his head, so holding him is all that would settle him.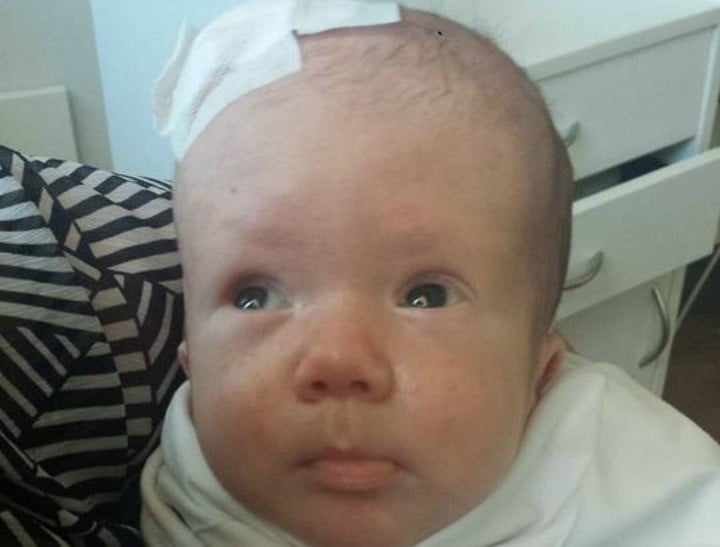 The day came when I was to go to the South Australian Barnardos Mother of the Year awards in April.
Nathan and I bundled up Hannah-Louise, Finn and Joshua into the car to go to the awards. I was so proud to be a mum sitting there listening to Joshua read out my nomination. Tears welling up, I knew I had been blessed.
The winner was announced. It took a few seconds to realise that was my name. I couldn't speak. I was humbled and very proud. I was to fly to Sydney with Joshua on the 7th May for the national announcement of the Barnardos Mother of the Year winner.
One week before we were to fly out, Finn fell sick with a cold. Although it was just a cold, I took Finn to the doctor anyway. This doctor said Finn was fine, it was just a normal cold.
Call it a mother's intuition if you like, but I knew something was not right. So I took Finn to a different doctor.
I got the same answer.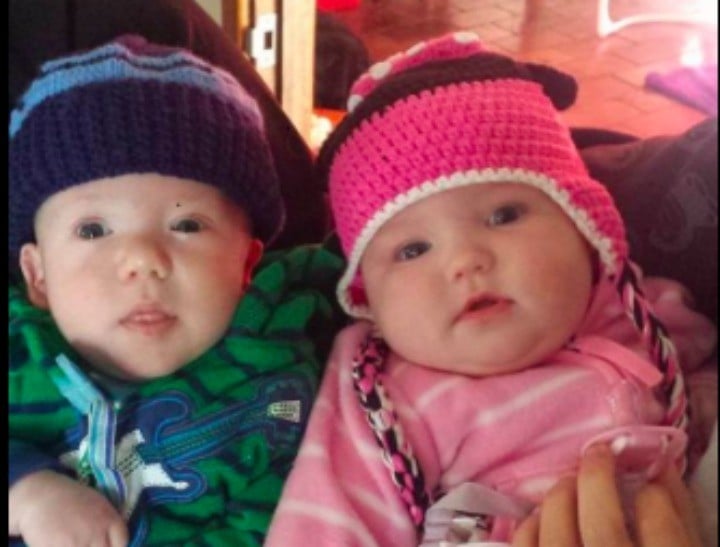 I was up all night with Finn crying – no cuddles or singing or rocking would settle him. Beyond exhaustion, I was crying because I knew something was wrong, I went back to the doctor – this time I took Nathan along. I saw our family doctor, who had been unavailable before. She looked at Finn as I told her my fears about him. But again, I was shot down – she told me that Finn was fine, that he only had a cold.
Taking him home, I was really starting to question myself. Was I just being paranoid because he was a sickly baby or was no one listening to me? Finally, I got Finn to sleep and I watched him for what seemed like eternity.
When I knew he was okay, I went to bed – but I couldn't sleep. I couldn't get the nagging feeling out of my head.
When it came time for me to go to Sydney for the national award announcement, my mum came over to stay to help Nathan with the children. I was so excited as I grew up in Sydney and couldn't wait to get back – but I was also hesitant about going because I didn't want to leave behind any of the children, especially Finn.
I got Finn up that morning, fed him, changed him and held him for a little while. When I put Finn back in his bassinet, he looked up at me and smiled. That was a very special moment as Finn didn't smile very much. I said to him, "I love you Finn, see you when I get home."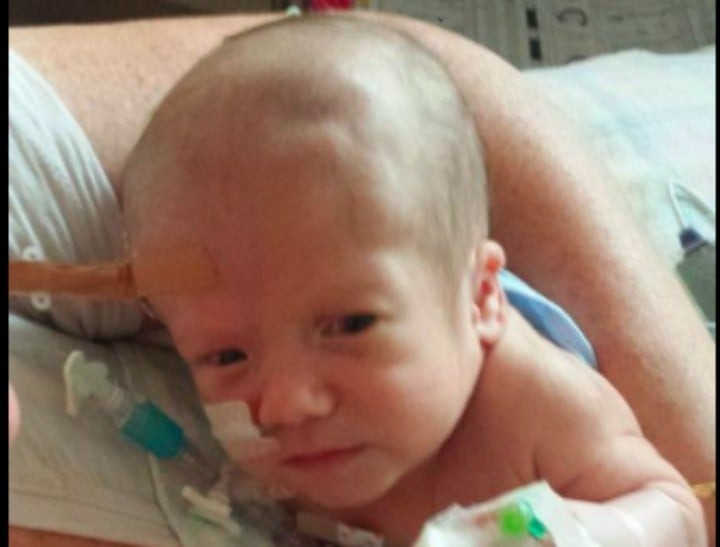 When Joshua and I arrived in Sydney, I rang mum and Nathan to check on all the kids.
That afternoon Josh and I travelled to The Sails Restaurant for cocktails. We met Noni Hazlehurst (oh my goodness, she is so down to earth).
It was at that place, at that time that my life would change forever. I received a phone call from home to say Finn was not breathing and had gone to hospital.
I felt sick. "WHAT," I said as the mothers surrounded me, waiting for news.
Forty-five minutes later, the doctor from Murray Bridge Hospital called me.
"I am really sorry, we worked on Finn for 45 mins but he couldn't be revived," he said.
My world had just been crushed. The rest of the night passed in a complete blur.
Travelling home with Joshua, we just held each other and said nothing. My eyes were so red raw it hurt to even blink. Nathan was waiting at the airport to take us home, and as soon as we saw each other we just fell into each other's arms and sobbed. Walking through my front door felt so different. The children were crying, Hannah-Louise was crying, my mum couldn't breathe. After cuddling them all, I walked into the room where Finn slept and fell to the floor and cried. My eyes were so sore, the tears felt like acid rolling down my face.
I couldn't sleep at night because I kept hearing Finn crying. Families SA came over one week after Finn had passed. I started talking to them about his funeral and told them that I wanted to say goodbye to him.
The Families SA worker said, "Monica, I am really sorry but I need to tell you that, now that Finn has died, your rights over Finn died with him."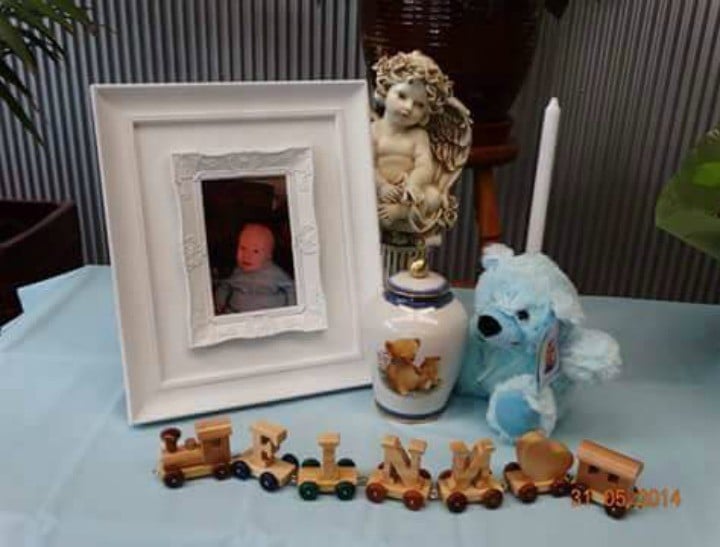 "You are not allowed to plan his funeral or say goodbye to him or find out why he died. All rights have gone back to the biological parents."
That was it – all the love that we had for Finn meant nothing to the government. How do you get on with your life when you have just lost a child that you loved so much and treated as your own? Our world had just been crushed beyond anything we had ever known or felt before.
Filled with unimaginable grief and anger, I started a petition with Change.org called "Finn's Law". I told the story about Finn and the petition attracted 42000 signatures from around Australia. I received an unbelievable amount of support.
I had a meeting with the Minister for Families here in SA who promised to change a few things. The things that I wanted changed were that foster parents would have equal rights when a child passes away. The promises were never adhered to.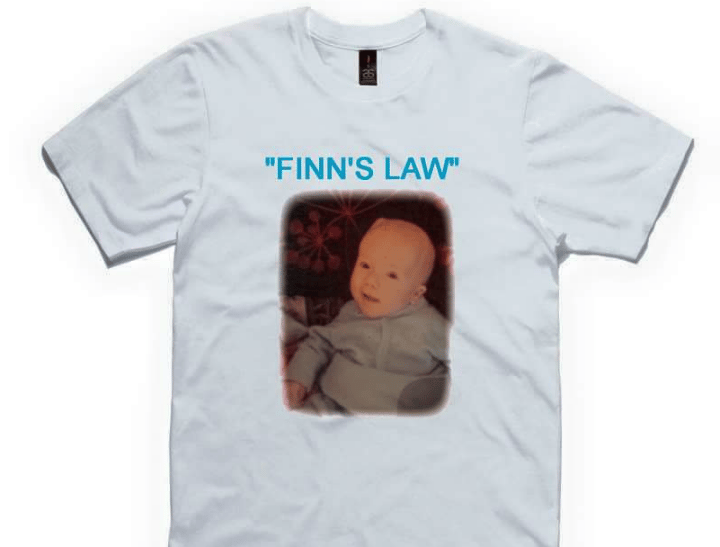 Murray Bridge MP Adrian Pederick had been reading everything I was trying to do. He contacted me and said, "let's go for it".
It's been a year since Finn's death and Adrian and I are still fighting Parliament. I have had people from all over Australia support me with letters that I have presented to the relevant Minister.
To help get Finn's Law passed in Parliament, I have organised a walk that quite a few people have signed up for. We will be walking to Parliament House collecting money for foster children who need a loving home. I am doing all of this in the name of Finn.
People ask me why am I doing this. I am fighting so that no other foster parent needs to be told those heinous words, "you have no more rights now the child has died".
Finn's Law wont bring Finn back, but if I can change a heartless law then that's what I will do.
Want to read more?
I fostered a 14-year old refugee when I was 27.
Drug addicted babies are being removed from their mothers.
Foster Carers- it will hurt, but it will be so worth it.
To find out more information on The Barnados Mother of the Year, click here.