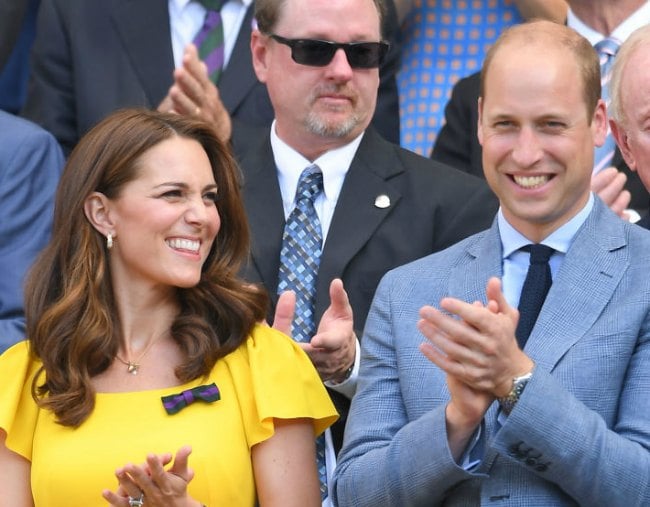 For all your Meghan Markle and royal content, head straight to our Royal hub. It's a blast.
It's no surprise that the royals love Wimbledon.
Prince William and Kate Middleton are seen attending the annual tennis grand slam year after year, giving us ample royal watching material while the world's greatest tennis players battle it out for number one. What's not to love?
This year marked Meghan Markle's first time attending as a wedded royal, with highlights including the fashion (obviously), the cute couple moments between the Duke and Duchess of Cambridge, and Serena William's touching shout out to her friend, Meghan.
We list the best royal Wimbledon moments here.
1. The Duke and Duchess of Cambridge enjoying a child-free date.
Since the birth of their third baby, Prince Louis, it's rare to see Duchess Catherine and Prince William together in public, however both tennis enthusiasts were present to watch the men's final between Novak Djokovic and Kevin Anderson.
Not a bad occasion for a Sunday afternoon date.
Cameras were quick to capture the candid moments between the couple and it was all just a bit cute.
We wonder what was so funny? Image: Getty.

Courtside analysis from a master...#Wimbledon pic.twitter.com/BtGhHKhHMN

— Wimbledon (@Wimbledon) July 15, 2018
2. The sweet detail in Duchess Catherine's stunning yellow frock.
Two weeks back, Meghan threw us a fashion curve ball in the form of a stunning yellow Brandon Maxwell dress while attending the Your Commonwealth Youth Challenge reception.
Now it seems like her sister-in-law has followed suit. We hear it's quickly becoming the colour of the summer.
Duchess Catherine's sunny frock was by Italian designers Dolce and Gabbana, and she paired her look with a nude structured handbag and a purple and green brooch. However, there's actually a touching message behind the brooch, which symbolises her patronage of the All England Lawn Tennis & Croquet Club, an honour that was given to the Duchess by the Queen herself.
According to The Sun, female members of the Club typically wear the brooch, while the men wear ties in the matching tones.
3. The Duchesses' day out.
Getting in some sister-in-law bonding time, both the Duchess of Cambridge and the Duchess of Sussex looked relaxed while enjoying each other's company and watching the women's final.
Celebrating the occasion as their first solo trip together without their husbands, Meghan wore a stunning Ralph Lauren shirt and flared pant set, while Duchess Catherine looked elegant and summery in a Jenny Packham dress.
4. Meghan Markle and Serena William's friendship.
It's known that the Duchess of Sussex is friends with the champion tennis player, Serena Williams, but we've now been given insight into our close the pair really are.
Williams described their bond as "wonderful".
"Every year, for a couple years, she comes out to Wimbledon, has supported me," she told the Associated Press.
"Now she's supporting me in a different role. But our friendship is still exactly the same.
"We always have supported each other, just been there for each other through a lot."
5. Meghan tearing up during Serena's concession speech.
After losing the final to German player Angelique Kerber, Serena's runner-up interview was humble, beautiful and gracious.
It had us all emotional, the Duchess of Sussex included.
During Selena's televised interview, a camera cut across to Meghan blinking away tears, while she showed her support for the tennis star.
You can watch the beautiful moment here:
Need a quick break? Want to win $100? Want to be listened to? Enough questions already? Do our quick survey now!