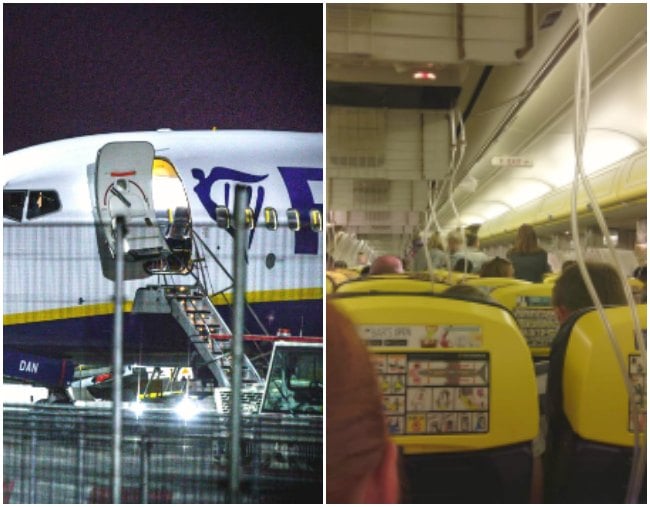 With AAP.
1. Passengers left bleeding from ears, mouth and nose after horror flight.
Passengers of budget airline Ryanair have expressed anger over the way the company treated them following an unscheduled landing in Germany that forced dozens to seek hospital treatment.
In interviews with German and Irish media, passengers described moments of terror as their plane – flying from Dublin to Zadar, Croatia, late on Friday – descended suddenly, following what Ryanair said was a drop in cabin pressure.
Oxygen masks fell from the ceiling and passengers reported feeling intense pain in their ears until the plane levelled off and landed at Frankfurt-Hahn airport.
Amazing video from Mr. Kevin Burke. You can see how terrified we were. No-one speaking, no-one moving. Silence and just silence.#Ryanair #nightmare pic.twitter.com/YFYRiORy2s

— Minerva Galvan (@Maingd) 14 July 2018
Minerva Galvan Domenech from Spain on Saturday told news website Spiegel Online that passengers, some of them bleeding from their ears, mouth or nose, had to wait 45 minutes before being allowed to leave the plane.
German police said 33 of the 189 passengers on board were taken to a nearby hospital after complaining of headaches, ear pain and nausea. All were able to leave again by Saturday morning.
Passenger Conor Brennan told the Irish Times newspaper that "airport staff and Red Cross did their best to handle the situation, as Ryanair were nowhere to be seen.
"They really displayed a shocking lack of empathy for their customers, almost bordering on inhumane," he was quoted as saying.
Galvan Domenech said many passengers had to spend the night at the airport, some of them lying on the ground, according to Spiegel Online.
Ryanair said passengers received refreshment vouchers but there was "a shortage of available accommodation". Frankfurt-Hahn has long been a major base for Ryanair.
A replacement flight took some of the passengers to Croatia on Saturday.
Ryanair has long been dogged by accusations of poor service and bad treatment of staff. Last week, Ryanair pilots in Ireland staged their first strike and two more walkouts are planned on July 20 and July 24.
2. After a chaotic final, France emerges victorious in 2018 World Cup.
After four weeks, 64 matches involving 32 teams, France has emerged victorious in the 2018 FIFA World Cup.
Les Bleus triumphed over Croatia 4-2 in a thrilling final at Moscow's Luzhniki Stadium.
It's only the second time in the contest's 88-year history that France has claimed the trophy. The team's coach, Didier Deschamps, last held it aloft as captain in 1998.
Sunday's match was wasn't without drama. Croatia's Mario Mandzukic scored the first ever own goal in a World Cup final, putting France in front, before his teammate Ivan Perisic managed to equalise.
French forward Antoine Griezmann's penalty broke the tied score, after Perisic's handball was penalised by the video assistant referee.
Play was briefly interrupted early in the second half when four members of Russian punk protest band, Pussy Riot, invaded the field. The group listed its demands via social media, including: "Free political prisoners. Do not put people in jail for social media 'likes'. Stop illegal detentions at political rallies. Allow political competition in Russia. Do not fabricate criminal cases and detain people for no reason."
The group were apprehended and detained at Moscow Police Station.
Play continued after the interruption, and Paul Labile Pogba and Kylian Mbappe went on to score in the 59th and 65th minute, extending France's lead and making Les Blues the first team to score four times in a final since Brazil in 1970.
The 22nd FIFA World Cup will take place in Qatar in 2022.
3. Novak Djokovic wins Wimbledon, after his tirade at the noisy crowd.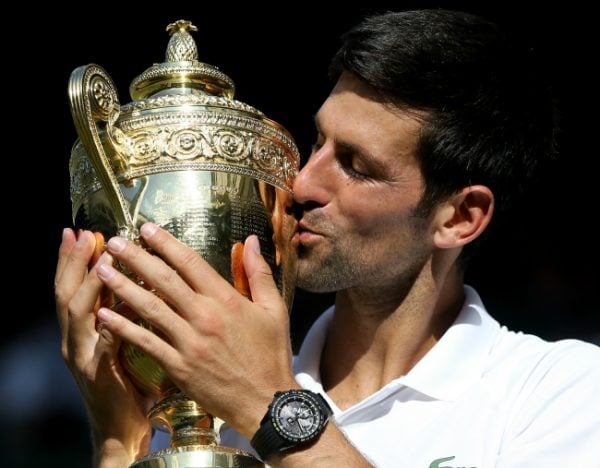 An elated Novak Djokovic has broken his two-year grand slam title drought with a tense Wimbledon final triumph over spirited South African Kevin Anderson.
The Serbian secured his fourth crown at The All England Club - and 13th career major - with a 6-2 6-2 7-6 (7-3) win that was much less straightforward than the lopsided scoreline suggests.
After a sluggish start, Anderson threatened another famous fightback like his quarter-final recovery from two sets down against Roger Federer before Djokovic staved off five set points in the dramatic third set.
He eventually reigned supreme after two hours and 19 minutes to surpass the Wimbledon feats of all-time greats and three-time champions John Newcombe, John McEnroe and the Serb's one-time coach Boris Becker.
Sunday's victory also elevated the 31-year-old above Australian Roy Emerson into fourth place on men's tennis's all-time grand slam title leaderboard behind only Roger Federer (20), Rafal Nadal (17) and Pete Sampras (14).
Djokovic's victory also completes in the ultimate fashion his stirring comeback after a spectacular fall from grace last year.
The former world No.1 had been the first man since Laver in almost 50 years to hold all four majors at once after he swept to the non-calender-year grand slam with a career-defining French Open triumph in 2016. But a chronic elbow injury and self-confessed troubles in his "private life" curtailed the Serb's seemingly relentless charge towards tennis immortality as he relinquished all four trophies to lose his air of grand slam invincibility.
Now Djokovic has returned to his rightful place in the world's top 10 after arriving in London two weeks ago ranked 21st, his lowest standing in the game in more than a decade.
"There is no better place to make a comeback this is a sacred place of tennis. This is really special," Djokovic said after dedicating his victory to wife Jelena and their three-year-old son Stefan.
Anderson had required 10 hours and 50 minutes to see off Federer and John Isner in successive sapping five-setters to reach the final - and it showed with the South African slow out of the gates.
After pushing a backhand wide, then firing a forehand long, he double-faulted to drop serve in the opening game of the match.
The errors continue to flow as Djokovic broke twice more to nab the first set in less than half an hour.
The second set followed a similar pattern before Anderson roared to life to finally mount a challenge.
The eighth seed conjured two set points with Djokovic serving at 4-5, with tensions reaching boiling point after the Serb saved the first in one of the wildest rallies of the match.
Sensing a Djokovic forehand was going long to allow Anderson back into the contest, the excited crowd burst into cheers, only for the ball to catch the line and the South African to lose the point after slipping over.
Livid by the disturbance, Djokovic demanded chair umpire James Keothavong tell spectators to "shut the f*** up". He retained his cool to fend off three more set points before taking victory in a tiebreaker.
4. Elon Musk labels Thai cave diver a "pedo" in bizarre Twitter outburst.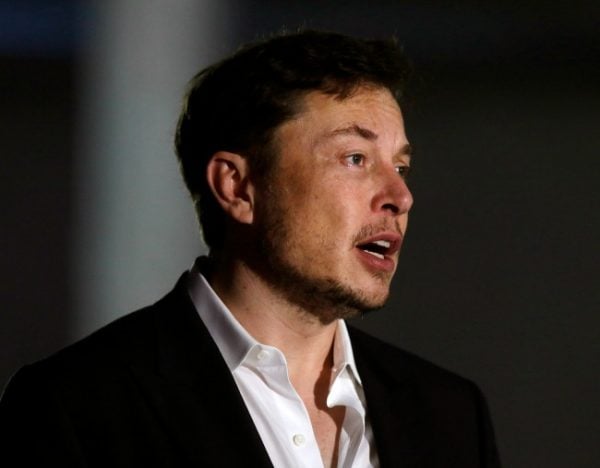 Businessman Elon Musk has called a British diver involved in the Thai cave rescue a "pedo guy", after he labelled the billionaire's offer of a miniature submarine a publicity "stunt".
Vern Unsworth told CNN on Saturday that Musk, "can stick his submarine where it hurts.
"It just had absolutely no chance of working. He had no conception of what the cave passage was like. The submarine was about five foot six [inches] long, rigid, so it wouldn't have gone 'round corners or 'round any obstacles. It wouldn't have made the first fifty metres into the cave... just a PR stunt."
Unsworth was part of an international team of cave-diving experts who rescued the group of 12 teenage boys and their coach last week. The "Wild Boars" football team had been stuck in the cave since June 23.
The rescue involved scuba diving through narrow passageways that remained totally submerged in water.
You know what, don't bother showing the video. We will make one of the mini-sub/pod going all the way to Cave 5 no problemo. Sorry pedo guy, you really did ask for it.

— Elon Musk (@elonmusk) July 15, 2018
In the midst of the operation, Musk tweeted on Tuesday, apparently from Thailand: "Just returned from Cave 3. Mini-sub is ready if needed. It is made of rocket parts & named Wild Boar after kids' soccer team. Leaving here in case it may be useful in the future."
When asked about Musk being in the cave, Unsworth shrugged and said: "and [he] was asked to leave very quickly, as he should have been".
In response to Vern's comment's on CCN, Musk tweeted, "Water level was actually very low & still (not flowing) — you could literally have swum to Cave 5 with no gear, which is obv how the kids got in. If not true, then I challenge this dude to show final rescue video. Huge credit to pump & generator team. Unsung heroes here."
He later added, "You know what, don't bother showing the video. We will make one of the mini-sub/pod going all the way to Cave 5 no problemo. Sorry pedo guy, you really did ask for it."
The rescued group are recovering in hospital in Chiang Rai and are expected to be discharged this week.
5. The body found in a Melbourne wheelie bin has been identified.
The body found inside a wheelie bin at a Melbourne self-storage facility has been identified and the death deemed suspicious. https://t.co/ue191HBJdi

— The Age (@theage) 15 July 2018
Human remains found inside a wheelie bin in Melbourne's southeast have been identified and police are now speaking to the man's family.
Detectives received the post-mortem results on the remains on Sunday and are now in contact with the man's next of kin as part of the investigation, police said Sunday.
The man's remains were found on Friday among dirt and straw in a wheelie bin wrapped in Occy straps which had been in the storage facility unit in Oakleigh South for at least 15 years, Detective Senior Sergeant Pixie Fuhmeister said on Friday.
"That container has not been accessed for a number of years," she said at the Milgate Street property.
"We are determining the matter as suspicious at the moment and it is very early days and what we are looking at is long-term decomposition of the body."
Cleaners assigned to clear out the unit by new owners discovered a black boot on Friday leading to the grim discovery.
6. NSW premier expresses "deep disappointment" in MP after secret phone recordings played at corruption inquiry.
It's been revealed the state @LiberalNSW MP who's admitted to corrupt conduct, Daryl Maguire, had arranged a meeting between a Chinese development company and the Planning Minister. Anthony Roberts has confirmed he met executives at State Parliament. @BryanSeymour1 #nswpol #7News pic.twitter.com/oXioxtP861

— 7 News Sydney (@7NewsSydney) 15 July 2018
The NSW premier is urging disgraced state MP Daryl Maguire to reconsider his position in politics after secret phone recordings of him discussing potential developer "dividends" were played at a Sydney corruption inquiry.
Gladys Berejiklian said she felt "deep disappointment" after learning the recordings, played at an Independent Commission Against Corruption hearing on Friday, were of the Wagga Wagga MP trying to strike a deal in 2016 with then-Canterbury City councillor Michael Hawatt.
"Whilst it is for Mr Maguire alone to determine whether he stays on as the elected member until next March, I would encourage him to think carefully as to whether he can effectively represent the people of Wagga Wagga from here on in," Ms Berejiklian said in a statement on Sunday.
Mr Maguire quit the Liberal Party on Friday night after the ICAC inquiry heard telephone conversations of him trying to arrange with Mr Hawatt the "dividend" they'd get for helping arrange a multi-million property sale to a Chinese developer.
"1.5 per cent isn't enough divided by two, if you know what I mean," Mr Maguire was recorded as saying.
The veteran Liberal MP also quit his role as parliamentary secretary for counter terrorism, corrections, veterans and the Centenary of ANZAC but will remain in state parliament as an independent.
The premier said the opening of nominations for the seat of Wagga Wagga would be brought forward so an "appropriate" new candidate for the Liberal Party can be preselected.
Since the shock revelations, Mr Maguire has been under pressure to quit politics all together.
Wagga Wagga mayor Greg Conkey called on the MP to seriously consider quitting parliament while local Labor-aligned councillors said the city "deserves better than this".
Acting NSW opposition leader Michael Daley says while Ms Berejiklian has "no power to compel anyone to go", Mr Maguire should not be allowed to remain on the crossbench as "a lame duck wrongdoer" until the state election in March.
Mr Maguire, who has held the safe seat since 1999, apologised for causing "distress and embarrassment" to the party and denied he had ever received or shared any commission from brokering property deals with Mr Hawatt.
In recorded calls with Mr Hawatt, the veteran MP described giant Chinese developer Country Garden as "mega-big" with "mega-money" and said he had "half a dozen" other potential clients wanting to buy development-approved sites in Sydney.