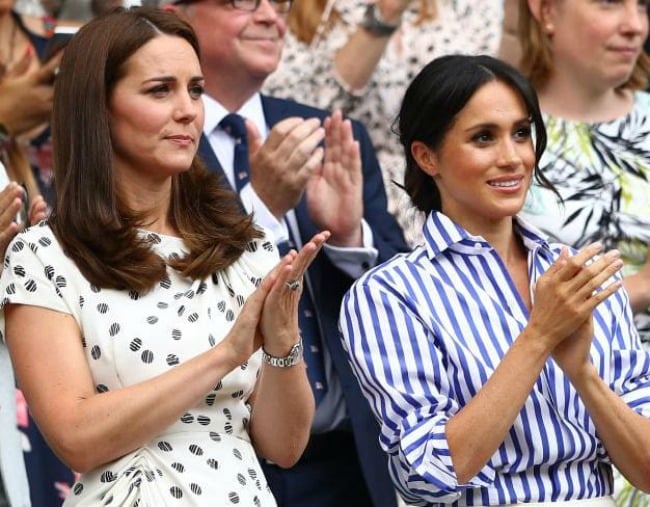 With AAP. 
The Duchess of Cambridge and Duchess of Sussex were greeted by cheers as they arrived at Wimbledon to watch Meghan's close friend Serena Williams play in the women's singles final.
Williams failed in her bid to win an eighth Wimbledon title just 10 months after giving birth to her daughter.
The American was the first mother to reach the final since Australian Evonne Goolagong triumphed 38 years ago.
Meghan, who was sitting between Wimbledon patron the Duchess of Cambridge and Gill Brook, the wife of Wimbledon chairman Philip Brook, turned from time to time to speak to Billie Jean King and her partner Ilana Kloss.
Williams has described her friendship with the newlywed as wonderful, and in the past Meghan has attended the championships to cheer the 36-year-old from her player's box.
Exactly two months after taking a front-row seat at Meghan's wedding to Prince Harry in Windsor, Williams took centre stage at Wimbledon.
Meghan, who was at the tournament as Kate's guest, stood slowly and applauded when Williams lost in straight sets to Germany's Angelique Kerber.
It was the first official engagement Meghan and Kate had carried out together, without their partners.
While Meghan wore a white hat last year with a black ribbon, this year, she held a hat by her side without ever putting it on. According to The Sun, she wasn't allowed to wear it. Sitting in the Royal Box, she had a strict set of fashion rules – including smart dress. It's also believed those sitting in the Royal Box are not to wear hats in case it blocks the view of those around them.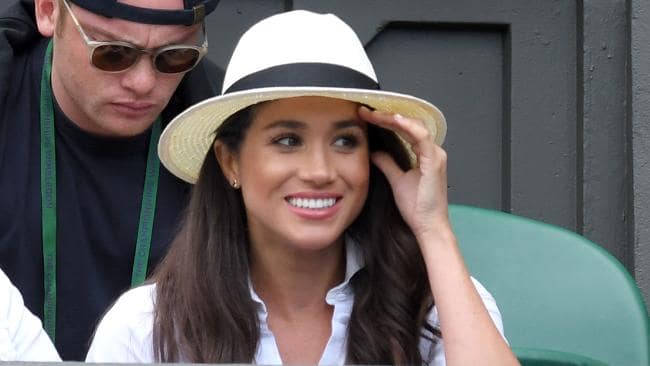 Kate and Meghan stopped and spoke with a number of ball boys and ball girls, as well as junior players before making their way across the walkway for lunch.
Meghan was wearing wide-legged cream trousers with a blue and white Ralph Lauren shirt in a nod to the designer who supplies the clothing for the Championship's ball kids, lines judges and umpires.
Kate was wearing a Jenny Packham dress with nude suede heels and matching handbag.
Alexis Ohanian, co-founder of Reddit, watched as wife Williams played on Centre Court.
The couple announced the birth of daughter Olympia in September.
Also watching from the royal box on Saturday were actresses Emma Watson and Thandie Newton, and actor Mark Rylance.
Fashion sense aside, these are all the reasons why we love Meghan Markle and more.