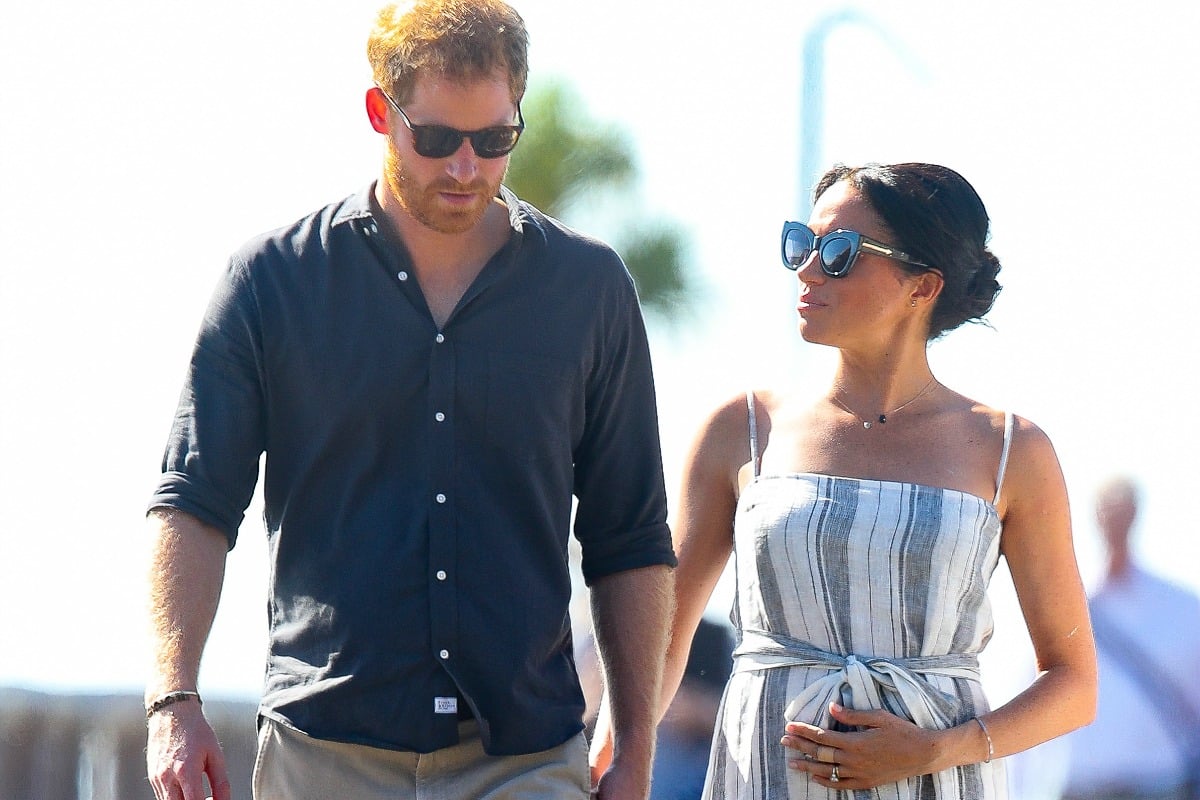 To catch up on all things royal family, make sure you check out our Royal Hub. We've got you completely covered.
Prince Harry and Meghan Markle haven't shared much about their royal baby. All we know is that it's due in "Spring 2019", a.k.a our Autumn.
We don't know the sex, let alone what the baby's name will be.
And uh, according to a UK booking agency, we might not even know how many babies there are.
You see, something weird happened this weekend. According to the Daily Mail, bookies stopped taking bets on Meghan having twins after "an unprecedented amount of bets" were placed.
Does this mean an insider could have placed money on the couple having twins? Well, bookmaker Paddy Power says possibly.
Odds were slashed from 5/1 to odds-on on Friday night after the flurry of bets and the market was later suspended after more money piled on Meghan having two children.
A spokesperson for Paddy Power told the Daily Mail it had to suspend betting and that it saw an "almost identical" pattern of betting before Harry and Meghan's engagement and pregnancy announcements.
"An unprecedented amount of bets on Meghan and Harry to have twins has forced us to stop taking bets on the market altogether this morning.
"Since the day began, the stream of bets has led us to believe that perhaps the punters – or an insider source – knows something more than we do."
Twins don't exactly run in the royal family. In fact, the last time a royal gave birth to twins was in 1430… Oh, but Harry's uncle Charles Spencer has identical twin daughters.
Despite the betting, odds seem pretty slim that Meghan will be having two babies.
Plus, all of Kensington Palace's announcements have mentioned singular terms "baby" or "child".
"Their Royal Highnesses The Duke and Duchess of Sussex are very pleased to announce that The Duchess of Sussex is expecting a baby in the Spring of 2019," the pregnancy announcement said.
Just this weekend, the Palace announced Harry and Meghan would be moving to Frogmore Cottage on the royal Windsor Estate.
"The Duke and Duchess of Sussex will move to Frogmore Cottage on the Windsor Estate early next year as they prepare for the arrival of their first child," the Palace said.
Twins or not, we're very excited for another royal little royal (or royals).
Do you think Meghan and Harry could be having twins? Let us know in a comment.
Mamamia is funding 100 girls in school, every day.
So just by spending time with Mamamia, you're helping educate girls, which is the best tool to lift them out of poverty.
Thanks for helping!