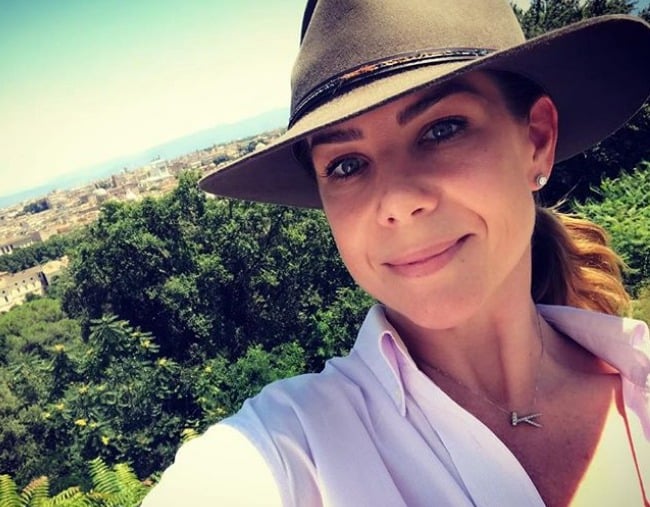 1. Kate Ritchie dares to drink a glass of wine. Is suddenly at the heart of divorce rumours, again.

So, Kate Ritchie is currently on holiday in Italy.
While on said holiday she's enjoyed a couple of glasses of vino.
Must be getting a divorce, then.
Yep, apparently holidaying in Italy and drinking wine is the international sign for marital problems.
According to the Daily Mail, Kate's holiday with her female friend means the end of marriage to her husband Stuart Webb is… imminent.
Last December, Kate addressed the persistent and rather ridiculous rumours in an interview with Stellar magazine.
'It doesn't hurt my feelings, not anymore,' she said at the time.
Silly us, we thought she was just enjoying some wine in the Italian sun ¯\_(ツ)_/¯.
2. "Don't give him that idea you lunatic": Hailey Baldwin is concerned about Justin Bieber's facial hair ahead of their wedding.
We're sure Hailey Baldwin loves her new fiancé Justin Bieber oh so very much. It's just that she doesn't love everything about him.
When celebrities flooded the hitmaker's engagement announcement with well wishes on Tuesday, media personality Ryan Good made a special wedding day request that Hailey didn't take too kindly too.
Read the exchange below.
And look, she has a point.
3. Kristen Bell wears gloves when she goes swimming and wait, sorry, what?
Sure celebrities are stopped on the street and live in very nice houses, but for the most part they are just like the rest of us. Or so we thought, until we found out what Frozen actress Kristen Bell does when she goes swimming.
She wears gloves.
This intimate factoid came via her husband Dax Shepard, who shared a photo of the 37-year-old holding up her glove-covered hands while being sun smart in a wide-brimmed hat and sunglasses in a pool.
"My bride wears gloves in the pool because she hates the feeling of pruney fingertips on skin," Shepard explained, adding the hashtags "#Hollyweird" and "#iloveher".
Oh okay, that's a totally legitimate reason then.
Strange? Yes, very. But her husband of five years – who is father to their two children, Lincoln, five, and three-year-old Delta – loves her just the way she is, quirks and all.
4. Jada Pinkett Smith opens up about her "sex addiction" for the first time.

Jada Pinkett Smith has been battling different types of addiction all her life.
The 46-year-old spoke candidly about her addictions during a special episode of Red Table Talk, revealing that they "jump, they jump around".
"When I was younger, I definitely think I had a sex addiction of some kind. That everything could be fixed by sex. You know what I'm saying?" she explained.
The mum-of-two said she then became a "gym addict" and turned to alcohol.
"So, I went cold turkey," she explained. "I am a binger and I always have to watch myself and how I can get obsessed with things. It's not what you're doing it but why you're doing it… if you want to have a lot of sex, that's great, but why are you having all that sex? That's what you gotta look at."
Jada's mother, Will Smith's sister, and musician August Alsina also spoke candidly about their own addictions during the show.
5. ICYMI: Princess Charlotte made a cheeky comment to paparazzi at Prince Louis' christening.

Only 11 weeks old, Prince Louis has made his second public appearance in the arms of his mum, the Duchess of Cambridge, at his christening.
The ceremony took place at The Chapel Royal at St James's Palace in London, and in attendance was Prince Charles, Duchess Camilla, Prince Harry and Meghan Markle, as well as Duchess Catherine's family – parents Carole Middleton and Michael Middleton, and siblings James and Pippa.
While all eyes were on the newborn prince on his big day, Prince Louis' big sister Princess Charlotte briefly became the centre of attention when she had some rather cheeky words for the photographers outside the chapel.
Read the full story here.