Rachel Dolezal wasn't born into a minority. She chose to wear it as a costume.
UPDATE: 
Rachel Dolezal, the civil rights activist who pretended to be African-American has announced she is stepping down as president of the NAACP's Spokane chapter – the US's oldest and largest civil rights organisation.
In a message posted on the group's Facebook page, Dolezal wrote that she was stepping aside after the "unexpected firestorm" that erupted over whether she misrepresented her race.
She said "the dialogue has unexpectedly shifted internationally to my personal identity in the context of defining race and ethnicity."
And that in light of that "it is with complete allegiance to the cause of racial and social justice and the NAACP that I step aside."
In her only attempt to justify pretending to be African-American she wrote.
"I am consistently committed to empowering marginalized voices and believe that many individuals have been heard in the last hours and days that would not otherwise have had a platform to weigh in on this important discussion," she wrote.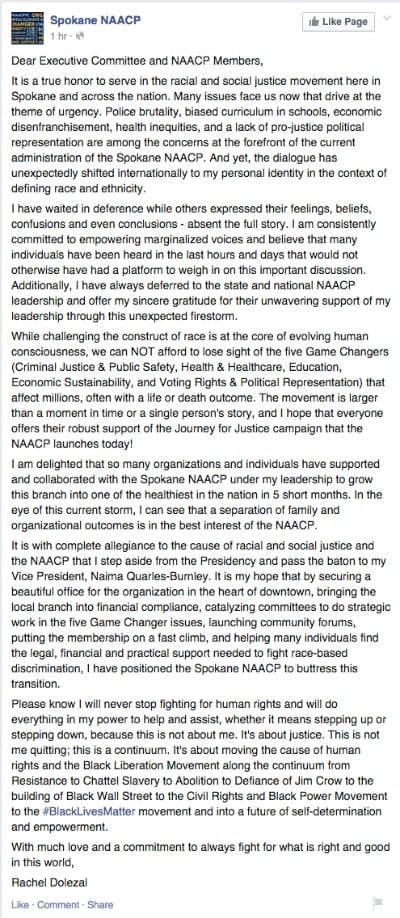 Previously Amy Stockwell wrote for Mamamia: 
For many years, 37 year old Rachel Dolezal has been a proud and outspoken African American woman. She is an activist, and President of her local branch of the National Association for the Advancement of Coloured People (NAACP), an organisation with a proud history of defending the rights of ethnic minorities in the United States.
On her Facebook page, she excitedly posted that her father, a handsome, smiling African American man, was coming to the ribbon cutting ceremony for the new NAACP office.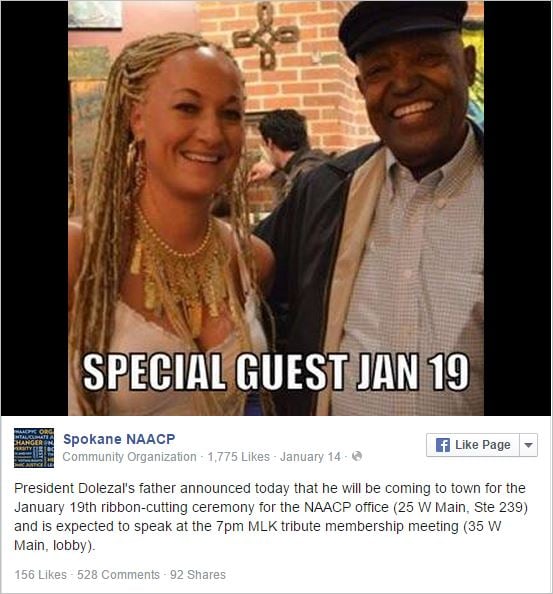 The mayor of her city appointed her to chair a police oversight committee to keep an eye on fairness in police work. When she took on that role, she identified herself has having an ethnicity that included white, black and Native American. She says that she has been the victim of at least eight hate crimes threats and attacks, which she attributes to her "biracial heritage".
Except she's not.
She's not African American, not even remotely. That's not her biological father. That's not her natural hair. That's not her history.
"Our daughter is Caucasian" say parents of Spokane NAACP President Rachel Dolezal. pic.twitter.com/6VHxm9v4Wt

— Taylor Viydo (@KREMTaylor) June 11, 2015
Her biological parents have come forward with evidence that she is of European descent. Mr and Mrs Dolezal said their daughter had black siblings who were adopted and that she went to school in Mississippi, where the family were part of a mainly black community. But they said she only began to say that she had African descent after divorcing her African American husband, whom she had married in 2004.
Her mother, Ruthanne, said Rachel began to "disguise herself" in 2006 or 2007. The couple told the Washington Post: "There seems to be some question of how Rachel is representing her identity and ethnicity. We are definitely her birth parents. We are both of Caucasian and European descent — Czech, German and a few other things."
It's not clear exactly how Rachel Dolezal benefited from her masquerade. She was apparently paid for lectures she gave about her black identity. She is adjunct professor of Africana studies at Eastern Washington University. She has certainly been appointed to at least one government body as a representative of ethnic minorities in her area.
Rachel Dolezal, president of Spokane NAACP, is accused of pretending to be African-American: http://t.co/gpUtwyGz1P pic.twitter.com/E53TBQ9DQ2 — Slate (@Slate) June 12, 2015
More disturbing is her parents' suggestion that she received a full scholarship to a prestigious American university, which has a predominately black student population and faculty, because they believed her to an African American woman. Her parents say that when Rachel applied to Howard University to study art with a portfolio of "exclusively African American portraiture," the university "took her for a black woman" and gave her a full scholarship.
"You've got a white woman coming in that got a full-ride scholarship to the black Harvard," Lawrence Dolezal said. "And ever since then she's been involved in social justice advocacy for African Americans. She assimilated into that culture so strongly that that's where she transferred her identity." He added: "But unfortunately, she is not ethnically by birth African American. She is our daughter by birth. And that's the way it is."
Now the fact that Dolezal is a white woman doesn't mean she can't be an advocate for social justice or lead the charge to stamp out police brutality against black people. It doesn't mean she can't be a powerful ally in that fight. But it does make her a fraud.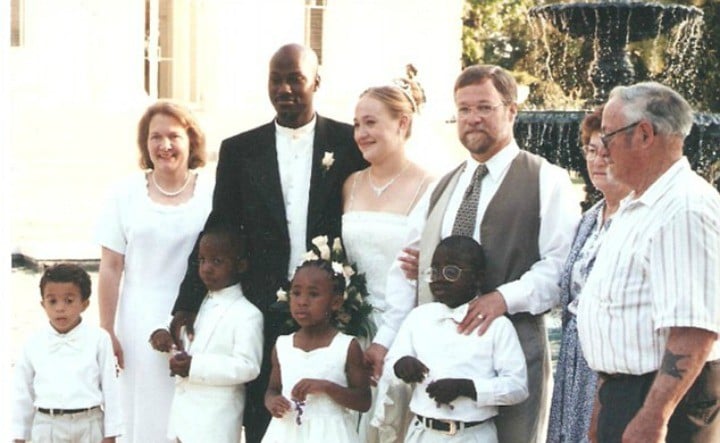 When asked on camera whether her parents were white, Rachel said, "I don't understand the question".
When she was reached for comment by the Spokesman-Review, she answered by saying: "That question is not as easy as it seems…There's a lot of complexities…and I don't know that everyone would understand that…We're all from the African continent".
We're all from the African continent. That was her defence for masquerading for years as a woman of colour. We ALL walked out of Africa 1.8 million years ago.
Rachel's panicked reaction to being asked about her white parents is here (post continues after the video)
No doubt there will be a lot of discussion over the next few days about the appropriation of black culture and history. She is not the first, and she won't be the last. There is also an important discussion to be had about whether ethnicity can ever be cultural when it isn't biological. There are many debates that should be had here. A lot of people are angry, and not without cause.
But perhaps the most fascinating question here is: What makes a person do this?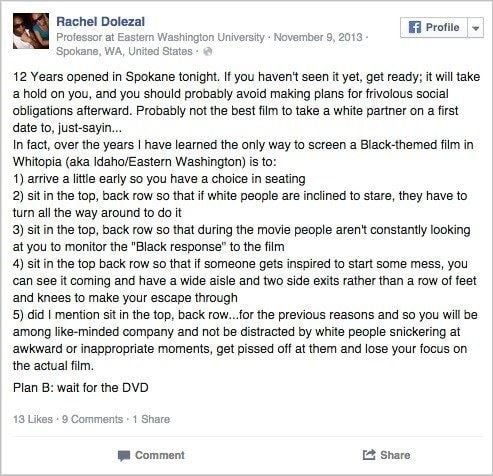 What is extraordinary here is that a woman, with access to every privilege that comes with being white in this world has decided to play at being a black woman. She wanted to be in a minority, no matter what the people who spend every day living as part of that minority actually face.
She wanted to pretend to be someone who experiences higher rates of domestic violence, and higher rates of incarceration.
She wanted to dress up as someone who is paid less, and discriminated against more.
She wanted to disguise herself as someone who can expect worse health outcomes and poor representation at every level of business, government and community structures.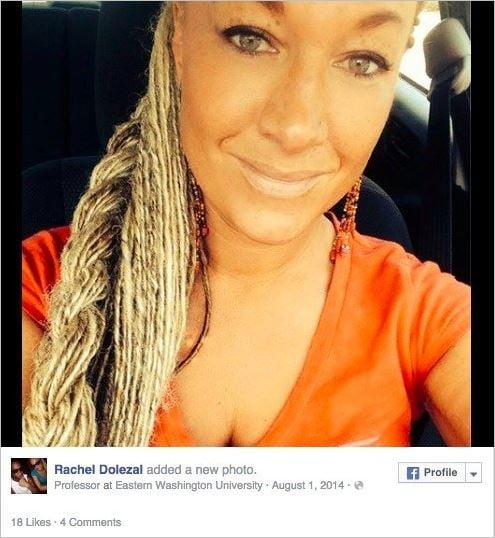 This may be a case of a casual lie that got out of control. It may be that Rachel has a psychological condition. She might have some damage from her past that is playing out here. She might just be a liar. People lie about their history all of the time. But there is something particularly reprehensible about people who lie to obtain some glory from a fictional disadvantage while hiding their privilege.
Dolezal's parents, who live in Troy, MT, say Rachel has been deceiving people. They want people to know the truth. pic.twitter.com/sS3aiUwD0H — Taylor Viydo (@KREMTaylor) June 11, 2015
Consider the cancer-fakers, the Belle Gibsons of the world, who are desperate to hide the fact that they are healthy. They want to tell a powerful story of struggle against the odds. They want to be different, special, unique. But they want all of that without the pain. Without the suffering and the devastation. They want it all without the risk. Think also of the music artists who pretend to have been in prison. Reporters who bolster their credibility by saying that they were almost killed in war zones. Authors who claim that they or their families have been the victims of historical atrocities like the Holocaust.
These people want to steal the silver lining, without ever being in the cloud – except there's something very perverse about seeing a silver lining in someone else's suffering. There is an absence of empathy in taking that suffering and wearing it as a coat that keeps you feeling warm and special, when people who have actually lived that experience feel anything but.
#RachelDolezal's parents: 'She doesn't want to be seen with us because it ruins her image' http://t.co/OwOEUWgJ2s pic.twitter.com/uEJkYC3W6J — People magazine (@people) June 12, 2015
Rachel Dolezal has stolen an identity. She has stolen a history. In doing so, she has cherry-picked the parts she liked about being in a minority, without any of the disadvantages, prejudice or discrimination.
Rachel Dolezal wasn't born into a minority. She chose to wear it as a costume – but now that mask has been torn away, she is left to ponder the same big question that everyone has: why?
The NAACP has today released a statement about Rachel Dolezal, who was their branch president in Washington:
For 106 years, the National Association for the Advancement of Colored People has held a long and proud tradition of receiving support from people of all faiths, races, colors and creeds. NAACP Spokane Washington Branch President Rachel Dolezal is enduring a legal issue with her family, and we respect her privacy in this matter. One's racial identity is not a qualifying criteria or disqualifying standard for NAACP leadership.

The NAACP Alaska-Oregon-Washington State Conference stands behind Ms. Dolezal's advocacy record. In every corner of this country, the NAACP remains committed to securing political, educational, and economic justice for all people, and we encourage Americans of all stripes to become members and serve as leaders in our organization.

Hate language sent through mail and social media along with credible threats continue to be a serious issue for our units in the Pacific Northwest and across the nation. We take all threats seriously and encourage the FBI and the Department of Justice to fully investigate each occurrence.