Actress Ruby Rose has made her first appearance on The Ellen Show with a startling confession about her living situation.
The 3o-year-old admitted she spent two years unemployed before she was cast as Stella on the hit television series Orange Is The New Black.
"Imagine not getting any work for two years and then getting to audition for the greatest show in the world," she said.
Rose said the forced career hiatus had come as the result of moving to the United States in an attempt to break into the acting industry.
"I came here to pursue acting and I was unemployed," she said.
Listen to a debate about the most controversial scenes from Orange Is The New Black on The Binge podcast. Post continues after audio. 
The former MTV presenter said the opportunity had come after OINTB's casting director Jennifer Euston saw Rose's self-produced short film Break Free.
"I got a call from Jane Euston… and she asked me to audition for Stella," she said.
Rose expressed her disbelief at the turn of events by drawing a contrast between the two extremes of her recent life.
"I started with a blow-up mattress from Target that me and my dog slept on for about a year and next thing you know, I'm on the Ellen show," she said.
The OITNB star was originally cast for only three episodes in the jail-based series but had her time on the show extended.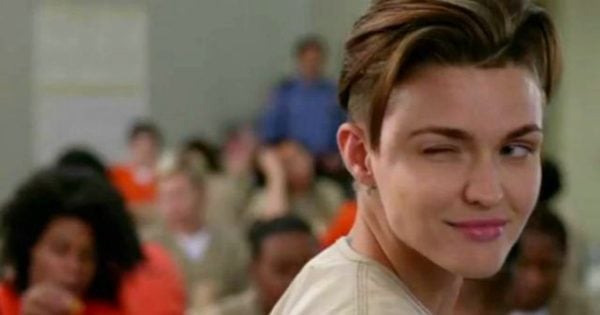 Rose told Ellen Degeneres she was excited to begin her next acting project with her role in the third installment of musical series Pitch Perfect.
The actress went on to share how the role would make use of her childhood spent singing in a church choir.
"I actually sung in a church choir for most of my life so we could live in a church parish and pay cheap rent," she said.
Rose's next onscreen appearance will come with the release of action film XXX: Return Of Xander Cage where she plays sniper Adele Wolff.
XXX: Return Of Xander Cage is set to be released in Australian cinemas on January 20.
Listen to Laura Brodnik and Rosie Waterland discuss Orange is the New Black on The Binge.