Content warning: This post contains discussions of mental illness and suicide. For help please call Lifeline on 13 11 14.
"My husband, Doug, and I always left one another notes every morning and evening," writes mother Kristie Spurgeon on Facebook. "Some would be tucked in lunches. Others in pillows. And many in shoes."
Of all those letters, there's one that the US woman clings to. The last one he ever wrote.
In a post on the Love What Matters Facebook page, Kristy writes that her husband left the note before taking his own life 14 years ago, "leaving behind myself and our two beautiful children with shattered hearts."
Doug had been suffering mental health issues for several years, having "spiralled into a major depression" after the death of his mother.
"I got him to as many specialists as possible. He would start to heal and then regress. I stopped him three times from committing suicide.
"Then we lost our good friend in 9-11. He spiralled into a dark abyss that not even the best doctors could save him."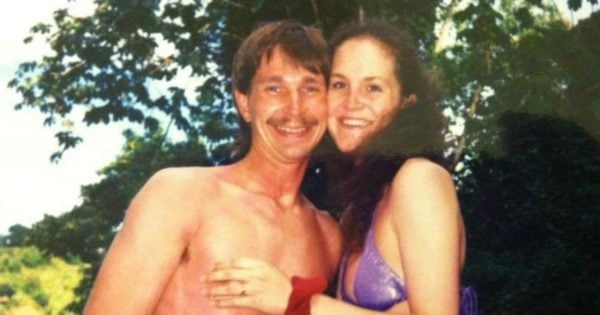 Last year, Kristy shared a poem on her personal Facebook page, in which she described sitting alone in her car reading Doug's final letter, like she had done a million times before.
It was reply to him, a letter of her own.
"My heart breaks into a million pieces all over again ...
It's a pain so deep few truly understand ...
It's suffocatingly excruciating and body engulfing paralyzing ...
I wonder if it's the same pain you felt everyday since you got sick ...
There's still the faint smell of your cologne on the envelope ...
And I find priceless comfort in touching your handwriting ...
I can see you sitting beside me with your crooked smile and blue eyes ...
And all I want to do is feel your mustache [sic] tickle my neck like it always did when you hugged me.
But you are gone when I open my eyes.
As always."
Annette and Stuart Baker and Frank and Alley Barret are members of a terrible club. Both families lost teenage children to suicide. Post continues...

In the years since, Kristy has worked to prevent a similar tragedy befalling other families, and established a veteran support organisation called On Angel Wings.
In the Love What Matters Facebook post, she said her work has stopped 58 suicides.
"I just wish I would have been able to stop his," she said.
While Kristy doesn't understand why Doug took his life, while she wishes he could see the pain he's left behind, she says she would give anything to have him back.
"He lives on in my heart and mind every day," she said. "I fall asleep beside him and wake up to write him notes."

Remember, Lifeline offers crisis support and suicide prevention services 24 hours a day. Please call 13 11 14.