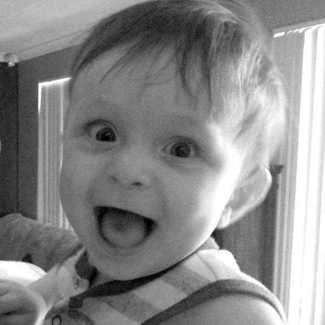 UPDATE: The parents of Nate Dunbar – a little boy who was killed when a drunk driver crashed her car into the bedroom he was sleeping in – have welcomed a baby daughter named Eve. 
Eve was born on March 9, weighing 4.19kg (9lbs 4oz).
The Dunbars have one other son, Kai, who was sleeping in the room next door to Nate when the incident occurred in January, 2013.
You can read more about the arrival in this story for The West Australian.
Ben Martin previously reported:
STACY AND JUSTIN DUNBAR slump into bed. It is a warm Thursday night and the Australia Day weekend looms large.
Down the hallway, confident, polite seven-year-old Kai is asleep in his bunk bed. In the next room, eight-month-old Nate, a blue-eyed bub with a grin so wide strangers are compelled to say hi, is tucked safely into his cot.
Their home, hidden in a peaceful cul-de-sac in Merriwa, is a busy jumble of toys, comfortable furniture and smiles. There's a shed up the back and a veranda with a barbie. They bought it as a house-and-land package before Perth boomed and prices went crazy. They didn't think too much about the fact that it backed on to Hester Avenue – a four-lane thoroughfare that runs from the 'burbs towards the beach.
Justin works hard as a panelbeater. Stacy juggles shifts as a hairdresser and caring for the boys.
There's not a lot more to say. Not yet. The Dunbars are decent, loving and endearing in their ordinariness.
Tired, they quickly surrender to the rigours of the day. Traffic hums in tune with the air-conditioner.
TWO KILOMETRES AWAY, at the Quinns Rocks Sports Club, Melissa Ann Waters cradles her drink. Usually, she stands behind the bar, serving the genial parade of punters who come for a cheap feed, the social lawn bowls and a few dollars on the nags. Tonight she is one of them, enjoying a spell after working nine nights straight.
Between 6.30pm and 9.30pm, she downs four vodkas. That might have been enough for the 35-year-old mother of three, who usually prefers beer over spirits. Not this night.
She drops her husband and daughter at home and returns to the club with two of her husband's friends in tow. They pick up Shaina Millar, the bartender on duty. They grab a bottle of gin, a bottle of Galliano liqueur, chips and smokes, and settle in at Millar's flat near Clarkson train station.
Over the next four hours, Waters drinks at least another five gin and tonics — it could have been more but that's what the official record will show. The others, by their own admission, get "falling down drunk". Despite their state, they plead with Waters not to drive home. When persuasion doesn't work, they hide her car keys. But alcohol and the late hour soon get the better of them and they slumber. Waters finds her keys and slips out of the flat.
The Toyota Hilux speeds north on Connolly Drive, reflections from streetlamps flashing off the 'roo bar. Waters coerces the car through three roundabouts, then pulls hard left into Hester Avenue. She quickly races through the 70kmh speed limit.
Exactly what happens in the next few seconds, only Waters can say, but she has never offered an explanation. Truth is, she was probably too pissed to know.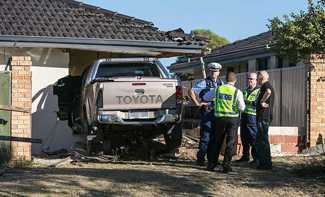 But police who later crawl the street for clues say the Hilux swerved suddenly to the left, bouncing off the left kerb before swinging wildly to the right.
It slid side-on across two lanes, leaving telltale arcs of rubber known as striation marks. It sliced through a bush median strip, barely touching the ground.
There is no sign that Waters attempted to brake as the Hilux skidded across two oncoming lanes, crunched into a kerbside drain and churned through the dry grass and dirt verge.
The car clipped a small eucalypt with enough force to destroy part of a side panel, then raced up an embankment and through a timber fence, sending palings splintering into the night sky.
IT'S 2.28AM. The Hilux is aimed squarely at the bedroom where Nate Dunbar sleeps, content after a midnight bottle.
The double-brick wall caves inwards and a wave of plaster, bricks and cement rears and pitches, destroying Nate's cot and shunting him across the room. It punches through the wall separating Nate's room from Kai's and shoves the bunk against the wall.
Nate's room is demolished, save for a white cupboard in the corner. Atop the cupboard sits an Elmo doll, face frozen in a Sesame Street grin, its legs dangling over the edge. It beggars belief that amid all the destruction the doll sits unscathed. Incredibly, both boys have survived the horrendous impact. But after hitting Kai's bunk, the Hilux rolls backwards and settles on top of Nate. He is trapped under two tonnes of car, crushed and suffocating.
JUSTIN DUNBAR leaps out of bed. "What the hell was that?" He and Stacy race out of their room and into a cloud of dust rushing through the house. An impossibly bright light is coming from the end of the corridor. They try to open Nate's door but the weight of furniture and rubble piled on the other side has jammed it shut. Peering into Kai's room, they see him sitting upright, floodlit by the Hilux's headlights. "There's a car in here!" Stacy says. Incredulous, she wonders aloud: "Is the driver OK?"
"Who gives a f… about the driver? Where's Nate?" Justin scrambles outside and yells again: "Nate is under the car!"
Stacy gasps. "I bent down under the car but I couldn't see anything in the dust," she recalls now. "Then I turned my head and there was Nate, right next to me."
The car tyre has come to rest on his chest. Stacy tries to give Nate CPR, but his tiny face is pressed hard against the wall of the tyre and she can't get her mouth over his. "He made a little jerking movement and for a split second one part of me thought 'Oh my God, he is still alive'. But the other part of me said 'you know that is just a muscle response'. I checked his pulse and I remember saying to Justin 'I think he has gone'."
As Stacy looks at her dying son, Waters stirs in the car above them. The steering wheel airbag has spared her serious injury, but the driver's door will not open. She climbs across to the passenger door which was unhinged in the impact and looks down. "I remember hearing her saying: 'Please God, don't take him, take me instead'," Stacy says.
But Waters doesn't stop to help. She steps over Stacy and Nate, climbs through the massive hole she has created in the wall and walks into the night.
SEN. CONST. RIXSON (who asked that his first name be withheld) is sifting through paperwork at Clarkson police station when the police dispatch system alerts him to an incident. A car has crashed into a house and a baby is trapped under the car.
Sometimes, early reports from the scene of an incident are overstated by panicked witnesses. But Rixson says to his partner: "If this is for real, we have got to get there fast." Racing to their patrol van, they switch on the lights and sirens and speed down Hester Avenue. About 100m from the Dunbars' house they spot a woman, shoeless and disoriented, wandering in the shadows. It's Waters.
While his partner puts Waters into the van, Rixson fights his way into the demolished bedroom, his torch creating beams in the swirling dust.
"I had to climb over the Hilux to get into the house," he recalls. "At first I saw Kai. He was sitting on his bunk bed facing the car and crying. I was really hoping the report of the trapped baby was going to be him. Then I saw Stacy was hunched over Nate, who was trapped under the front passenger wheel of the car. She was just wearing her underwear and was in shock, just trying to protect her baby. His legs were under the car and the wheel on his chest. But there was barely a scratch on his face."
As the weight of the roof lurches on to the car and threatens to collapse altogether, Rixson convinces Stacy to leave the room. "Don't worry, I'll look after him," he says. Rixson digs furiously at the rubble around and underneath Nate, trying to ease the mammoth pressure on the baby's chest. It doesn't work. He has to try something else. As he grabs the four-wheel-drive's jack, paramedics arrived and quickly assess Nate. "They told me there was a tiny little sign of life there."
He jacks the car up, but it isn't enough. Firefighters arrive and shove massive airbags under the car and prepare to inflate them to lift it. It is a dangerous operation — the whole house could collapse, but they have to try it. "Everyone knew there was a one-in-a-million chance of saving the baby."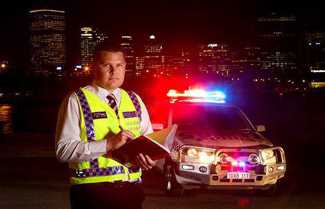 IT'S 2.45AM. A phone rings in a darkened bedroom in Perth's southern suburbs. Det-Sen. Const. Justin Cominelli scrawls a few notes, grabs a bag containing his torch, high-visibility vest and sheafs of documents and heads into the night.
He joined the Major Crash Investigation Section just a month earlier. This will be his first case as lead investigator.
There's no happy ending when Major Crash cops are involved. They attend only the most serious and deadly crashes. Cominelli's notebook — hard-bound in black and red — is a horrendous compendium of unimaginable atrocity.
As he pilots his distinctive four-wheel-drive towards Merriwa, his phone rings again. It's Rixson with the worst possible news. Nate is dead. Rixson then makes a special request. Does he have permission to move Nate's body from the crime scene so Stacy can wrap him in a blanket and hold him for the last time?
Of course.
When Cominelli arrives at the home, he is met by Justin Dunbar, who leads him into the living room. "I remember walking in the front door and Stacy was sitting there on the couch, holding Nate in a blanket. She had tears all over her face. Kai was sitting next to her." Cominelli introduces himself and explains his role. The genial, dedicated officer would be a trusted caller to the Dunbars' home over the next few months, keeping them informed of every development in the case.
He places identification tags on Nate's wrist and ankle. Then he slips into the long process of documenting the night's events. There are more than 70 procedures that Major Crash cops must follow in such a case. This ensures meticulous evidence is gathered for court and coroner's hearings. It doubles as an emotional shield for officers, giving them something to focus on other than the grief, suffering and barbarism around them. This is the 14th case Major Crash has attended in 25 days. When you are witness to such horror, you need an emotional shield.
While expert crash analysis officers create maps of the scene, Cominelli goes to Joondalup Health Campus where Waters has been sedated and is being held under police guard.
"As soon as I walked in, she asked me: 'I've killed the baby, haven't I?'" "Yes, you have."
It is 8.30am. Waters hasn't had a drink for more than six hours, yet she reeks of alcohol. Her preliminary breath test registered a blood alcohol concentration of a staggering 0.226. A more accurate blood sample is taken and calculated to be 0.17 at the time of the crash. That's almost three-and-a-half times the legal driving limit. It is, whether you are driving or not, dangerously drunk.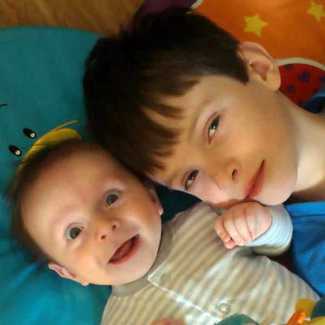 IN THE CORNER of the living room where Stacy once held Nate's body, there's a glass cabinet filled with memories. Nate's ashes are in an elegant silver box, and just to the right, is another much smaller container.
"They're Chase's ashes," Stacy explains.
Chase was their second son, before Nate came along. He died in utero of a rare syndrome in which one side of the heart fails to develop. Tests showed the condition wasn't due to a chromosomal abnormality — that is, there was no predisposition or degree of inevitability about it. As far as the medicos could tell, Chase was the victim of pure chance.
Stacy attempts a sad smile: "These things are so unlikely. It's like a lottery, and I've won the lottery twice."
Outside, the timber fence has been replaced with metal, the eucalypt has grown a new sheath of bark and the verge is starting to yellow as summer approaches.
As my eyes follow the striation marks, still highlighted by police spray paint, my mind finds it hard to believe that a car could swing so wildly off course. Or that it could follow a seemingly pre-ordained route straight towards the tiny cot of a tiny baby. Straight into the lives of the Dunbar family.
I look at Stacy and Justin, then at Kai with his collectable animal cards and encyclopaedic knowledge of dinosaurs and I wonder. What goes on in their heads and hearts? How much pain have they suffered? How much energy have they exhausted just trying not to cry?
I wonder what could have been. What if that eucalypt eking out an existence on the verge was, say, 30cm to the right? Would it have deflected the speeding Hilux away from Nate? Would Nate be trotting around the house today, clutching that Elmo doll?
But, like so many things in this story, the tree was just so.
Often when something so improbable happens, we find comfort in the idea of fate. It can soothe us to believe that such a devastating event is somehow predetermined by a higher power. That we could do nothing to prevent it.
The truth is, however, that there were only two powers at play in the early hours of January 25th, 2013.
One was physics, the unimpeachable laws of motion and energy that explain exactly why the Hilux took its deadly route. The other was less predictable: a single decision made by a lone human whose decision-making ability was impaired by the very substance that would diminish her driving ability.
Melissa Ann Waters could so easily have trumped both physics and fate by deciding not to drive. By accepting her friends' admonitions and staying there overnight. By planning how she was going to get home way back at the Quinns Rocks Sports Club when she was cradling that first vodka. She didn't. Nate Dunbar died because of one decision.
Waters pleaded guilty to dangerous driving occasioning death and driving under the influence of alcohol. She walked into her sentencing hearing in September staring down a maximum 20 years in prison. She got three years and eight months. With parole, she could be out after one year and 10 months.
Justin and Stacy are deeply dissatisfied with the sentence. The community anger that followed suggests many of us feel the same. Standing outside court, Stacy delivered a powerful speech. "Drinking and driving is a choice. A very selfish and arrogant choice. There is not an adult in Australia that doesn't know the potential consequences. I think the hardest part of standing here today is knowing that I will not be the last mother standing here pleading for people to stop drinking and driving.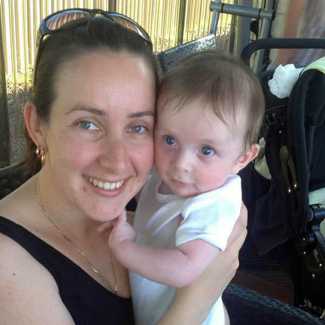 "That means that someone sitting on the couch right now, watching me make this speech, will also one day know the pain and hurt that I feel every day — all because someone else hasn't listened to a word that I have said."
She was preaching to the masses. In WA in 2011-12, more than 15,000 people were caught drunk driving. That's a lot of people who decided to risk becoming a killer in preference to the mild inconvenience of, say, waiting for a cab.
Just two Saturdays ago, Sen. Const. Rixson was on a routine patrol when he caught three people for high-range drunk driving. All within three hours and all within a kilometre of each other. Any one of them could have killed a child like Nate. Or themselves.
He cannot fathom the lax attitude of some of the people he catches and wonders why, in some circles, drunk driving doesn't carry the same shame as other crimes. "Drunk driving seems to be part of the culture in Australia. People say: 'What am I supposed to do, how am I supposed to get home?' It's all a bit casual."
Rixson, his police colleagues, firefighters and paramedics remain deeply affected by that night. "It is probably the worst thing I have ever had to do and I hope I never have to do it again," he says. Memories of Nate come and go without warning and he has become acutely aware of his own children's vulnerability.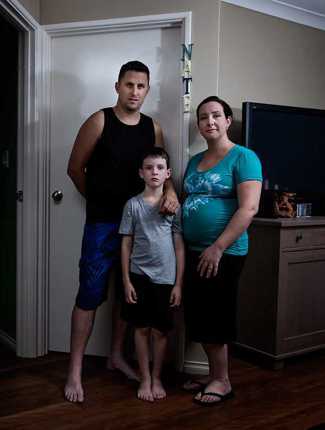 Nate's death has had a ripple effect, sparking a community outpouring which culminated in a candlelight vigil and a makeshift shrine at the crash site where strangers placed scores of teddy bears. Now, the Dunbars want that ripple effect to spread further and with more power.
They want strangers to heed to their message and pledge not to drink and drive. They want Nate's death to save other lives. Justin, a private and quiet man, puts it bluntly. "I don't really want to be talking about this. I just want it all to end. But if it means one person decides not to drink and drive, it might save another family (from) going through all this."
JUSTIN AND STACY find solace in each other and the constant presence of Kai. He requires a little more tenderness than he otherwise might, but he's doing well in the circumstances. On weekends, Justin seeks comfort under the waves, scuba diving with mates, then cooking — freeform, no recipes — for his family.
Stacy is not prone to pleas for pity or tears. Sociable, eloquent and unfailingly positive, she elevates the spirits. She will return to hairdressing eventually. She's not quite ready yet.
They will celebrate Nate's life on his birthday, just as they celebrate what would have been Chase's birthday. This year, Stacy made chocolate cupcakes for Chase. "They are all part of our family," she explains.
And as she stands to say goodbye, she turns side-on and places her hand on her belly. There's the unmistakable curve of new life. She smiles. "It's a lovely surprise."
Will you take the Pledge for Nate?
To pledge that you will not drink and drive – and that you will stop others from doing the same – please visit Pledge for Nate.
This article was originally published in The West Australian, and is republished here with full permission. All photos belong to The West Australian.