UPDATE: A mother whose baby daughter was kidnapped almost 18 years ago has thanked the woman who stole her.
Earlier this week, we reported that South African woman Celeste Nurse was sleeping beside her three day-old daughter Zephany in hospital in 1997 when the infant was snatched by a woman disguised as a nurse.
Now, Ms Nurse has thanked the woman who stole her 'for giving her a good life'.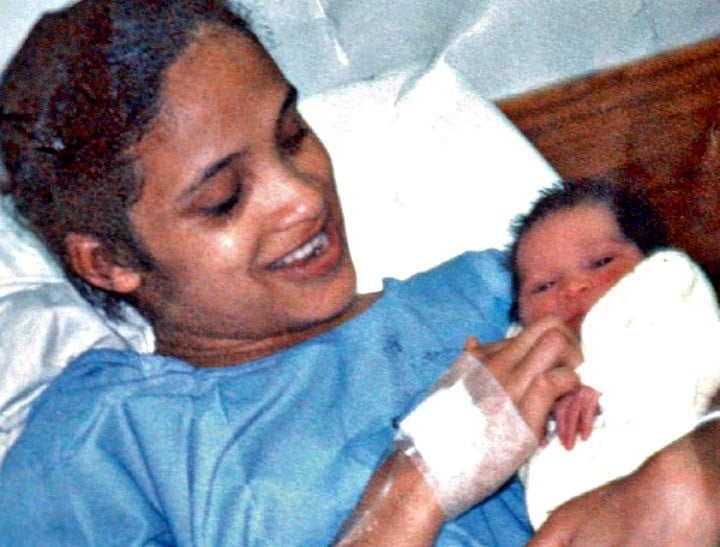 She told The Daily Mail:
Zephany loves this woman dearly, she was a good mother to her. What she did was very wrong, they've been living a lie for the last 17 years, but I forgave her some time ago. Undoubtedly we will meet, and I will thank her for taking care of my daughter. Zephany has had a good life with her – my daughter is beautiful, inside and out, she's kind and clever – they did a great job.
It's hard to imagine having the strength to be so gracious and forgiving after living through such a tragedy, and we wish the family all the best.
Mamamia previously reported:
Seventeen years after she was snatched from hospital, a South African girl has been reunited with her biological family.
In April 1997, Zephany Nurse was sleeping in her mum Celeste's arms at a hospital in Cape Town, South Africa, when she was abducted by a stranger.
Zephany was just three days old.
Despite nearly two decades without their daughter, the Nurse family continued to search for Zephany, even celebrating her birthday every year.
Seventeen years later, an astounding coincidence brought the family back together.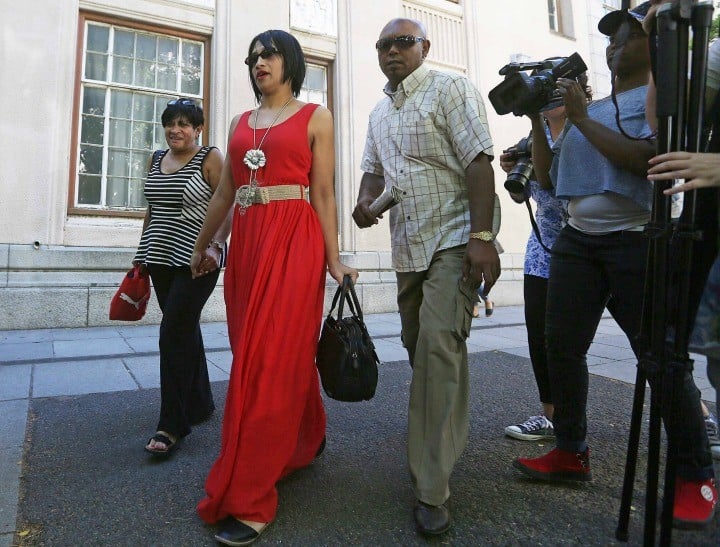 According to The Guardian, Zephany grew up with another family, only miles from the Nurses. However, last month, Cassidy Nurse – Zephany's biological sister – started at the same school.
It wasn't long before classmates started noticing a resemblance between the estranged siblings, and the two became friends.
Related content: The families of two girls switched at birth have been awarded a massive payout. 
When Zephany's father Morné noticed the two girls eating in McDonald's one day, he contacted the police – suspecting Cassidy's new friend was actually the little girl who was taken from the family 17 years ago.
DNA tests would soon confirm Zephany as the Nurse's long lost daughter.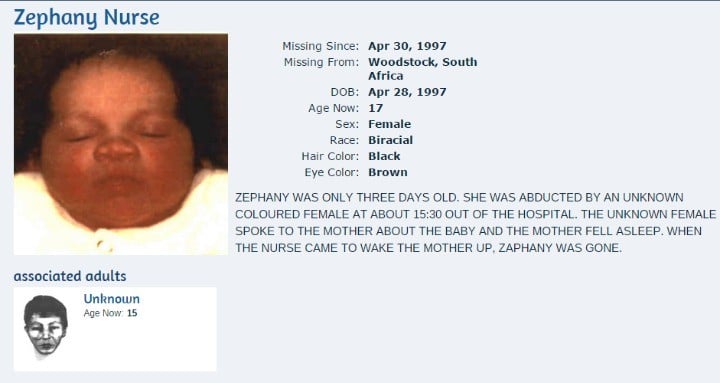 Zephany's biological aunt, Shantal Berry, has said the family is overwhelmed.
"We feel very excited, happy. There is just a joy. It feels like we're in a dream and we must still wake up. Can this really be happening?"
She also said of Zephany's mother: "She was very excited. She cried, she told me. She said she's got a very pretty, very beautiful daughter."
*Related content: Josefa Pete has tips to keeping your kids safe online
The woman who kidnapped her from the Cape Town hospital has been charged. She is believed to be around 50-years-old with no other children.
Zephany has been placed in the care of social services, but it is believed she will eventually be returned to the care of the Nurse family.