Oh Leunig, not again.
In case you were in any doubt that Michael Leunig is an "anti-vaxxer".
This morning, The Age newspaper has published yet another cartoon from our formerly favourite, duck-loving cartoonist, which appears to be taking an anti-vaccination stance.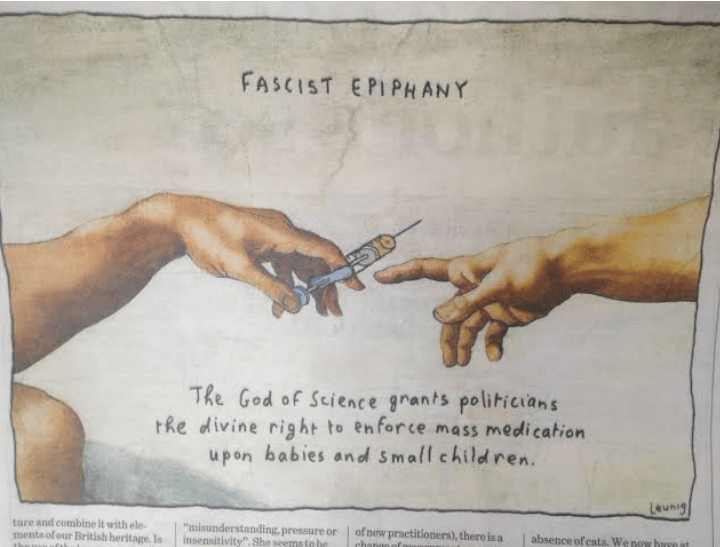 Invoking Michelangelo's The Creation of Adam, Leunig appears to question the Victorian state government's strong pro-immunisation message.
In an expansion of their "no jab, no play", children will need to be fully vaccinated to attend childcare or kindergarten as of January 1 next year.
It's not the first time Leunig has published an anti-vaccination cartoon.
Earlier this year, The Age printed this cartoon: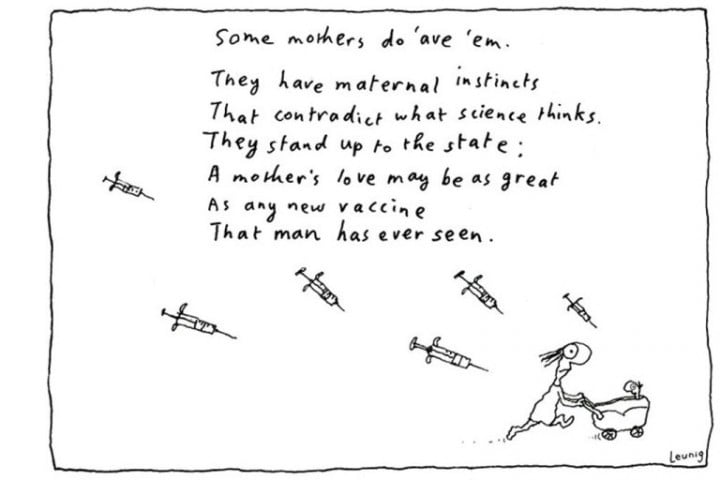 It seems the newspaper's readers weren't too impressed either, with many taking to social media to voice their frustrations.
Science communicator and vaccination advocate Jo Alabster, among them:
It would take a great deal for Leunig to convince me that he understands vaccination and isn't anti-vax. pic.twitter.com/6C5WQ6sUVS

— Jo Alabaster (@joalabaster) August 18, 2015
Speaking to Mamamia, Alabaster said she believed the cartoon to be "highly problematic".
"It sends the community a message of fear and mistrust, based on ideas that simply aren't truthful. Science gives us the knowledge that vaccines are the safest and most effective way we can protect our children against vaccine preventable diseases."
She argues that reframing the Government's policy as "forced mass medication" is disingenuous at best, and at worst, could put children in danger.
"We need to be reassuring parents with the facts, not scaring them with emotive cartoons about fascism," she said.
ABC News Breakfast host Michael Rowland simply tweeted the image with the caption, "Leunig goes there (again) on vaccination."
Earlier this year, his co-host Virginia Trioli clashed with the cartoonist on the breakfast program over a previous cartoon featuring a mother hugging her child while running away from state-sanctioned needles.
The Age news director Mark Forbes, told Mamamia that the questionable cartoon was a reflection of the cartoonist's views and not the editorial stance of the paper.
"Our cartoons in many ways are a visual representation of an opinion column, especially in the case of Leunig," he said.
"As a paper we have editorially supported vaccination, we continue to do so. But we're also a broad church, we don't want to suppress outspoken commentary unless we think its offensive. Michael's got some interesting and controversial views, we think he's go the right to express them."
Mamamia has written many times about the common misconception that there are two sides of a debate when it comes to vaccination. As an organisation, we wholeheartedly support the SCIENCE that says vaccinations SAVE LIVES (2.5 million every year) and protect us against disease. We will continue to throw everything we have behind that science and thousands of scientists who work tirelessly to debunk the dangerous myths spread by anti-vaccination advocates who try to scare parents into not vaccinating their children.
Because on the one hand there is science.
And there is no other hand.
Update: Mamamia approached Leunig for comment and received the following response from his spokesperson:

This letter was sent by Michael Leunig as a reply to a woman who took exception to his cartoon (published in The Melbourne Age 19/08/15). Much of the objection to the cartoon seems to be based on a misreading of it, as is explained in his letter. His words here, addressed to one person, may be read as his general response to much of the hostile criticism he has received. A re-reading of the cartoon in light of his response, may be of value.

Dear Nicole,
Thank you for your letter. My cartoon was not about the value of vaccines – it is about the punitive deprivation and coercive authoritarian force being increasingly and systematically applied by Federal and State governments to parents who want choice in the matter. There is a human rights issue here that is deeply disturbing and worth talking about in a clear-headed way that is free of hostility and insult.
Yours sincerely,
Michael Leunig.
Want more on this topic? Try these:
Oh, dear. Not Michael Leunig, too.
Tara was an anti-vaxxer… Until her 7 children came down with whooping cough.