Mazda is currently enjoying a series of successes that's envied by almost every other car company in Australia, with a number of its models striking a real chord with Aussies.
From the Mazda3 and CX-3 through to the CX-9 and BT-50, the Japanese company really can do little wrong in the eyes of its customers.
One of its biggest hits of recent years has been the mid-size CX-5 SUV – in fact, the company says it's the one of its most successful product launches of all time, and became the pioneer for a new look and a new technical direction for the company.
The CX-5 has been the number one selling SUV in Australia for the last four years, which puts the company in an interesting position. How far can it go in fixing something that's demonstrably not broken, especially for its pool of 115,000 CX-5 owners?
Design
Every body panel on the five-seat CX-5 is new. The key to the design changes is a shift in what's called the glasshouse, or the top of the car, which has moved back by about 35mm, lengthening the bonnet and giving it a more sophisticated silhouette.
The change means that every other exterior surface, including the roof, bonnet and sides, has been updated in sympathy. There's no doubt the company is marrying up its corporate looks across the range, with the deliberately premium-esque CX-9 at the tip of the spear.
That feeling of refined simplicity extends to the interior of the CX-5. The floor console has been lifted by 40mm, the front seats are new and vastly improved, and the rear seats are lower.
The design of the instruments up front and the use of materials throughout the cabin are both simpler and more beautifully executed. It makes a real difference.
The subdued colour palette of greys, silvers and blacks extends from the dash to the passenger side, and it works very well. Photos don't actually do it justice.
In terms of exterior colours, a new hue called Soul Red Crystal joins the seven-strong colour list that includes sonic silver and machine grey and two shades of blue (but no brown or bronze, or bright orange, as seems to be the trend with other makers). It's a $300 addition to the RRP for the red, grey and black finishes.
Practicality
There are actually five unique trims across the line, with the GT and Akera getting the option of black or white leather and the others featuring variations of cloth and suede trims.
The rear seats have been repositioned to sit lower in the car and have a two-step reclining function for the backrest, while the two outside seats have been reprofiled – though the middle seat is cramped.
The lower seats make for a great deal more headroom for even the tallest of rear seat passengers, though, and toe and knee room is also excellent.
There is a pair of ISOFIX baby seat mounts for the outside pair of seats, as well.
Its interior dimensions have grown, with an additional 39 litres more luggage capacity at 442 litres (VDA) of boot space with the seats up and 1342 litres (VDA) down. The 40/20/40 split/fold seat backs can be dropped via levers, with a clever inset lever dropping just the centre section if required.
Mazda has updated its front seats too, with comfortable cloth trim in the Maxx Sport and a Mazda-specific suede like material called Maztech for the Touring.
The leather pews in the Akera we tested weren't actually as comfortable as the cloth versions in the Maxx Sport, with a narrower, more bolstered seat squab not suiting, erm, more ample gentlemen.
A centre console dial and button array controls the touch screen based infotainment system, which is easy to navigate through. Mazda prefers its own MZD Connect technology, which means that Apple CarPlay and Android Auto isn't available; it favours radio apps like Stitcher and the like, but not many of them have much real world penetration.
Bluetooth will help you connect gadgets like an iPhone, a GPS device or an Android mobile, though.
Storage is plentiful, with a deep centre console bin, large device tray, bottle storage in all four doors, two cup holders up front and two in the rear centre armrest (on every model except for the Maxx).
The centre armrest also houses a lidded bin that hides a pair of USB ports, while rear seaters also enjoy air vents.
A full size spare tyre isn't available for the CX-5, though Mazda says that the space saver spare tyre is a larger, more robust type than the ones typically used.
Price and features
All Mazda CX-5 models in the five-model line up are packaged with AEB, a reversing camera, push-button start, LED headlights, blind spot monitoring, smart city braking front and rear and rear cross traffic alert as standard features.
How many seats? Still five; this is as big as the CX-5 will ever get, we're told, so don't expect a seven-seat version to eventuate.
All CX-5 models also use the same 7.0-inch colour multimedia touchscreen, with all but the entry level Maxx model getting sat nav. There's no CD player fitted as standard, while MP3 players can be used via streaming or via a line-in.
Mazda reckons it's made a point of not trying to win over people who are looking at the entry level of the segment, and the base front-wheel-drive, 2.0-litre four-cylinder Maxx is reflective of that.
Specced down to its $28,690 (manual, before on roads) starting price, it offers a basic spec level that includes steel rims, single zone air conditioning and basic cloth trim.
It also misses out on rear air vents – a by-product of not having dual zone air conditioning – and rear USB ports.
Prices have jumped $800 in manual form, and so has the $30,690 automatic version. The all-wheel-drive automatic with the larger 2.5-litre petrol engine has jumped by just $200.
The Maxx Sport, on the other hand, is the range's most popular model, and gets 17-inch alloys, LED foglights, automatic lights and wipers, dual zone climate control with rear vents and two additional USB ports in the rear centre armrest.
Available only as an auto, the FWD 2.0-litre and AWD 2.5-litre versions of the Maxx Sport both jump $900 in pricing to $34,390 and $37,390 respectively before on-roads, while in comparison, the AWD 2.2-litre diesel has risen $900 to $40,390.
Mazda wanted to reduce the price gap between its Maxx Sport and GT models, so it's introduced a fifth grade level called the Touring.
It starts at $38,990 for a 2.5-litre petrol or $41,990 for the 2.2 diesel, and is only available in AWD auto guise.
It gets 17-inch rims, Mazda's heads-up display, traffic sign recognition software, sat nav, smart keyless entry, unique Maztech suede and cloth trim and front parking sensors.
The all-wheel-drive only GT is available in 2.5-litre petrol ($44,390, up $300), or diesel (also up $300 to $47,390), and adds 19-inch rims, adaptive headlights, powered tailgate, sat nav, sunroof and a choice of black or white leather trim.
Finally, the top of the range Akera actually falls $300 to $46,990 for the AWD petrol, or $49,990 for the AWD diesel. Compare that to the claim that Mazda has added extra $2000 of specification, and it's a good deal.
It offers a full suite of safety features including a first-ever side camera, radar cruise control, lane departure warning, lane-keeping assistance and smart brake support on top of AEB.
It also has a Bose sound system with ten speakers.
By the way, if you're looking for a drive-away price this early on the new CX-5, you may be out of luck.
Engine & transmission
Engine size, engine specs including horsepower, oil capacity, oil type and the like remain unchanged for the MkII version of the CX-5.
The 2.0-litre four-cylinder petrol motor makes 114kW and 200Nm, while the 2.5-litre engine produces 140kW and 251Nm.
The 2.2-litre turbocharged diesel, meanwhile, makes 129kW and 420Nm. All of the power and torque figures are identical to the first version of the car.
Software tweaks – including remapping of the gearbox shift points and throttle map – have been made across all three engines.
Some internal modifications were made to the 2.5-litre petrol engine, which received lower friction pistons. The CX-5's 2.2 diesel specs also reflect the minor updates seen in the Mazda6's update last year, which included piston pin dampers and a recalibrated boost controller.
When it comes to transmissions, Mazda's eschewed dual clutch technology for a traditional six-speed torque converter equipped automatic. It still offers a six speed manual, but only paired with the 2.0-litre petrol motor and with front wheel drive.
Mazda says that 95 per cent of sales of the CX-5 to this point have been automatics, while 85 per cent of the total has been all-wheel-drive.
No 0-100km/h performance figures were provided.
Fuel consumption
Figures of 6.9 litres per 100km for the 2.0-litre engine, 7.5L/100km for the 2.5 and 6.0L/100km in 4 wheel drive spec do reflect a slight uptick in sticker fuel consumption numbers (0.1L/100km, to be precise), but Mazda claims that 'real world' test figures show that all three engines are actually four per cent more fuel efficient than the powerplants in the previous car.
However, these economy numbers were recorded during testing in Europe, not Australia.
Over 200km of mixed terrain testing, we saw a dash-indicated figure of 8.2L/100km for the 2.5, and 7.0L/100km from about 150km in the diesel.
The front-drive CX-5 has a 56-litre fuel tank capacity and the all-wheel-drive cars have a 58-litre tank.
The car's gross vehicle mass is, on average, 40kg greater across the line.
Its towing capacity is 1800kg braked and 750kg of unbraked trailer load.
Driving
From behind the wheel, the CX-5 feels little different from the model it supersedes; after all, no changes have been made to suspension tuning or power output.
What is patently obvious, though, are the changes that can't be seen.
Mazda's efforts to reduce the level of cabin noise have been extensive... and they've worked. New sound deadening in multiple points around the car – including underneath the rear end, the doors and the firewall (the wall between the engine and the cabin) – along with a thicker windscreen and better seals and panel gaps is just part of the fix for what was a noticeable weakness in the first CX-5.
More insulation in the body pillars and more 'out of sight' carpet also reduce road noise levels in the cabin. In fact, Mazda says the reductions are the equivalent of dropping 20km/h in road speed.
The CX-5 is a benign, friendly vice-free device that does almost nothing wrong at any speed. The base engine can struggle under acceleration with the car's mass, but it accounts for only 10 per cent of sales, according to the company.
Its steering isn't going to worry an MX-5, and the nose can actually wander a little wide of your line if you're not generous enough with your inputs, but for the most part, the CX-5 is a simple pleasure to use.
It doesn't have any form of park assist, but it really doesn't need it. Its 11.2m turning circle isn't the tightest, though.
The gem of the three, especially for longer distance work, is the diesel. It's impressively smooth, incredibly quiet and combines well with the six-speed automatic to make short work of both city and country driving.
With a relatively low ground clearance of 193mm, the CX-5 isn't really built with off road ability in mind, despite its SUV nomenclature; if you're thinking of testing its wading depth against even a moderately deep creek, we'd advise against it.
Safety
AEB, blind spot monitoring, six airbags, smart city braking front and rear and rear cross traffic alert are all standard safety features, along with a rear view camera and rear parking sensors.
The top spec Akera adds a side camera, lane departure warning, radar cruise control, lane-keeping assistance and smart brake support, which now works between four and 80km/h for front detection (up to 60km/h for pedestrian detection) and between two and eight kilometres per hour in reverse. It can detect objects up to two metres behind it.
The new version of the CX-5, which is built in Japan, is yet to be tested by ANCAP, though Mazda is confident it will retain its maximum five star safety rating.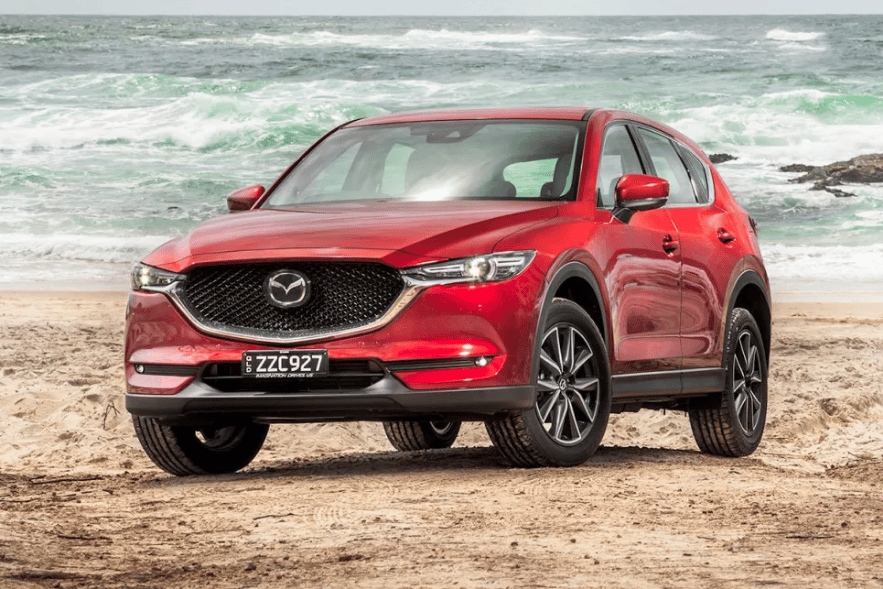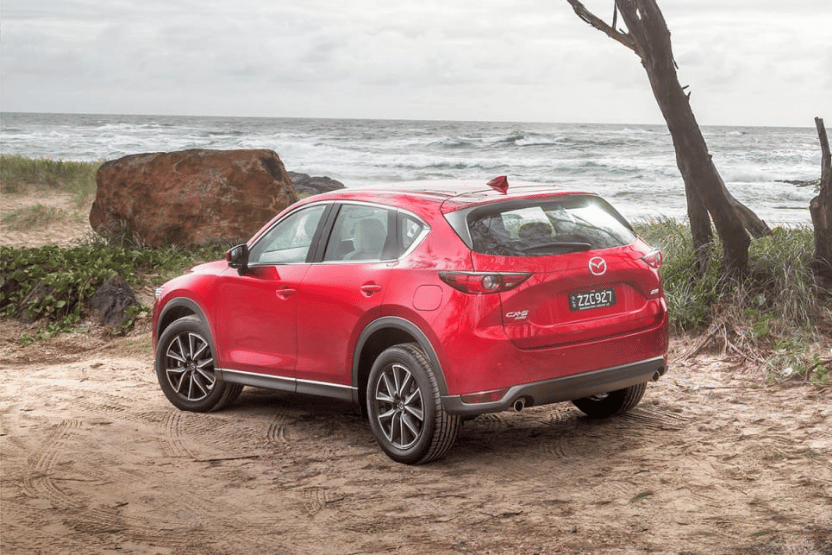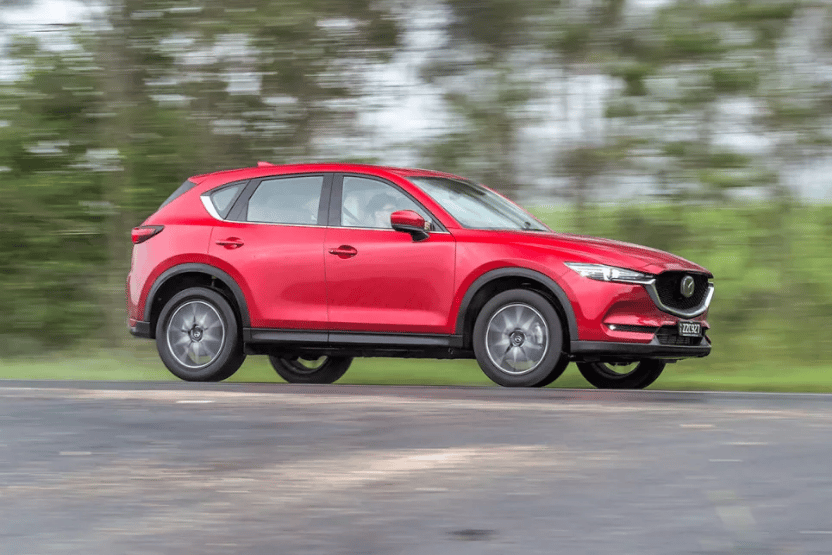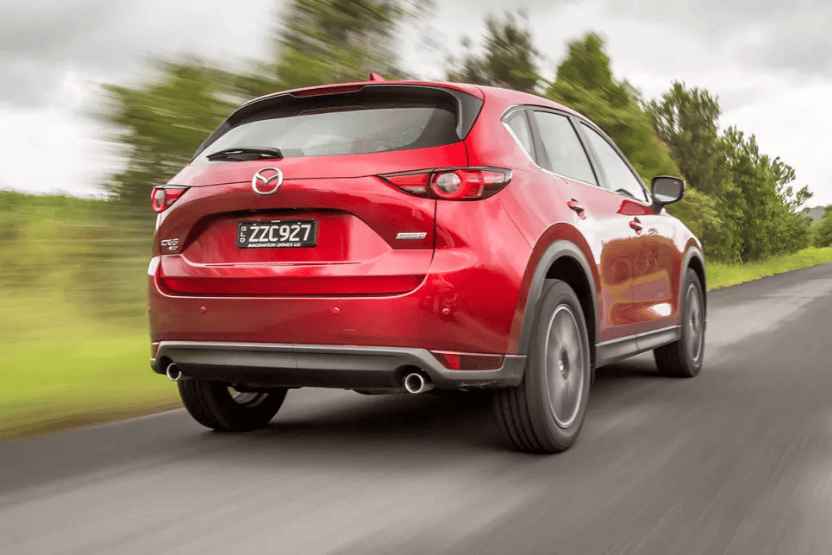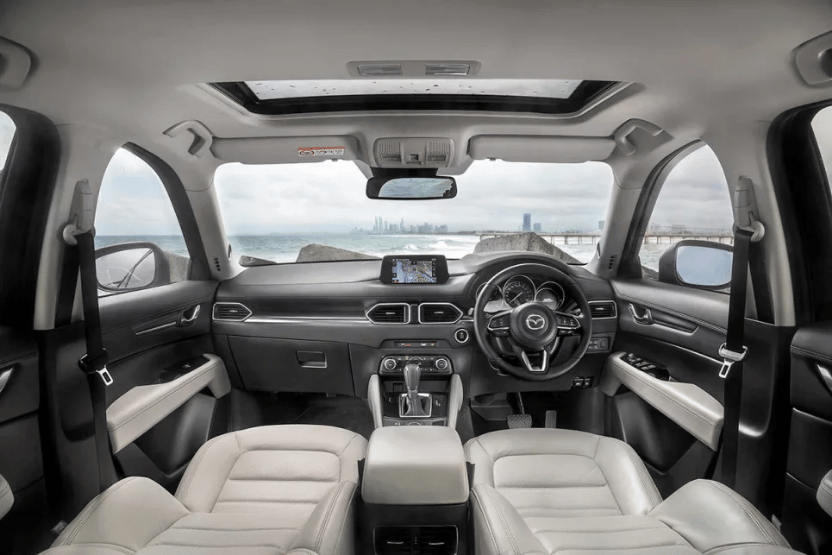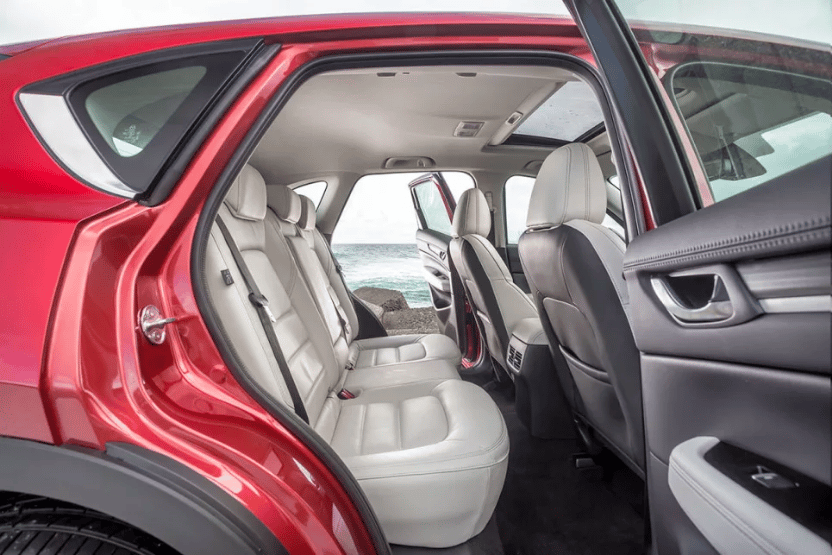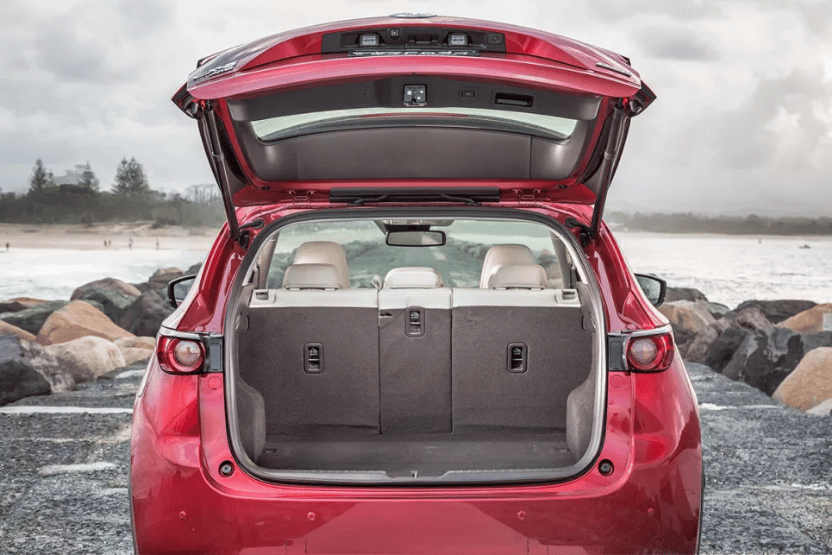 Ownership
Mazda offers a three-year/unlimited kilometre warranty and a capped price service regime, with all service costs available on Mazda's website; Mazda says maintenance cost won't change for the new versions of the car.
Roadside assistance is an extra $68.10 per year. No extended warranty is offered.
Diesel problems, turbo problems and gearbox or transmission problems have not surfaced. One of the common problems very early in the diesel version of the previous CX-5's life was an issue with overfilling the oil sump, but a recall to reflash the software and to install an updated dipstick remedied those issues, so if you're buying second hand, make sure the fix has been done.
The all-wheel drive versions of the car will also most likely need all four tyres changed at once, even if the rears are showing less wear. Worn tyres actually shrink in circumference, so fitting larger front tyres only, for example, will force the smaller rears to work harder to 'keep up' with the drivetrain and upset its array of sensors that distribute torque and power.
Otherwise, owners report few reliability issues or durability problems with the CX-5, which has been on sale since 2012.
When it comes to diesel vs petrol, urban fuel bills for diesel powered cars will be higher than you might think, while servicing costs are also generally higher. LPG conversions would not make much economic sense, either.
Mazda says that it has plenty of stock of the new car coming, with no waiting times for any model expected.
One of the joys of the CX-5 is that it's an easy car to live with - none of the CarsGuide team has had to reach to the owner's manual to find out how to use any of its functions.
Verdict
Mazda's pool of 115,000 CX-5 owners are a happy bunch, and the Japanese company has worked hard to update the car without spoiling the attributes that made it so popular in the first place.
Mazda has added a veneer of sophistication and style, along with key improvements to its ergonomics, to a car that is simple to use.
Along with the vastly lowered levels of cabin noise, the CX-5 is looking good to retain its crown as Australia's number one SUV for a while yet.
The sweet spot of the range may well be the new Touring, thanks to the addition of fresh technology like the head up display. If long distance commuting is on the cards then the diesel is worth the extra $3000, and the extra performance is a bonus.
Has Mazda done enough to get you back into a CX-5? Are you happy with yours? Tell us in the comments below.
This story originally appeared on CarsGuide