If you've caught even a trickle of the press surrounding Married at First Sight this week, you'll know two things.
Firstly, that news sites are grossly infatuated with Cheryl because she is a former topless waiter who has ~ skeletons ~ in her closest, and secondly, Anthony has taken the crown of Most Hated Man in Australia from King of the throne himself, Blake Garvey.
For the uninitiated, to catch you up to speed, this is what went down:
This week, Cheryl and Andrew – who were originally 'married' to different people – re-entered the competition to pursue a relationship with each other.
Another contestant, Anthony, took issue with this.
Cheryl and Andrew's pairing had nothing to do with him.
Anthony still took issue with this, telling Cheryl she will " look like a f***ing idiot if [she] gets it wrong."
 Cheryl cried, Andrew didn't really care.
Now, Anthony's wife (?) Nadia has spoken to OK! Magazine about the much-debated dinner party, and how she had an issue with his "aggressive" behaviour.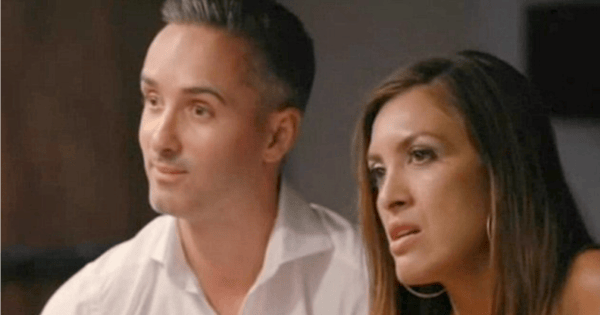 "When we got home I totally told him that what he said that night was inappropriate and that I thought he went too far," she told the magazine.
She added that you "don't treat women that way" and that it gave her an interesting insight into his personality.
"To have a man be quite old-school with his mentality and the way he treats women was quite confronting for me," she said.
So, are the couple still together after quite the bust-up?
"I think we are going through a big learning curve. I'm still learning about him and all the cracks are starting to show," Nadia said. "I want to see how he deals with me putting him in his place."
Love Married at First Sight and want to de-brief after? The Recap is for you.