This post deals with the tragic deaths of a family including children, as well as an apparent suicide, and may be distressing for readers.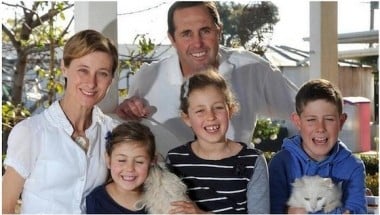 UPDATE:
Kim Hunt's sister, Jenny Geppert, has told The Daily Telegraph she does not blame Geoff for murdering his family.
"All I feel is sadness and the terrible loss of a most amazing family," she said.
"I still love Geoff as much as I ever have and I always will."
Geppert does not believe the murder was premeditated, saying it was a consequence of her sister's brain injury and the toll it took on the Hunt family.
"A brain injury robs a person of empathy and love. Unless you live with someone who's gone through this you can't understand – it dulls their emotions," Mrs Geppert said.
"I can only imagine that Geoff decided it was all too hard, that there was just too much to deal with."
Mamamia previously reported:

The sister of Kim Hunt, Jenny Geppert, has spoken out about the tragedy that hit the Lockhart family this week.
The statement said:
"In regards to the recent tragedy within our family.
All that can be felt is an indescribable numbness and all encompassing, heart wrenching sadness with losing my sister, brother-in-law, nephew and nieces.
My most beautiful, spirited sister, Kim, whom I idolized and adored; my dear brother in law, Geoff, who was incredibly generous and kind-hearted; my beautiful nephew and nieces Fletcher, Mia and Phoebe, who I cherished and thought of as my own children. 
All are loved dearly. The void that is left in our lives is immeasurable. They are profoundly missed.
We have had overwhelming support from family and friends as well as the local community and beyond. I cannot express enough appreciation for this kindness. Thank You.
Please give a hug to those you love and count your blessings that they are with you."
Previously, Mamamia wrote:
In July 2012 The Eastern Riverina Chronicle wrote of the determination of a woman's battle to overcome a horrendous car accident.
Kim Hunt's car had flipped with her four-year-old daughter inside, leaving the woman in a critical condition.
The paper wrote her "husband Geoff has not left his wife's side while her condition slowly improves in hospital."
"She's been showing signs of waking over the last two days and she's (Kim) been making progress," he said. "She's a great mum and a very caring person. There has been a lot of her family around her here."
Two years later, Kim Hunt's face is on the front pages again.
But this time, it's because she is dead — allegedly shot alongside her three children.
Kim Hunt, a 41-year-old nurse and mother of three, was found dead on the footpath behind their farm-house home near Lockhart, west of Wagga Wagga.
The bodies of her three children, Fletcher, 10, Mia, 8 and Phoebe, 6 were found inside the house.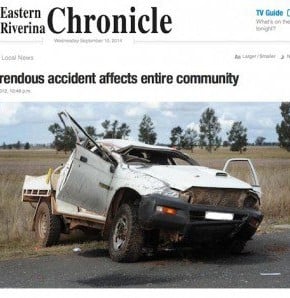 Kim Hunt's husband – the children's father – Geoff, 44 was missing, and a suicide note apparently written by Mr Hunt – the man who lovingly sat by his wife's side every minute while she lay in a coma – was found on the property.
His abandoned ute was found next to a dam on the family's property, a set of thick tyre tracks cutting across the wheat crop and leading directly to it.
On Wednesday afternoon police recovered a body and a gun from a dam on the Hunt's property, and police immediately discontinued a search for Mr Hunt.
They are now preparing a report for the coroner, and are not looking at any other persons of interest in relation to the incident.
"We have five dead people. We believe they were all members of the same family," Wagga Wagga police Superintendent Bob Noble said. "There's nothing to lend us to believe that there are any other victims or persons of interest."
Fairfax Media says the alarm was first raised when all three children failed to attend their local primary school yesterday. A neighbour went to the homestead around 3pm, discovering the tragic scene.
The small community of Lockhart is struggling to come to grips with the tragedy.
"It's devastated the whole community," Lockhart Mayor Peter Yates told The Daily Advertiser. "We're all saddened by it, of course … I know the family, they're a well-respected farming family and it's just so devastating."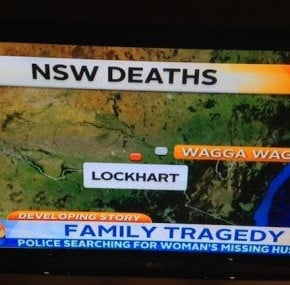 "I just can't believe it … especially when there's children involved, they had their whole lives ahead of them."
Only last year the community had rallied behind the family as they helped Kim Hunt recover from her car accident.
Mrs Hunt told The Daily Advertiser last year things were difficult.
"I think there are givers and receivers in the world, and before the accident I was a giver and then I had to become a receiver, so I'm looking forward to being a giver again," she said.
"People see you and think you are better, but brain injuries are a silent disability," she said.
Her husband spoke lovingly about her determination. "The past year has had its ups and downs," he said. "But you don't get much more determined than Kim, she's one of a kind."
Our thought are with the community of Lockhart, the extended family and friends of the Hunts and the young friends of these three children struggling to understand such tragedy.
Please don't suffer alone. If you need help it is out there.

Lifeline   – 13 11 14

Suicide Call Back Service – 1300 659 467

Kids Helpline – 1800 55 1800

 MensLine Australia – 1300 78 99 78
[post_snippet id=324408]
Comments on this post have been closed for legal reasons. Thank you for your understanding.