I never thought I'd have anything in common with Kim Kardashian.
But this week, I found out the mum of two is just like me*.
Not only do we both adore frolicking, cheeks out on the beach,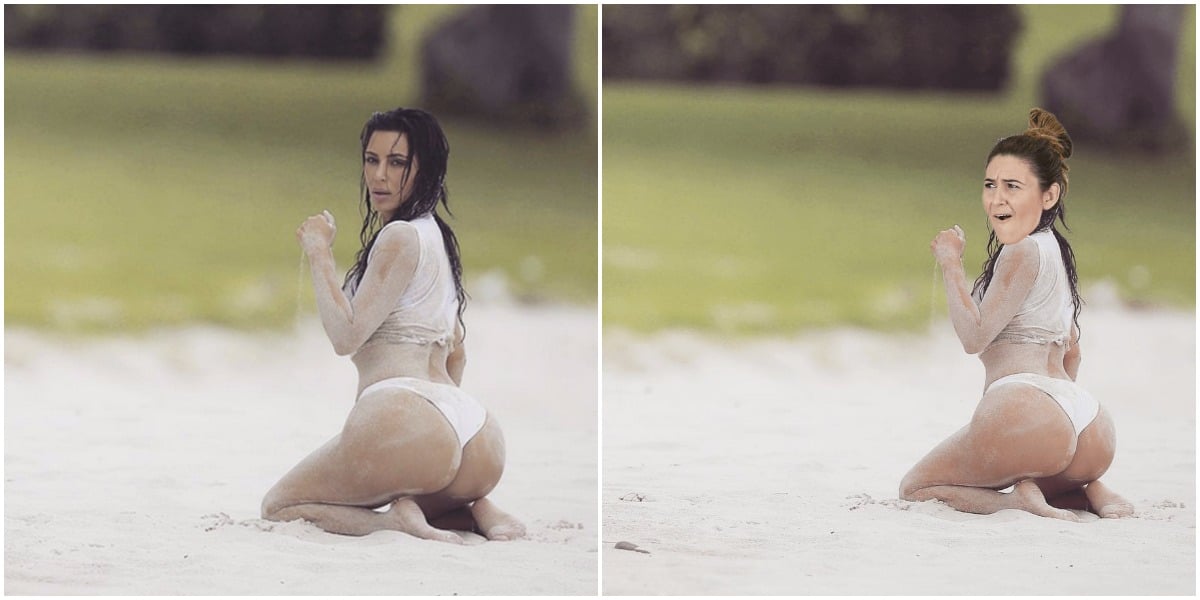 But guys, she has started a BOOK CLUB!
So guys..... @chrissyteigen & @jenatkinhair & I are starting a book club!

— Kim Kardashian West (@KimKardashian) 2 February 2017
AND GUESS WHO ELSE HAS STARTED A BOOK CLUB?
ME!
So that makes us book besties I guess. Two little book worms, side by side.
Listen: Join the Mamamia Book Club as Monique Bowley and Jackie Lunn discuss last year's biggest thriller.
Don't worry yourself over the fact that her own book is a 300-page volume of pictures of herself. She was just trolling us. Because it turns out that my bookish friend has been READING BOOKS THIS WHOLE TIME.
The evidence is all over her social media.
You thought she was taking a mirror selfie? NO WAY GUYS, she's so deep into Gone Girl on her iBooks app she can't even put the phone down for a second. She's like the rest of us, walking along the street in a daze, walking around the house with her nose in book. She's just wears high-cut bathers instead of a Doritos-stained Simpson t-shirt.
I PRESENT THE EVIDENCE:
The concentration on the face. The intense scrutiny of the screen. She's at the start of Gone Girl:
AND THIS.
This is not the face of someone taking 28 identical selfies to get the exact right one. This is the face of someone at the end of To Kill A Mockingbird:
You can't keep her AWAY from her kindle:
And this is the face that book lovers know well. The "Explaining the intensity of The Bronze Horseman to a non-reader" face.

"Babe" says Kanye, but Kim's 300 pages deep in Big Little Lies and she's not stopping for anyone:
And she LOVES to escape to the country to read books. Here's her scoping out a great little nook to nestle into with Jane Eyre.
So I'm not surprised at all by this news. It's the best.
And though some book clubs might feel annoyed, might want Kim to stay in her own lane and stick to what she's good at (that's sex tapes and business, I guess), I say WELCOME KIM. WELCOME TO DA CLUB.
Her first book is one she apparently read fifteen years ago, which I love, because the only thing better than a book club is one where the reading of the book is secondary to the wine and chit-chat bit.
Cheat away, Kim.
I'm making them read "Embraced By The Light" as our first book!

— Kim Kardashian West (@KimKardashian) 2 February 2017
If you were hoping for some guidance on where or how to join HER book club, you're out of luck.
I think you just get the book and read, my dude / dudette https://t.co/yZy5wllBJ4

— christine teigen (@chrissyteigen) 2 February 2017
Fortunately, you don't need high cut bathers or diamonds to join mine. Just subscribe in iTunes, or the Mamamia podcast app, have a look at the list, read the book, then listen to the discussion below.
You can buy any book mentioned on our podcasts from iBooks at apple.co/mamamia, where you can also subscribe to all our other shows in one place.
*When you forget about her reality TV show, app, game, clothing, accessories and perfume line,  two children, makeup masterclasses, hair products, celeb appearances, an emoji line, a serious Snapchat commitment, enormous bosoms and a propensity to take nude pics of herself, we are practically the SAME PERSON.